Earlier this year, I shared my tried-and-true dumpling recipe with you guys: whether stuffed with a yummy veggie mix or savory pork+scallion filling, those dumplings are always a hit during big Lunar New Year gatherings or just for me and a few friends.
Last week, I teamed up with legendary chef Ming Tsai (yes, the same chef and owner of Blue Dragon- hello Massachusetts!) on Instagram Live to create a fun take on pot stickers. The version we made was a spicy chipotle chicken pot sticker. Of course, you can substitute any meat you want (ground turkey, pork…) or try diced firm tofu. But jeez, the flavors and textures of these pot stickers were out of this world. Think smoky, tingly spices and the crispy dumpling wrappers. Dipping these guys in a soy-citrus-adobo sauce took it up another level! The picture below speaks for itself. Look at all that golden delicious crunchiness!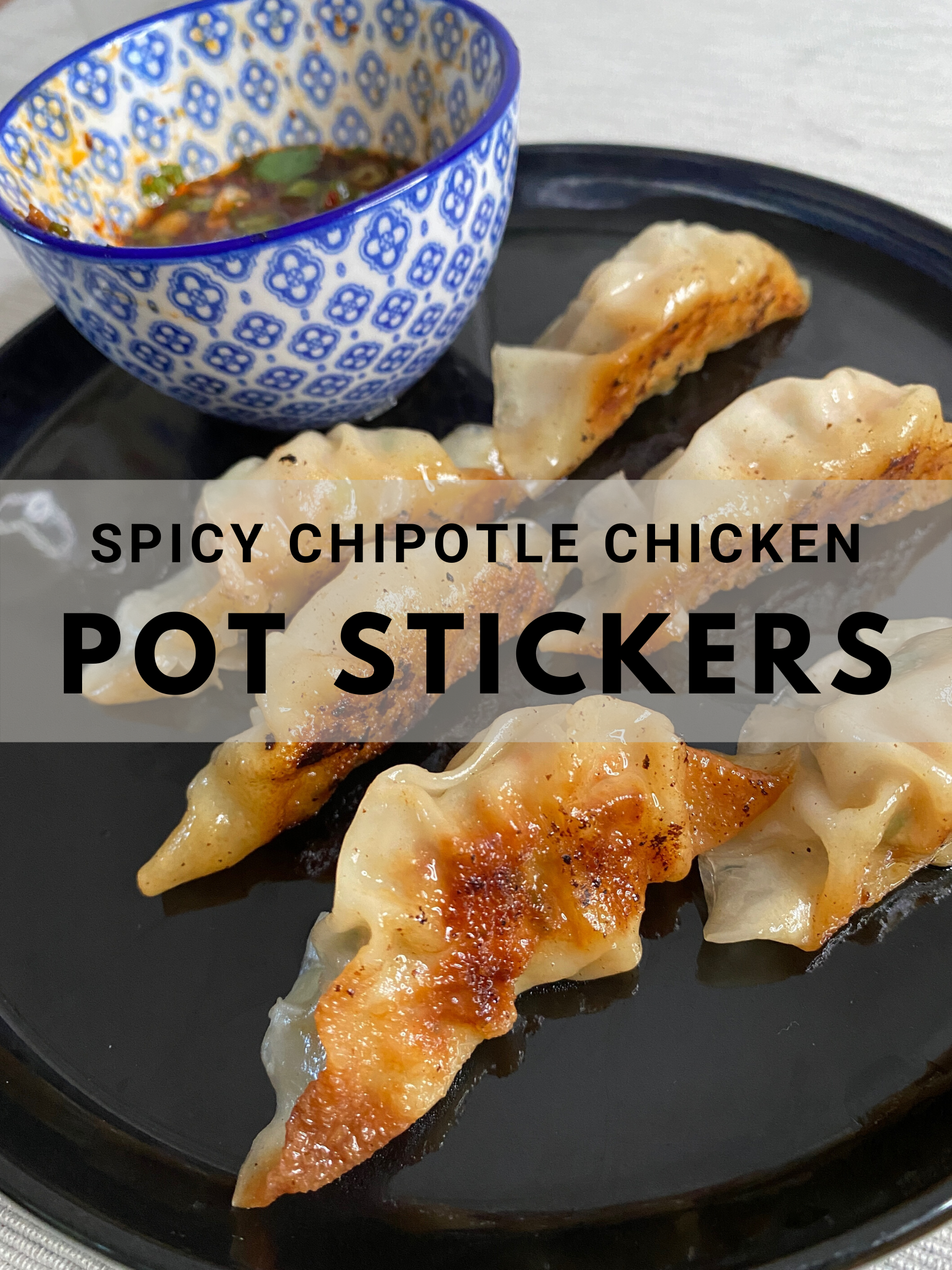 Check out the ingredients and directions below on how to recreate this at home. Thank you Ming for your time and sharing your wealth of knowledge with us!
Ingredients
Dumpling Ingredients
1 lb ground dark chicken meat
1 tsp chipotle in adobo
1 bunch scallions, sliced. Reserve some for sauce and garnish!
1 tbsp minced ginger
1 cup grated carrots
1 tbsp chopped cilantro
1 tbsp soy sauce
1 tsp sesame oil
Salt and pepper, to taste
1 package round wonton wrappers
1 egg mixed with 1 tsbp water
Olive oil to coat pan
Sauce Ingredients
1/4 soy sauce
Juice of 1 orange
Juice of 1 lime
1 tsp adobo puree
1 tbsp chopped cilantro
1 tbsp sliced scallions
Directions
Dumpling Directions
Mix all the ingredients together
Return the mixture to the fridge for 30 minutes. This helps the meat relax and be more workable (sounds crazy but it's true!)
Take a small spoonful of filling and put i in the middle of the wrapper. Avoid touching the edges because that'll result in an imperfect seal
Repeat for the other pot stickers
Lightly brush the top half of the wrapper (semicircle) with egg wash and fold the wrapper to form a half moon shape. Carefully pinch the wrapper together on one end and work towards the other end
Heat a large saute pan with oil and lay the pot stickers flat side down and cook until the bottom is browned
Add 1/2 cup water and cover immediately. Just like in my dumpling recipe, this added water will create a "steam bath" and cook the pot stickers
Check on the dumplings in 5-6 minutes. They should be firm and fully cooked. Remove the cover and let the bottoms crisp up again.
Sauce Directions
Mix all the ingredients in a small bowl. Couldn't be easier 🙂
Candied Orange Peel Recipe
Next Post