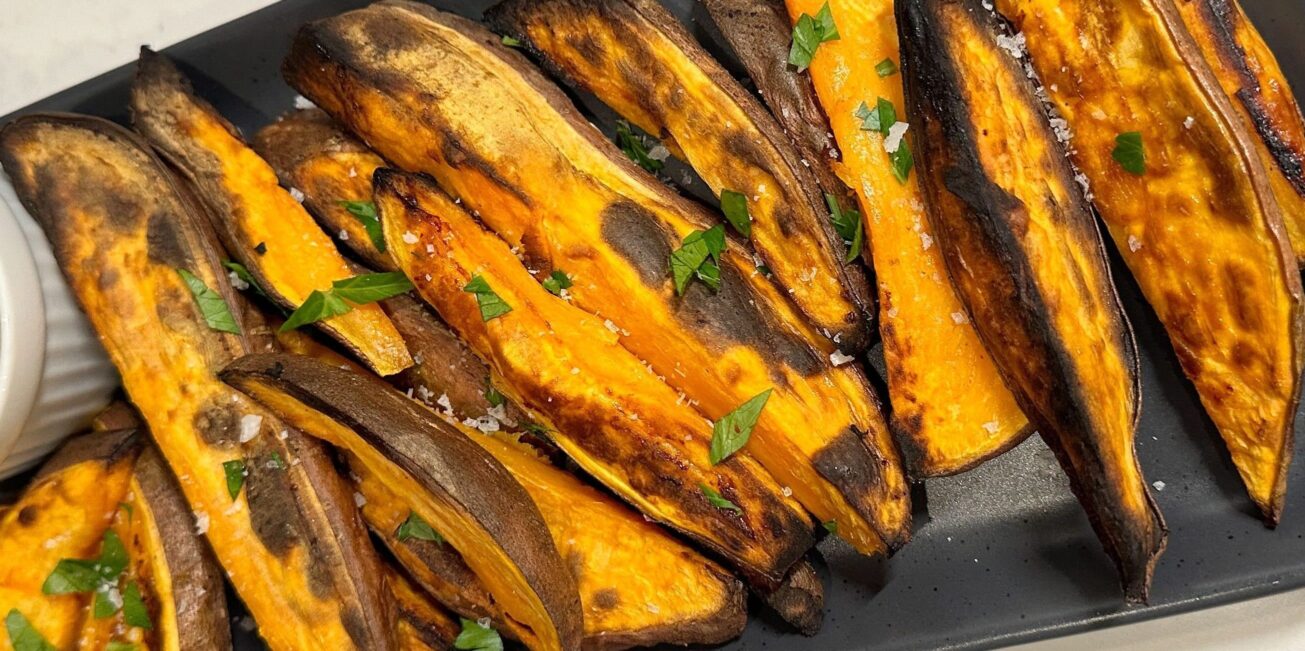 Sweet potatoes are so versatile that I want to spotlight this dish. This is SO simple, and honestly one of my favorite go-to side dishes for dinner.
There are hundreds of ways to cook sweet potatoes: boiled, fried, steamed, grilled, in casserole with marshmallows… One of my favorite ways is simply roasting them in an oven. Low maintenance yet high reward. A trick I picked up along the way is to cut them in a certain wedge way to maximize crunch and caramelization. Yum!
You want to cut the sweet potatoes but "hold them together" as if they were still one piece. Placing on the baking sheet with the skin side up. This helps the sweet potato cook through, and sort of steam underneath the skin. When they're about 80% done, you fan them out to expose the insides to high heat. This ensures that each side becomes crispy and cooked. You can also cut them in the opposite direction for a "chip" version. I like to pair this with my Tangy Tahini Sauce. This duo won't fail to entertain at Thanksgiving this year!
Ingredients
4 sweet potatoes, washed and scrubbed

Olive oil

Salt and pepper

Sesame seeds and scallions, for garnish
Directions
Preheat oven to 425 F.

Half each sweet potato. While keeping together, cut each half into slices, or wedges about 1/2 inch thick.

Carefully transfer each half over to your lightly oiled baking sheet, halved- and cut-sides down. (Skin up.)

Drizzle with olive oil and sprinkle with salt/pepper.

Roast for 20 minutes until barely fork-tender.

Retrieve from oven and (using tongs or chopsticks!) fan the sweet potatoes out. Think about a domino formation: they each partially lay on top of its neighbor.

Return to oven for 10-20 minutes until the edges are browned and add extra olive oil if needed. The more they are cooked the more caramelized and sweet they get!

Drizzle with tahini sauce, garnish with scallions and sesame seeds, and serve. Enjoy!