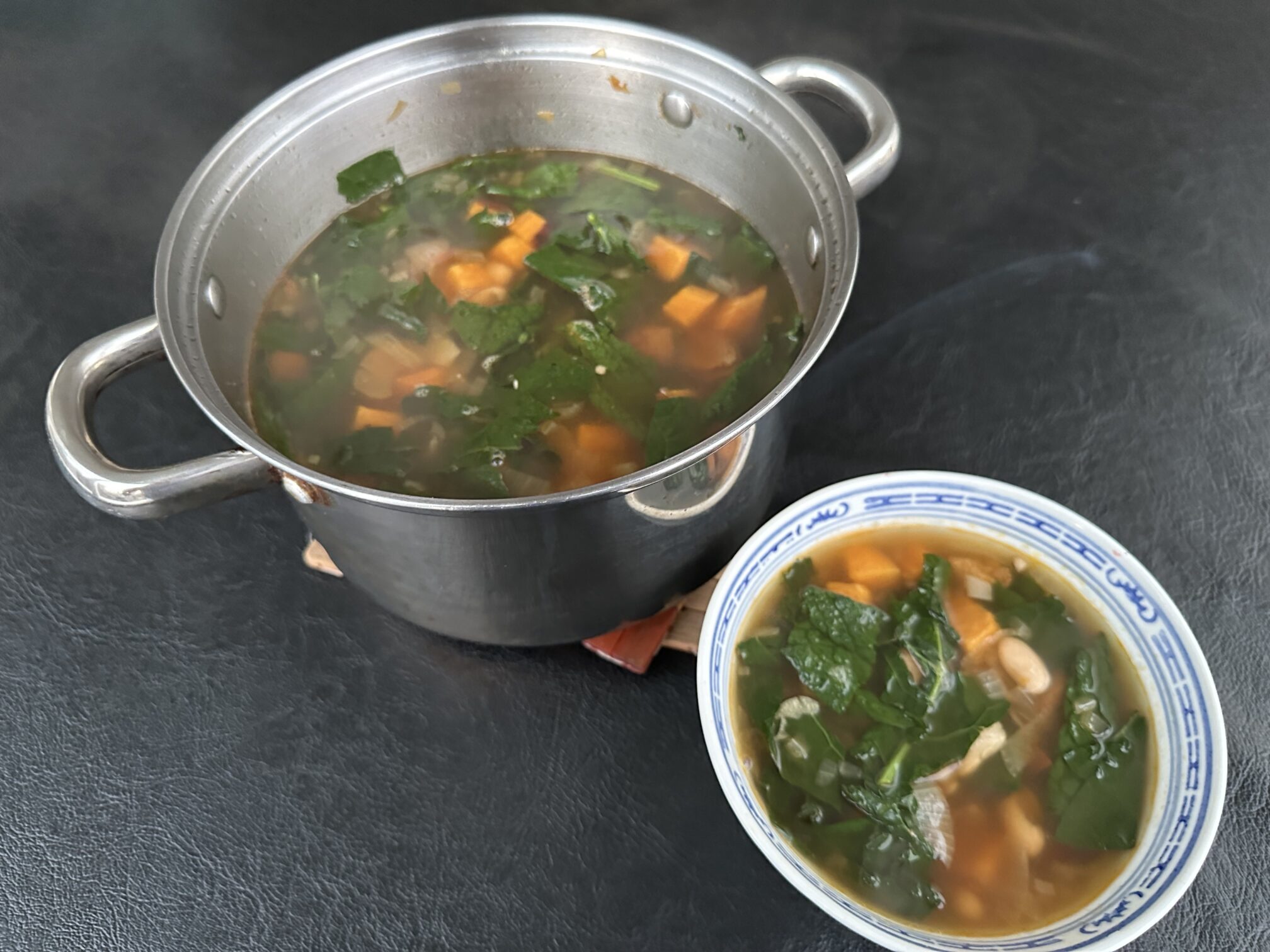 New York last month was pretty stormy: Nonstop rain, gusts, and infinity puddles. Mother Nature didn't let me do any of my favorite outdoor activities. But a silver lining: More time to craft autumn recipes.
When fall arrives in New York, the entire vibe changes. You walk outside and are greeted with a distinctly crisp, chilly breeze. The air itself almost seems different, too. Days are getting shorter, and sunsets are at 6 PM. Sweater weather is in full effect. It's time to take out your large stockpot or cast-iron vessels.
A few weekends ago, I imagined my ideal autumn soup: Warm, cozy, filling, nutritious, seasonal, simple. And delicious! Portuguese kale soup came to mind because it has all those elements and more. This soup can become a stew easily if you let the sweet potatoes slowly melt into the pot and thicken.
There are many variations to the recipe. Here, I start by pan-frying a few slivers of chorizo. I take out half of the chorizo, putting them aside as a crispy topper at the end. To the pot, I add onions, garlic, and cubed sweet potatoes. Broth brings everyone together next, and kale and cannellini beans come to the party last (kidney beans also do the trick). All within 45 minutes. So if you come back home a wet mess, you can put this together and hit the shower. And tada- Dinner is served.
A pro-tip: You can prep all the ingredients ahead and put them in plastic containers (like I did below) and have them on-hand whenever you need it.
What other variations do you have?
Ingredients
Olive oil
1 pork sausage, sliced
1 medium onion, diced
4 cloves garlic, minced
1 can Cannellini Beans
1-2 large sweet potatoes, scrubbed and cubed (about 1 pound)
6 cups low-sodium chicken broth
1 bunch kale, stems trimmed and cut into 1/2 inch pieces
Salt and pepper to taste
Directions
In a large stockpot, add 1 tbsp olive oil and cook sausage on medium-high heat until you render out most of the fat. Transfer half of the sausage to a plate and remove most of the fat.
Add 3-4 tbsp olive oil, onions, garlic, beans and sweet potatoes to the pot, stirring occasionally until onions turn translucent, 5-6 minutes.
Add stock and bring to a gentle simmer, 20 minutes. The potatoes should start to soften and thicken the soup.
Add kale and season with salt and pepper. Cook for an additional 5-10 minutes. The kale will lose its green color- that's OK and expected!
Serve alongside hearty bread, and enjoy!