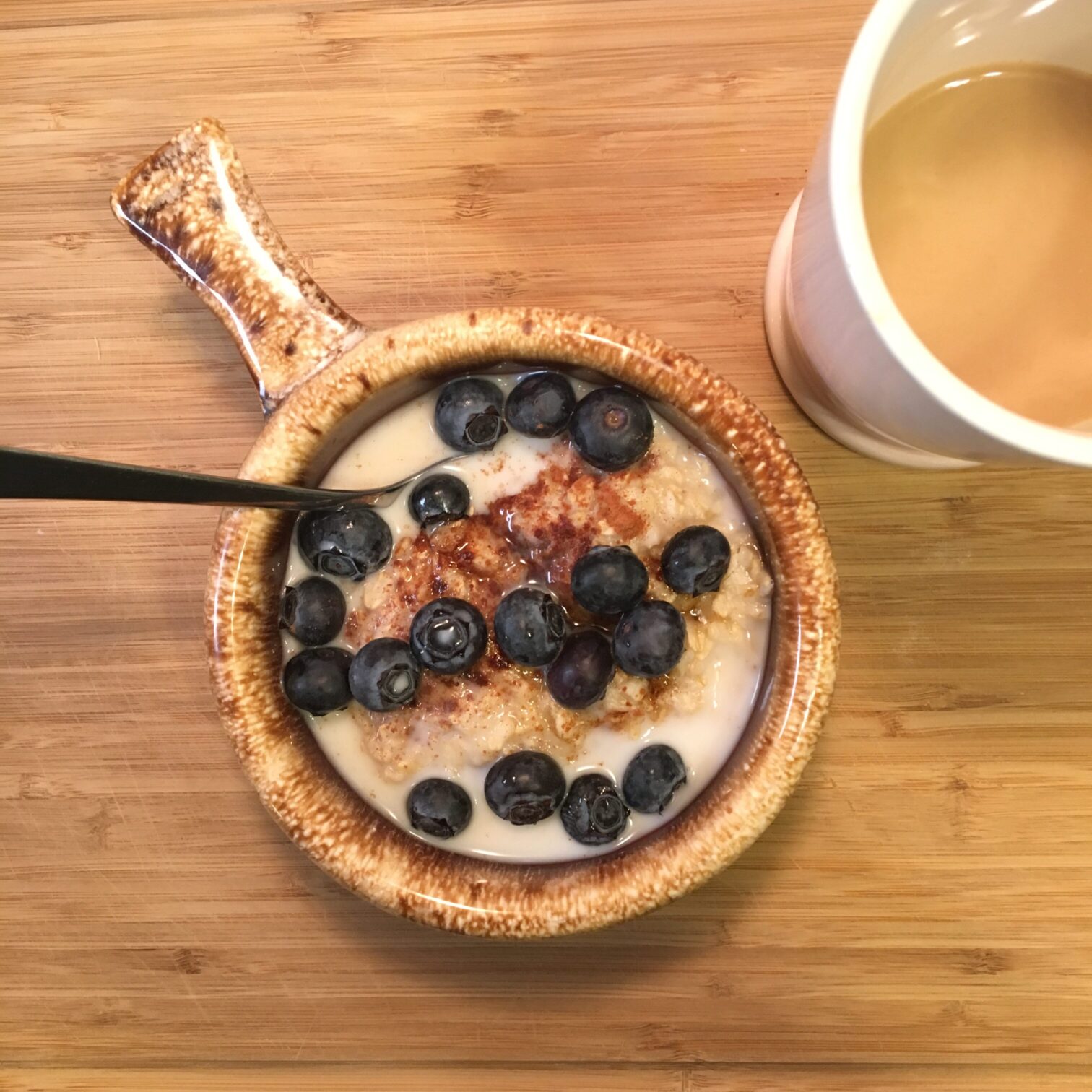 Oatmeal is a classic breakfast item: it's simple, it's filling, and it's versatile. With just a handful of ingredients, you can put a quick meal together within minutes, which can be especially helpful when you're on-the-go and need something in a jiffy. Oatmeal is a very customizable and forgiving recipe, so you can try many different topping combinations. Plus, oatmeal has a low glycemic index, meaning that although it's primarily carbs, it digests more slowly than your average bagel or muffin and keeps you satisfied longer.
I've previously made two versions of overnight oats (apple pie and berry), but I wanted to share this version for a warm breakfast option: cooked in water and topped with some of my favorite add-ons (blueberries, dollop of Greek yogurt, cinnamon… yum!). There are different ways to prepare it- stovetop vs microwave- but I personally lean to the stovetop version. If I'm in a rush for the door, I add a splash of almond milk to my bowl to cool it down. Life hack! Check out how I make my super easy oatmeal below.
Ingredients
Base recipe
1 cup rolled old-fashioned oats
2 cups water
Splash of almond milk
Pinch of salt
My favorite add-ons
Blueberries
Brown sugar
Greek yogurt
Cinnamon
Directions
In a small saucepan, bring the water to a boil and add your oats. Reduce heat to a simmer.
Cook for about 3-4 minutes (if not using old-fashioned oats, look to the manufacturer's instructions), stirring every minute or so.
Cover the pot, cut the heat, and let rest for an additional 2-3 minutes until most of the water has been absorbed. At this point, you can add a splash of milk/dairy alternative to cool it down and a pinch of salt.
Top with your favorite toppings, and enjoy!