Since we have all been growing our own scallions at home, right? What do we do with all of them!? Scallions are not only great for garnishing but also super flavorful in scallion pancakes. Here's a recipe for some of the crispiest, most aromatic midday snacks. I grew up eating scallion pancakes as a kid, although usually from a Chinese restaurant, but now I'm happy I know how to make them at home!
Ingredients
2 cups flour, and more for surface

2 tsp salt, divided into 1 tsps

1/2 cups boiling water

1/4 cups room temperature water

3 tbsp sesame oil, divided into 1 and 2 tbsp

2 generous bunches of scallions, chopped

1/4 cup vegetable oil (or neutral oil)
Directions
Mix flour and 1 tsp salt together in a bowl until homogeneous

Vigorously mix 1/2 cup boiling water and 1 tbsp sesame oil to dry mix, and slowly add 1/4 cup room temperature water until the dough just comes together. You may need a few more tablespoons of water to bring it into a workable dough

Transfer dough to floured surface and knead until it is smooth. Add more flour if it continues to stick to itself!

Rest at room temperature for at least 30 minutes under a damp towel or foil. This will help relax the gluten and make a supple dough.

While dough is resting, combine scallions, rest of sesame oil, and another 1 tsp salt together. Set aside

Divide into six pieces and roll out into thin circle on surface. Add 1 heaping tablespoon of scallion mix and spread into a thin layer.

Carefully roll dough away from you, making a log. Roll the log onto itself to make a coil. Cover with damp towel and continue to form dough balls.

Heat vegetable oil in a small pan until shimmering and add scallion pancake dough ball. Use a spatula to smash it into a thinner circle. Pan fry until crispy and golden, about 3-4 minutes/side

Garnish with additional scallions and toasted sesames. Feel free to pair with soy sauce or vinegar- Enjoy!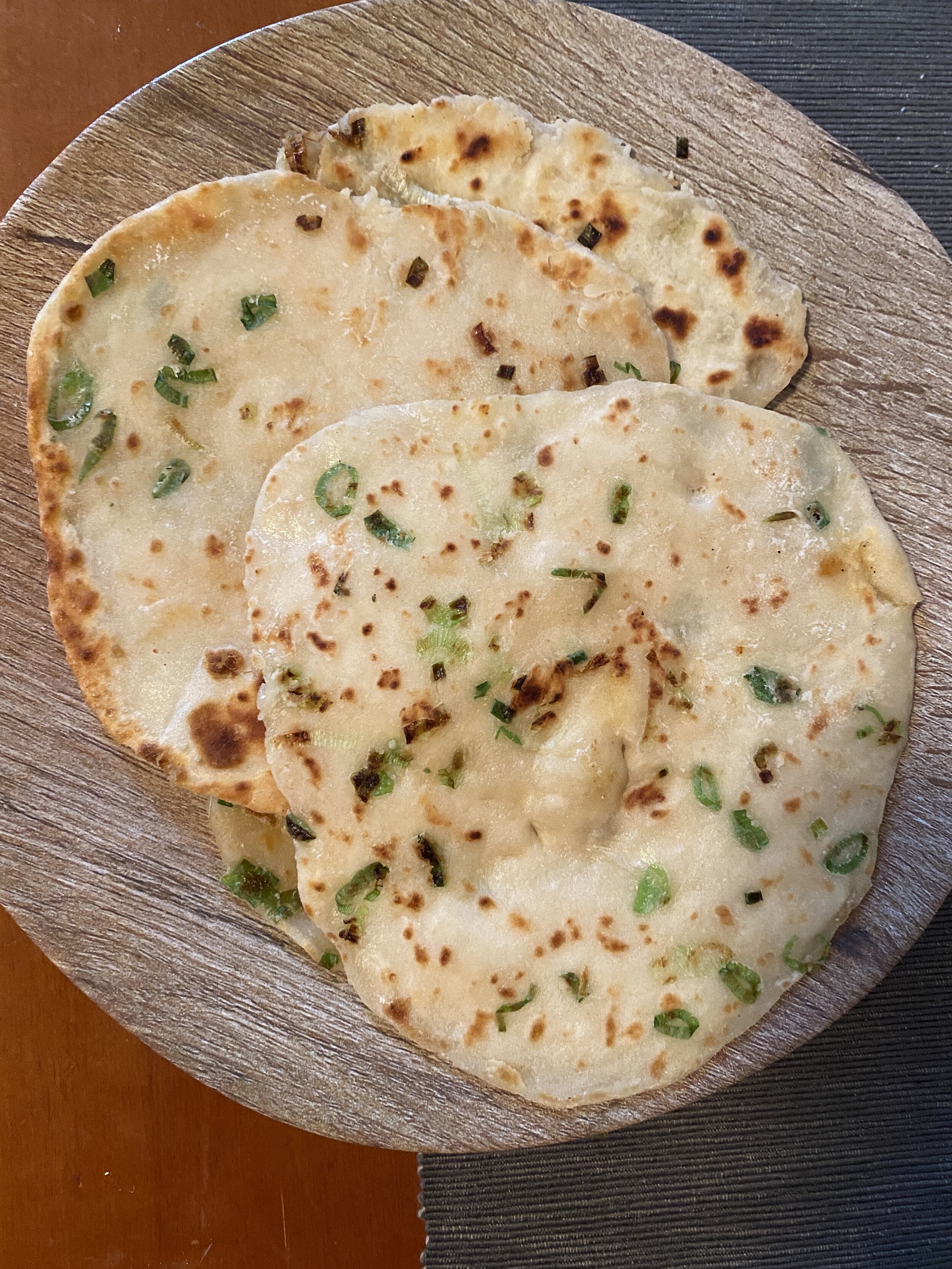 Dark Chocolate Chip Whole Wheat Pancakes
Next Post