Happy Asian and Pacific Islander Heritage Month!
Asian Heritage, as you may already know, is important to me: I recently spoke about how understanding our roots is an ongoing, complicated process that even I still don't completely "get." And that is OK- we all evolve and, slowly but surely, will appreciate our culture til we're old and gray. 🙂
Here is one of two recipes I prepared in celebration for APIHM: a umami-filled roasted vegetable + honey-crusted tofu "plate lunch." A few years back, I visited Hawaii for vacation and absolutely fell in love with the culture and cuisine there. (Hope to bring back travel soon!) In addition to the delicious acai bowls, poke, and fresh fruit plates, "plate lunches" was near the top of my list. Essentially, a "plate lunch" is a Hawaiian-style "meat-and-three." A typical meal would include rice, macaroni salad, roasted pork, roasted corn: all the good stuff.
Here, I give it a signature "Emma Lovewell" twist and use miso gochujang-glazed vegetables. I also added honey-crusted tofu for the "meat" part of the plate. While everything's delicious, I want to highlight one player: taro! Taro is a sweet, mild, nutty vegetable that's found mostly in Oceanic and Asian cuisines- it's the purple one in the picture. Think of it as an Eastern sweet potato.
Don't be intimidated by the ingredient list: it looks like a lot, but it's a really simple oven-and-done situation!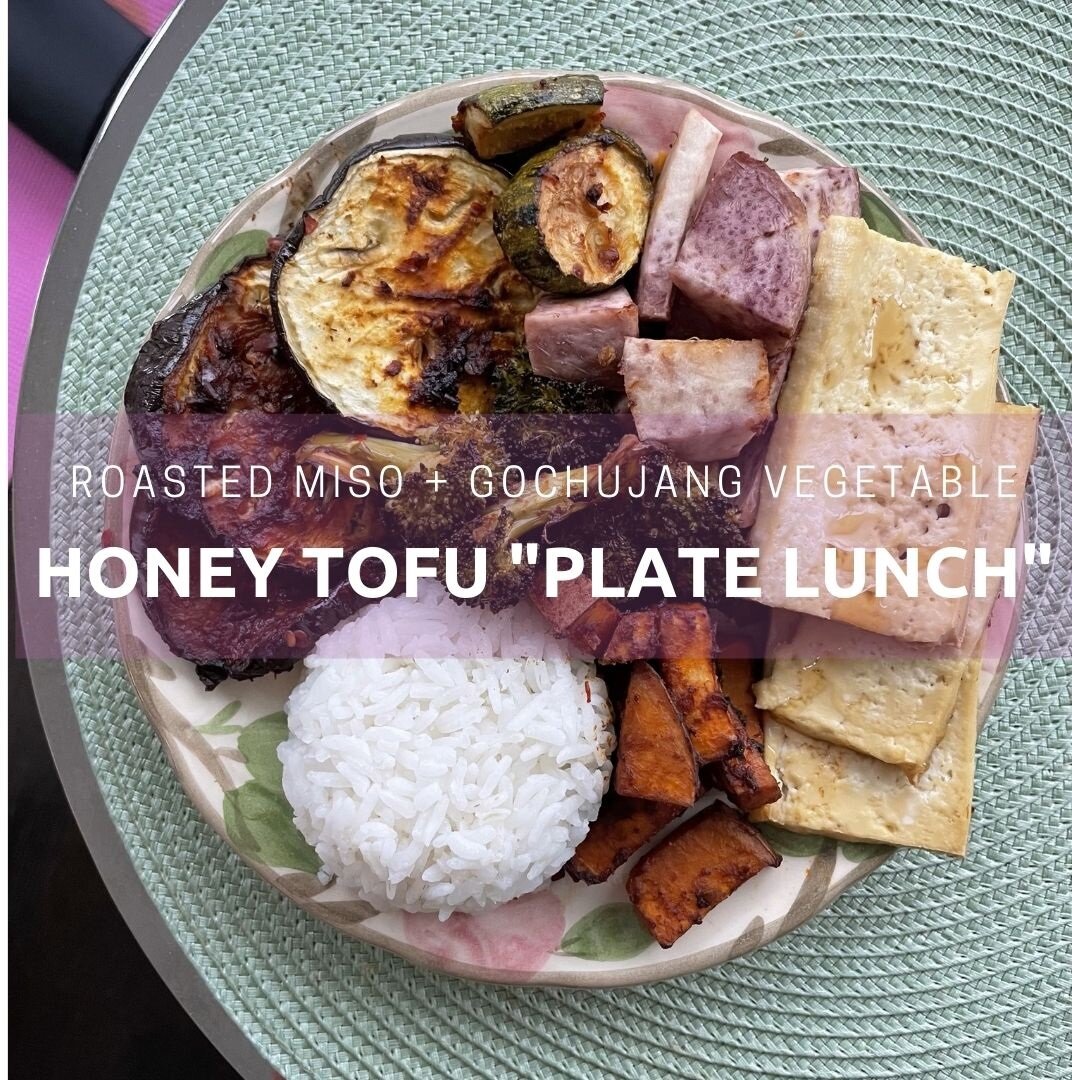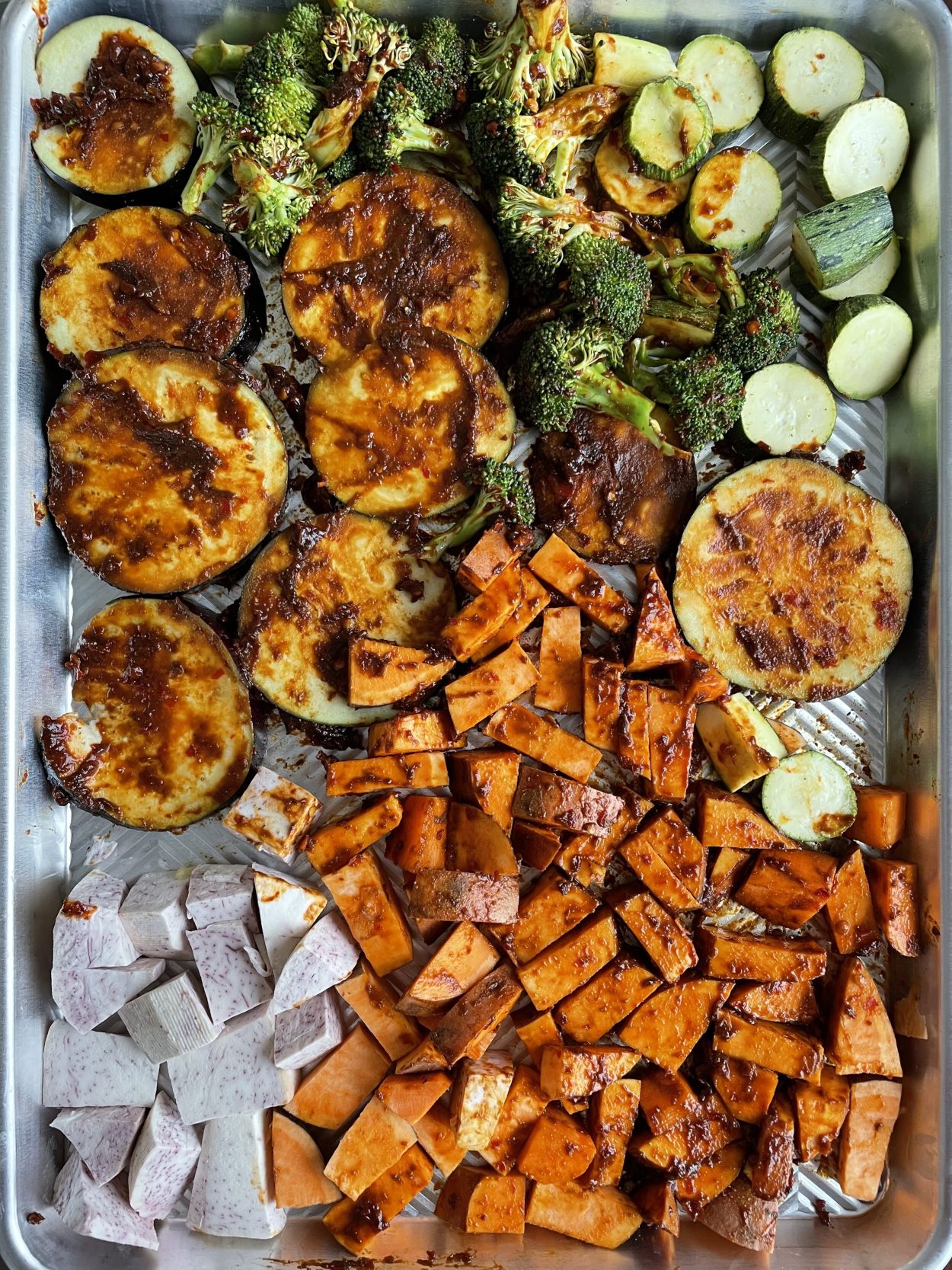 PRE-ROASTING…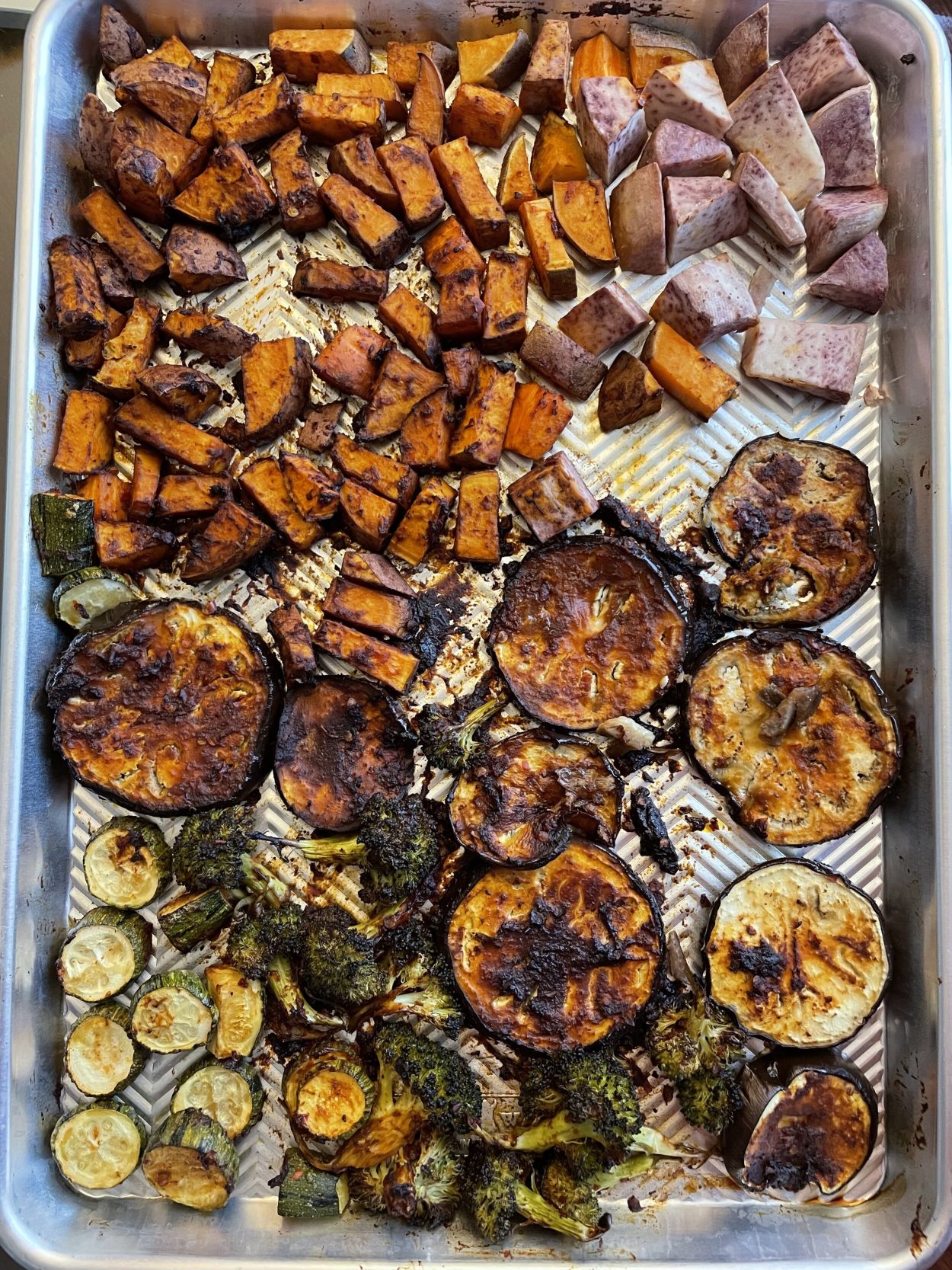 … POST-ROASTING!
Ingredients
1 large sweet potato
1 squash
1 head of broccoli
1 medium eggplant
1 medium taro ( can find in Asian stores or online, frozen)
1/3 c gochujang or spicy Korean red pepper paste (can find in Asian stores or even international aisles in supermarkets)
1/3 c miso (same as gochujang)
1/4 c olive oil
Salt
4 tbsp sesame oil
1/4 c olive oil
1 block extra firm tofu (sliced in sheets, dried on paper towels)
1/2 c honey
1/4 c soy sauce
Directions
Preheat oven to 400F
Cut vegetables into shapes you like: I went for a mix of cubes and circles. Whatever makes you happy!
Mix gochujang, miso, and olive oil in a small bowl until homogeneous
Using hands or tongs, cover sweet potatoes, eggplant, and zucchini in the mixture. Keep taro and broccoli untouched!
Using hands or tongs, lightly season taro and broccoli with salt, sesame oil, and second 1/4 c of olive oil
Place veggies in for 40 minutes, rotating the sheet pan half through
Mix honey (or agave- your choice) with soy sauce
Brush honey-soy mixture on tofu and place in oven for 20 minutes
Here's the fun part: on a big plate, assemble the veggies, tofu, and rice. I used a small cup for my rice mold.
Garnish with sesame seeds and scallions. Enjoy!
The Best of Asian-Inspired LOVEWELL Recipes… So Far!
Next Post