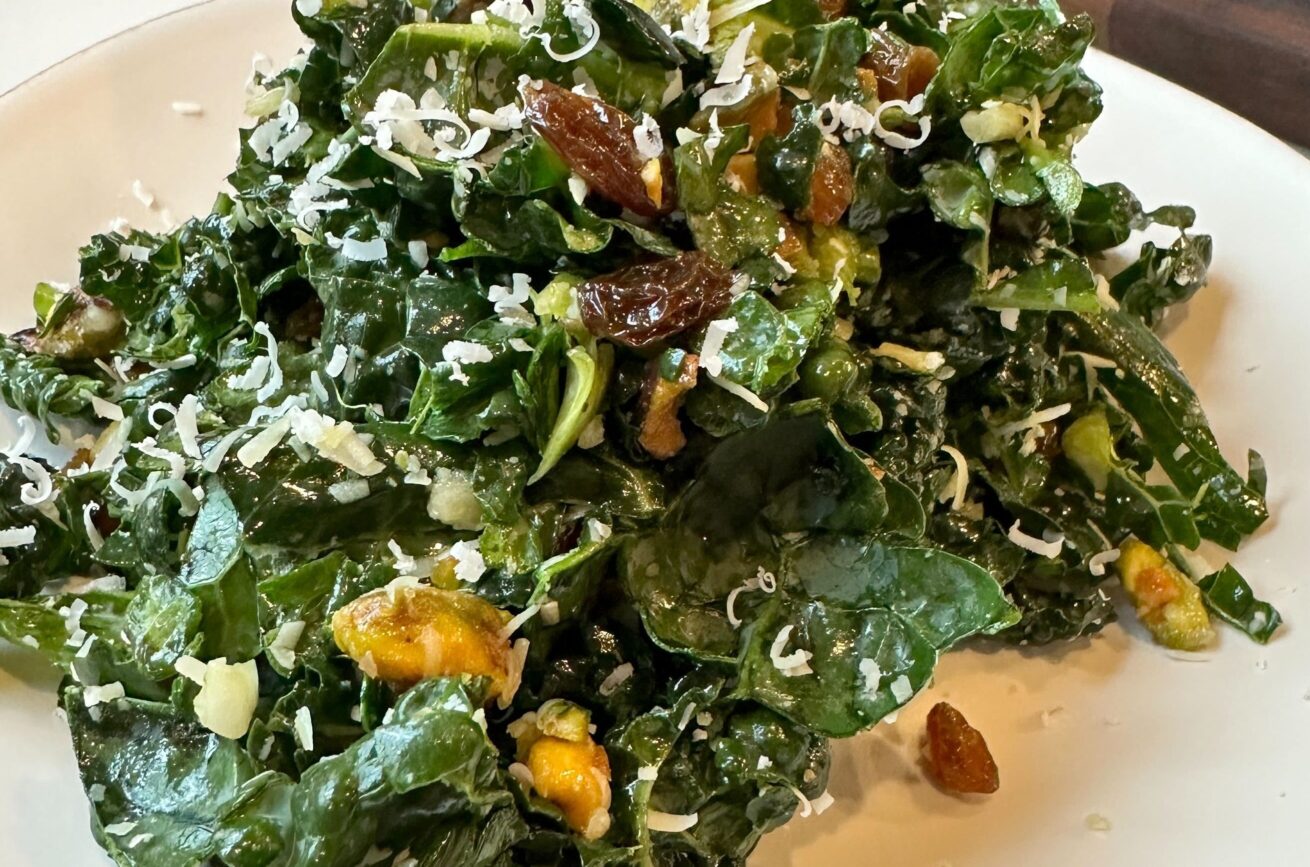 I remember when kale was the "it" ingredient years ago- everyone was experimenting with kale! And thanks to that wave of popularity, kale has found its way into every-day life including recovery shakes, salad powerhouses, nutrition textbooks, and even art museums!
Odds are you have your favorite type of kale salad, and I'm here to share mine: a zesty version with acidic lemon juice, sweet raisins, savory garlic, crunchy pistachios, and salty parmesan. What I love about my recipe is that it uses cooked garlic so you're not immediately hit with that blunt garlicky flavor. By sautéing the garlic first in olive oil, you transform it into a softer, mellower flavor that complements all the other players. An extra step I always take is massaging the washed kale with some salt. This trick makes the leaves softer.
Let me what you think below, and also share some of your favorite ways to prepare kale!
Ingredients
1 large bunch Tuscan kale
3-4 tbsp olive oil
4 cloves garlic, chopped
Lemon zest and juice from half of a lemon
1/4 cup pistachios, chopped
1/4 cup golden raisins
1/4 cup finely shredded parmesan cheese
Salt and pepper to taste
Directions
Chop kale into small pieces.
Massage kale with 1/2 teaspoon salt.
In a saucepan over low/medium heat, put in 3-4 tbsp olive oil and chopped garlic. Cook garlic for 2 minutes, then add lemon juice, lemon zest, and pistachios.
Mix heated ingredients into the kale in a large bowl.
Stir in raisins and Parmesan. Option to add more olive oil at the end if needed.
Add salt and pepper to taste. Enjoy!