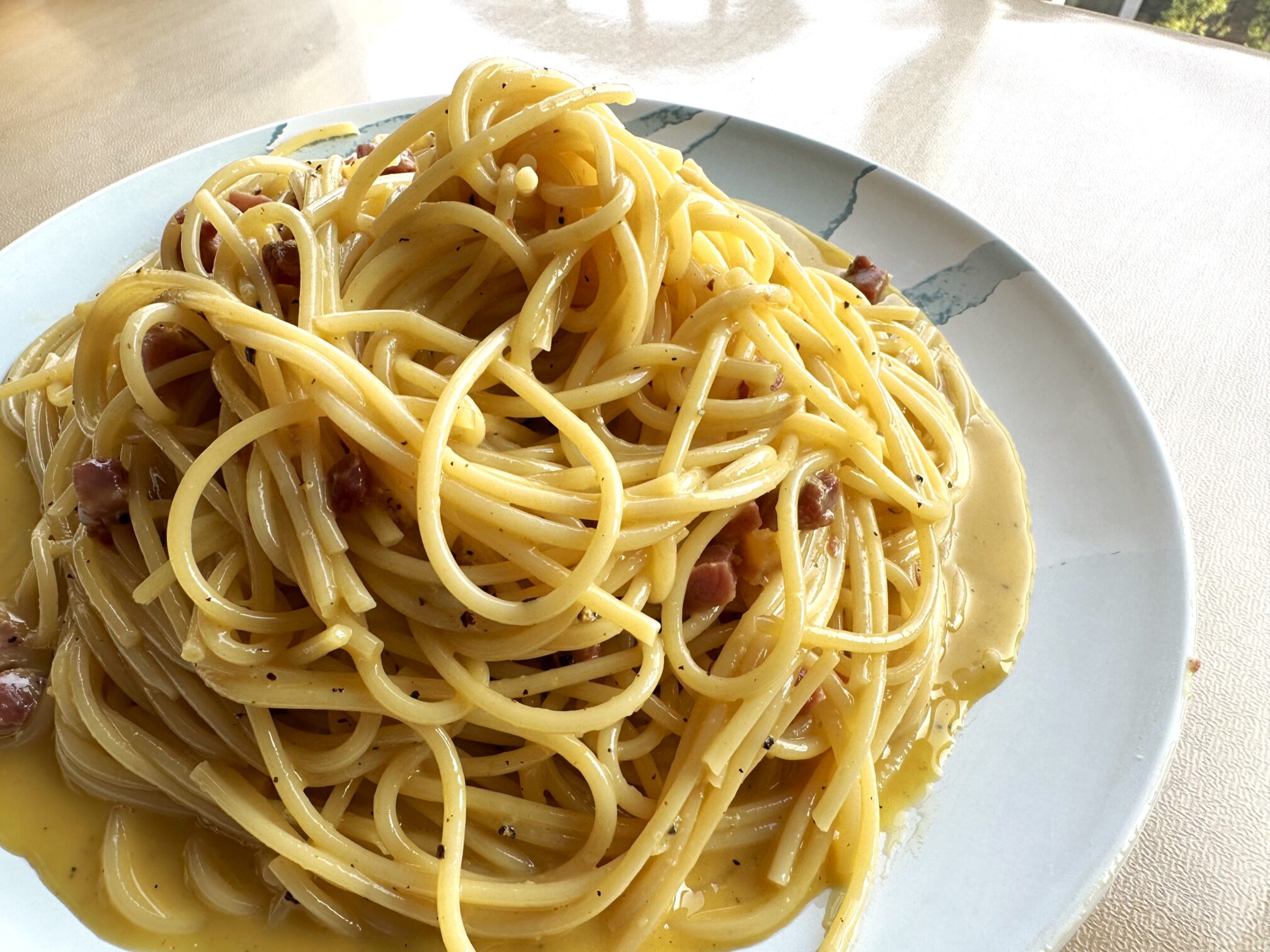 Spaghetti Carbonara… Wow. Where do I begin?
Rome is the home of this Italian masterpiece, and I was lucky enough to spend a few days there when I visited Italy earlier this year. I said it before, and I'll say it again: Sometimes the simpler the dish, the better. Carbonara is a fundamentally straightforward dish with cheese, eggs, guanciale, and pasta. Those pillars, albeit normal things we encounter every day, combine to become this magical dish. With a crack of freshly-ground black pepper, you are transported to a world of bliss.
Naturally, I wanted to recreate this dish at home. And while the ingredient list is fairly uncomplicated, the process of making carbonara is not. So I'm here to share some tricks!
First, have all your ingredients prepped and measured. This dish comes together quickly, so you want to be ready for each step. Having them at room temperature too is important.
Second, use quality ingredients. Because this sauce only needs a few items, each should stand alone.
Third, use a double-boiler instead of a skillet when mixing the pasta. To create a silky sauce, we want to gently heat the egg-cheese mixture while stirring constantly. Otherwise, adding this to a ripping-hot skillet will only cook the eggs, limiting the luxurious mouthfeel. Putting a steel or heatproof bowl over the boiling pasta water will make sure your pasta doesn't come into direct contact with heat.
Fourth, serve immediately! The sauce will naturally thicken as the pasta cools, so you want to get the plate to your guests right away. Not that anyone will resist 🙂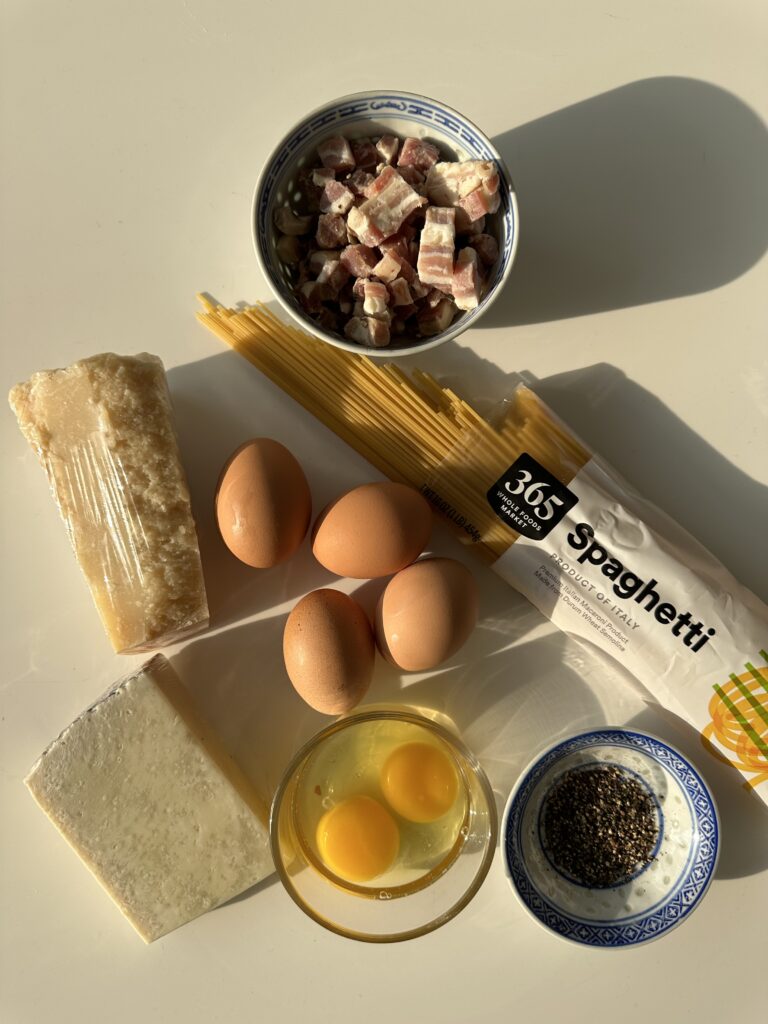 Ingredients
Salt
1 tbsp olive oil
4 oz guanciale, cut into 1/2 inch pieces. If you can't find guanciale, you can use pancetta, pork belly, or bacon!
1/3 cup grated Parmesan
1/3 cup grated Pecorino Romano
2 eggs and 4 egg yolks, room temperature
Freshly-ground black pepper
12 oz dried spaghetti (about 3/4 of a full box)
Directions
Bring water to a rolling boil in a large pot and add 1 tbsp salt.
Add pasta to water and cook according to manufacturer's instructions until slightly firmer than al dente. Reserve 1 cup of pasta water.
In a large pan, heat oil until shimmering and add pork. Render until guanciale is crisp, about 5-6 minutes. Turn off or remove from heat.
In a heatproof bowl, whisk the cheeses, eggs, yolks, and pepper together.
Transfer pasta to guanciale pan and stir until just combined.
Transfer pasta-guanciale mixture to the eggs, add 1/2 cup pasta water, and mix well. Place over pot of boiling pasta and cook, stirring quickly, until sauce thickens.
Remove from heat and serve immediately with more cheese and pepper.
Enjoy!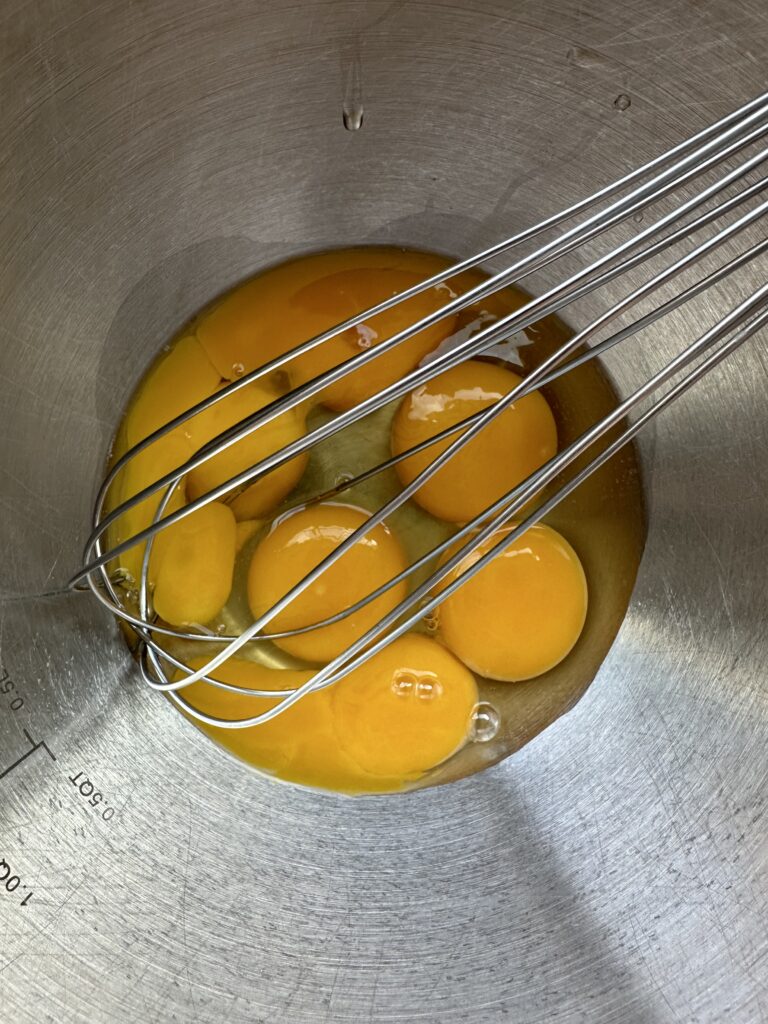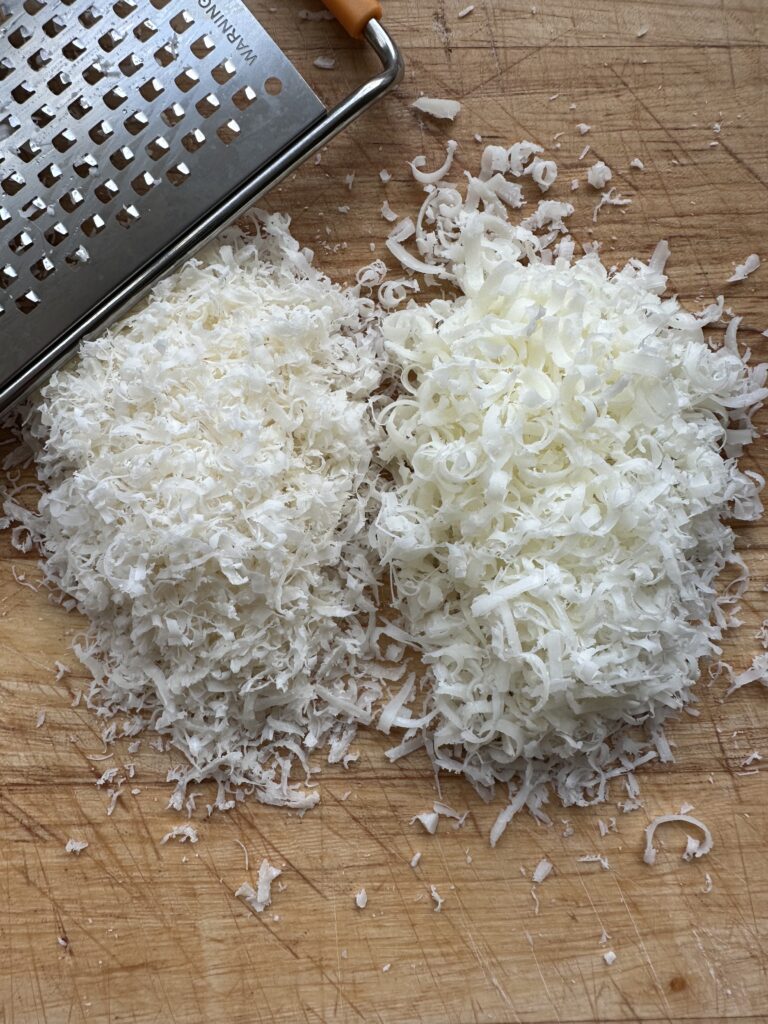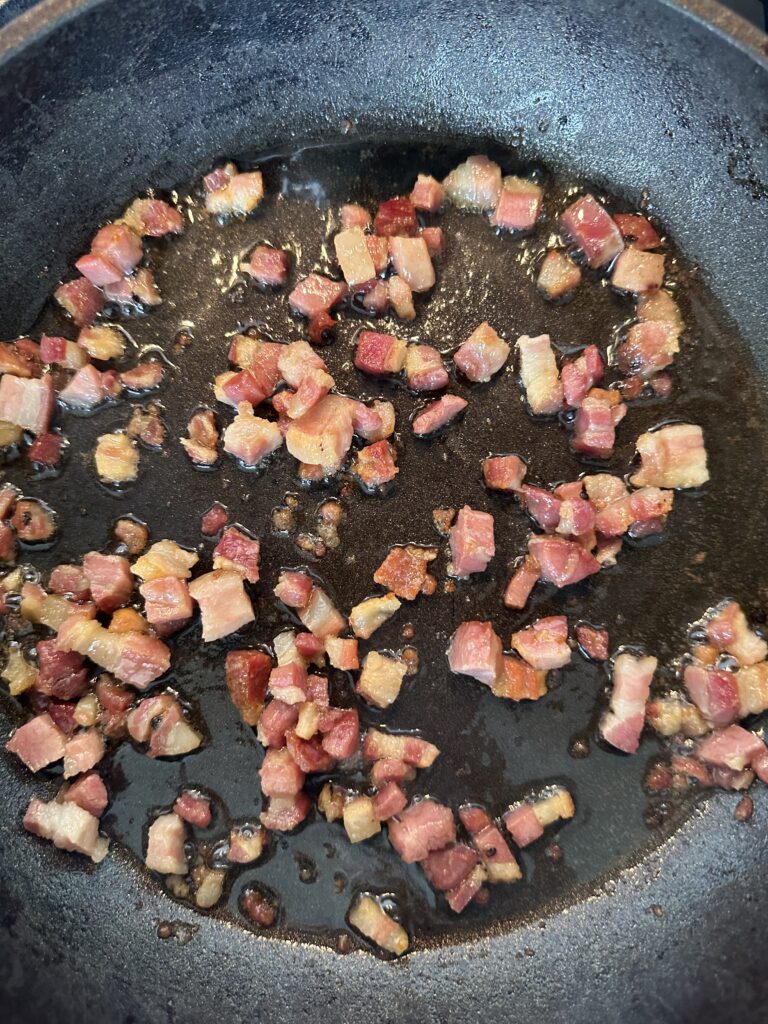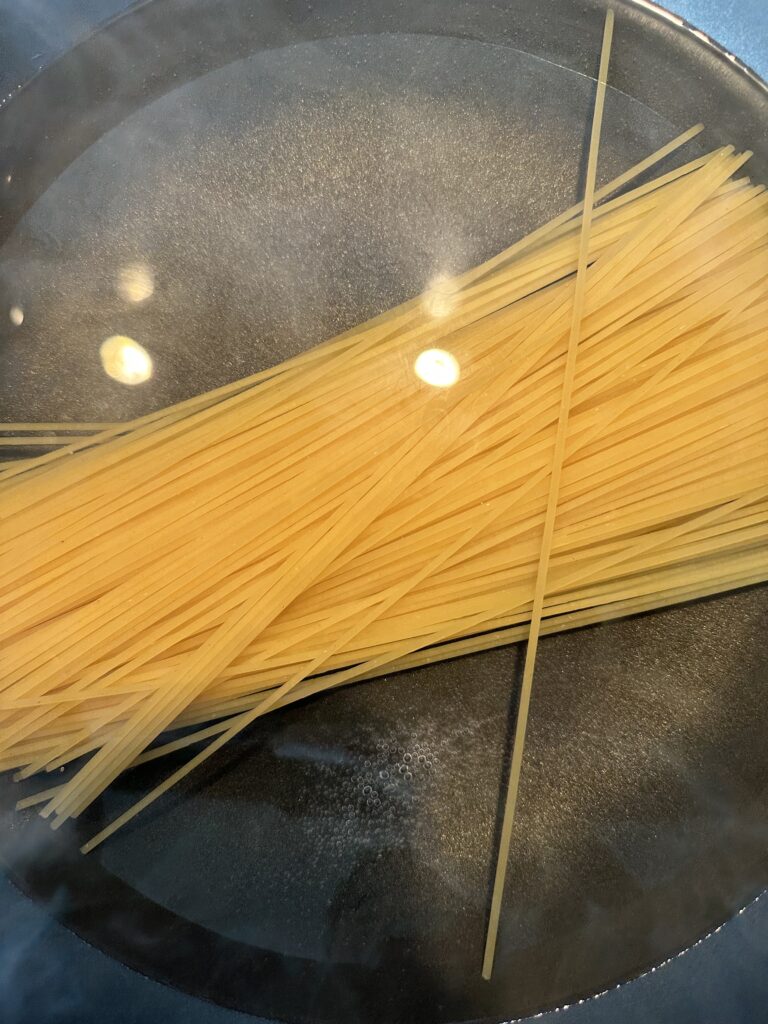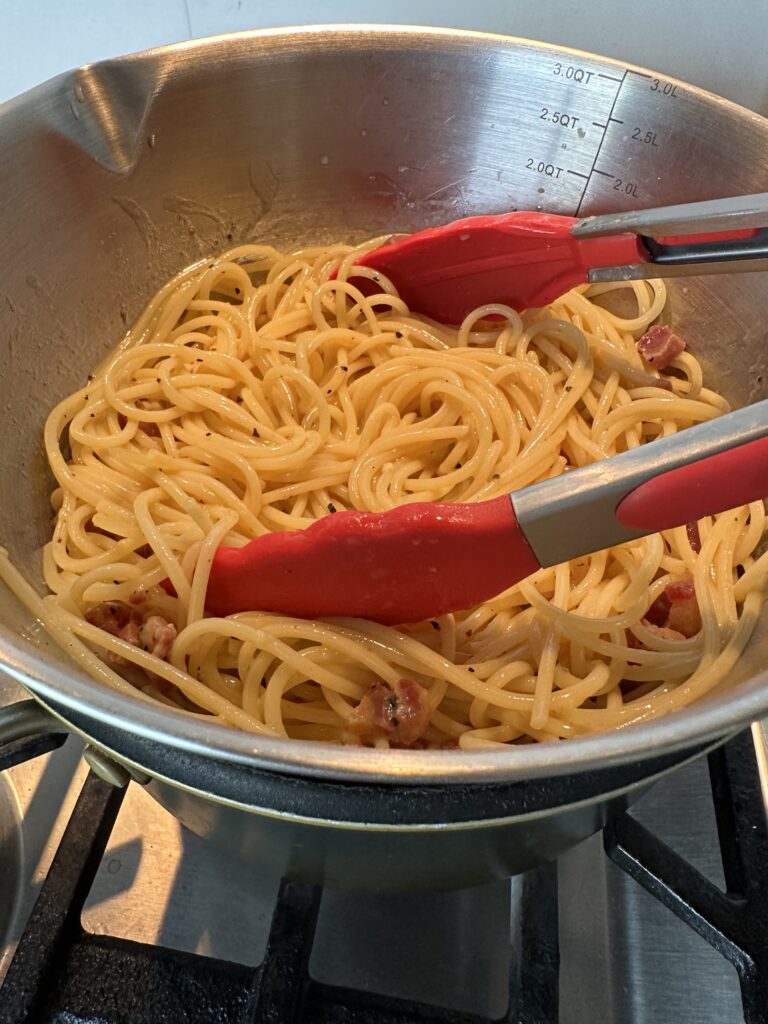 Feta and Lemon Snap Pea Salad
Next Post