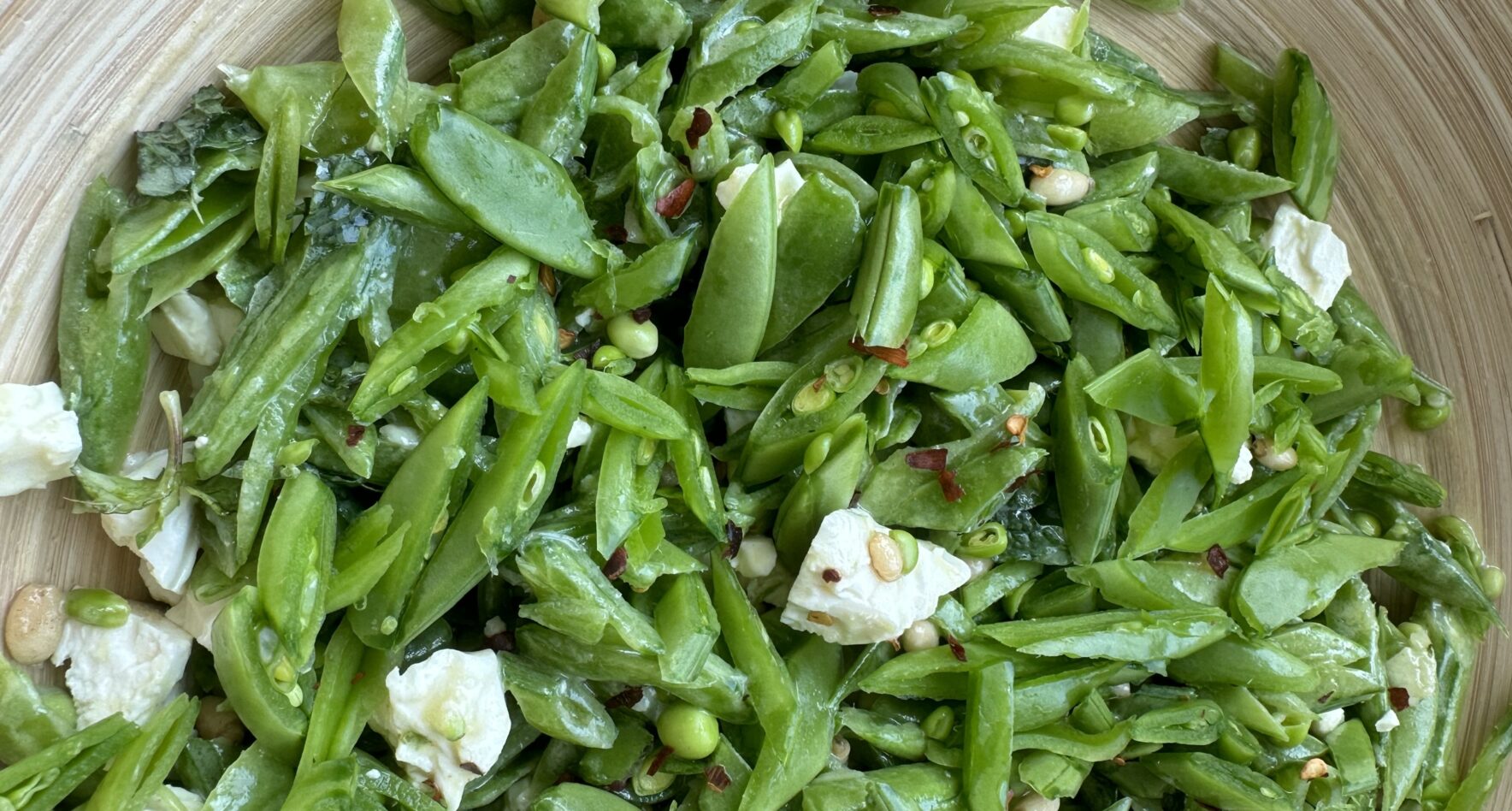 During the heat of the summer, I sometimes just want to snap my fingers (no pun intended) and have a meal appear before my eyes: It's sometimes too much to get in the kitchen, fire all your burners, clean and wipe down your kitchen, and eat a hot meal in the middle of a 95F day! This is why this recipe is a lifesaver during these warm months.
Sugar snap peas are in season now (they wrap up in late summer), and I had to experiment with them. We all know how delicious snap peas can be either simply roasted or lightly charred on the stovetop. But served raw, they are juicy, sweet, and crunchy. They really live up to their "sugar snap" pea name!
This salad is special because it combines some of my favorite ingredients. Bright, acidic lemon pairs with tangy Dijon mustard to make a vinaigrette. Chunks of feta add just enough salt. Toasted pine nuts add a mellow, nutty sweetness. And mint to top off this Mediterranean-esque vibe. I add a sprinkle of chili flakes at the end for a little kick, too. An added bonus- You can make this in one bowl! Plus, you can make it ahead of time and serve it chilled. Scroll below to see what's on my mind during these warm summer days…
Ingredients
Dressing
2 tbsp olive oil
2 cloves garlic, minced
1 tbsp Dijon mustard
1 tbsp honey
Juice of 1 lemon
Salad
1 lb snap peas, trimmed and cut on a bias
1/4 cup pine nuts, toasted
1/8 lb feta
1/4 cup mint, torn
Chili flakes (optional)
Directions
Dressing
In a big bowl, combine olive oil, garlic, mustard, honey, lemon juice. Mix until combined.
Salad
In the same bowl, add the snap peas and pine nuts. Toss until just combined.
Add feta and mint.
Serve at room temperature or chilled, and enjoy!