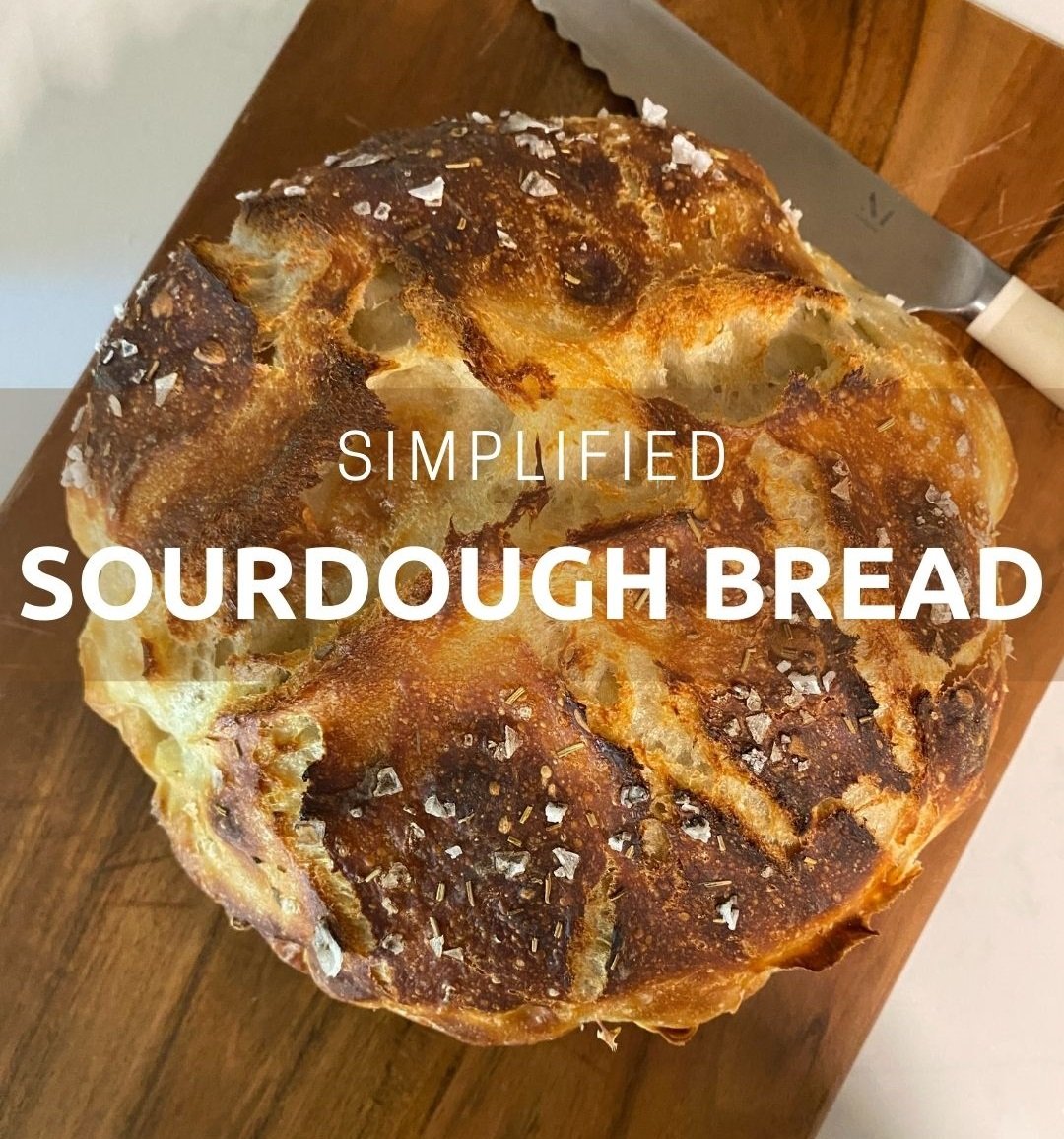 I am a recent owner of a sourdough starter. No, I didn't get into it during the pandemic, I am fashionably late to this bread making party, but I think i'm obsessed nonetheless. My brother in California flew 3000 miles to bring me his sourdough starter this past summer and I've been feeding it and baking with it ever since.
This recipe below is not for a sourdough starter. If you are looking for information on how to make a starter from scratch here are a couple links. If you know someone who has a starter, ask them for some! People love to share their starter. I've already given mine to around 10 friends!
I originally followed the No-Knead Sourdough Bread recipe from Feasting at Home. Her recipe is amazing and THOROUGH. So I'm linking it here if this is your first time making bread, and you need a little more guidance.
I've made this bread recipe over 20 times so I have a system down that works for me, and i'm sharing it with you below!
What you'll need:
4 to 6-quart Dutch oven with lid
High Temp Parchment Paper
sharp knife or lame/razor blade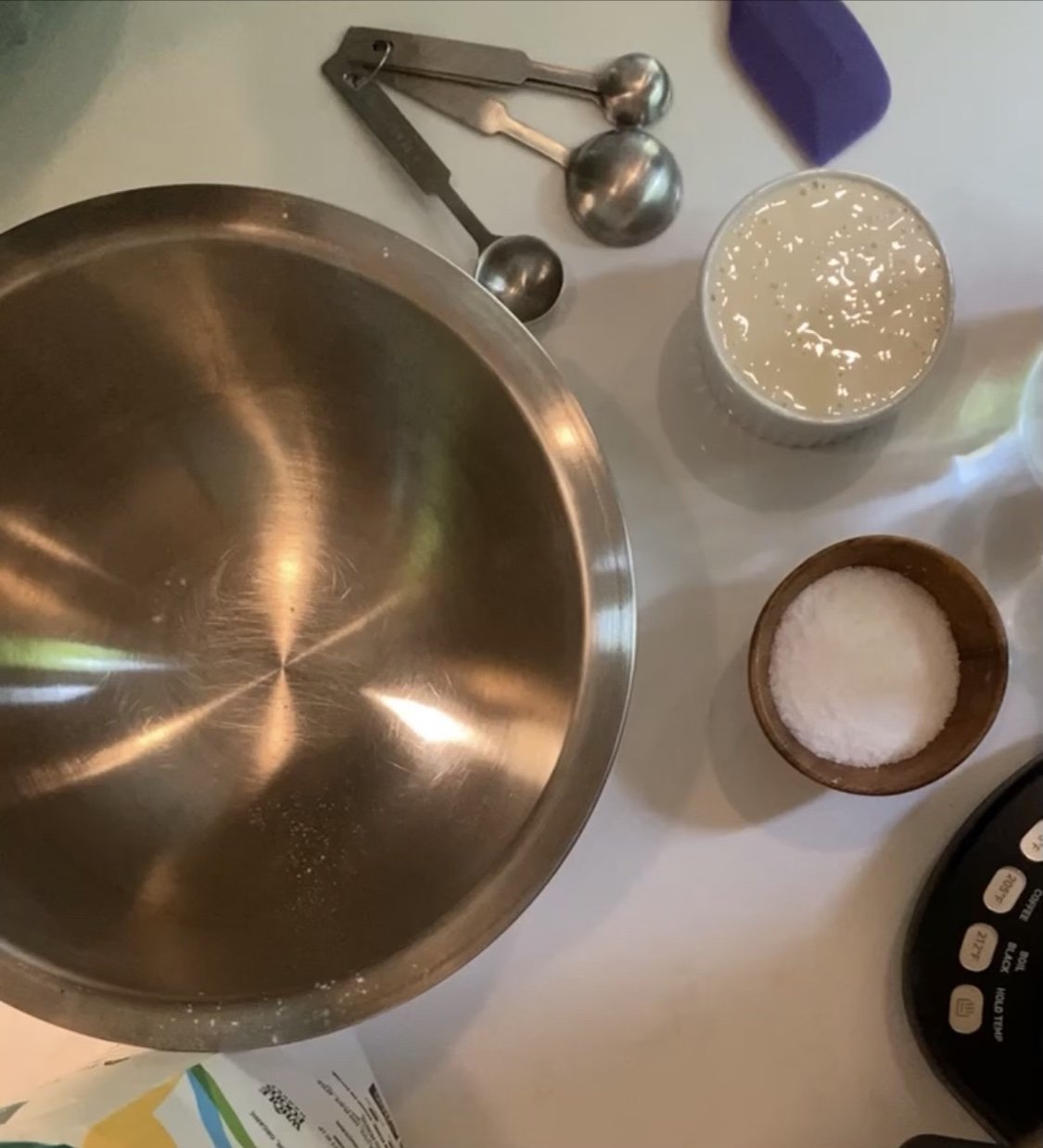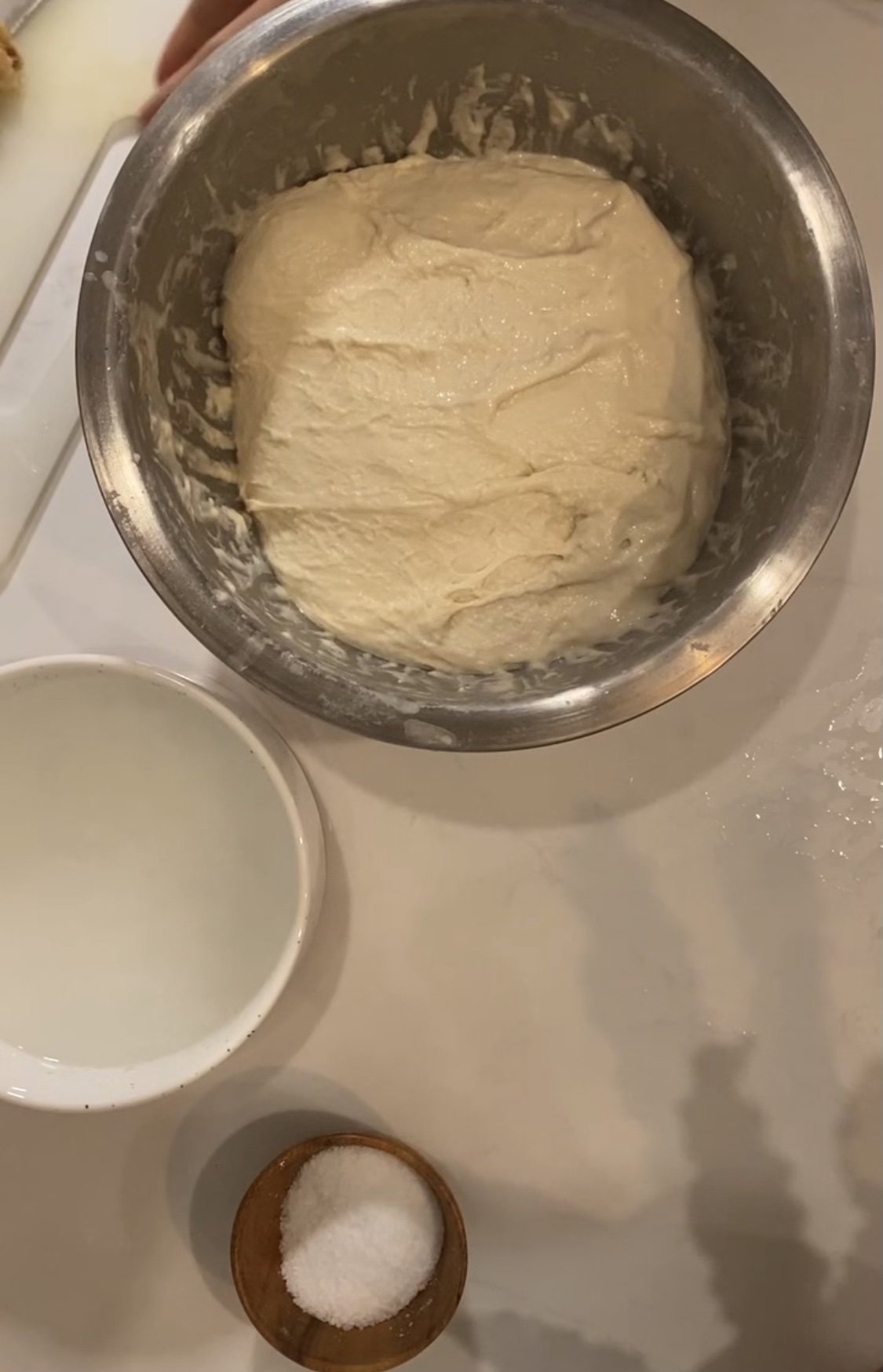 Ingredients
1/3 cup sourdough starter
4 cups all-purpose flour
2 teaspoons salt
1 7/8 cups water
Directions
In the morning, anytime 8-10am feed your sourdough starter. (All it takes is a little flour and water, mix, and lightly leave the lid on so it's not air tight). Leave the starter on your countertop and then wait 10-12 hours. You want to use the starter after it has been fed, when its "hungry" again. It's weird, I know.
That same day in the evening, anytime 8-10pm make the dough. Using your large mixing bowl, add 4 cups of all-purpose flour. Fill your 2 cup liquid measuring cup up to ALMOST 2 cups, so the water is sitting just below the line. Add 2 teaspoons of salt to the water. And then add 1/3 cup of sourdough starter to the liquid and carefully stir.
Add the liquid into the large mixing bowl of flour. Using a wooden spoon mix the ingredients together. It will look a little "shaggy" and not completely smooth, and that is okay. No need to knead! Take your kitchen towel, and get it wet under the faucet, ring it out and cover the bowl for 15 minutes.
After 15 minutes stretch the dough. Pro-tip wet your hands first, and in between every stretch to prevent the dough from sticking to your hands. Stretching — lift one side of the dough so it stretches, and then fold it over itself. Turn the bowl and do it again, repeat on all "sides." Cover the bowl again with the damp towel and let it proof for anywhere 10-15 hours while you sleep.
Here is where you need to pay attention to temperature, the ideal temp is somewhere 65-75 degrees F in the room. You'll notice in the summer months the dough proofs faster than in the winter. When its really cold I like to keep my dough in the oven (turned off) with the light on for the first few hours before turning the light off for the remainder. That seems to keep the temperature in the oven a warmer temp than the rest of my house! Go to sleep.
Good morning! Check your dough, it should have bubbles, and look like it has significantly grown in size. If it feels too liquid-y and gooey you may have let it sit for too long. You can still bake it, but it wont be as fluffy. Now its ready to bake!
You'll spend a total of 1 hour on this recipe, but each step is spaced out about 12 hours apart. So with that in mind, I'm going to share my "schedule" with you, but feel free to modify it to fit your lifestyle. This is a game of trial and error, and it took me awhile to figure out what truly works for me. And then every so often, it doesn't work, ha! My suggestion is to keep trying — progress, not perfection. There are so many factors that can change the outcome, like weather, temperature, time, how active the starter is, etc. But once this loaf of bread comes out of your oven and your house smells like a fancy bakery, it will all be worth it!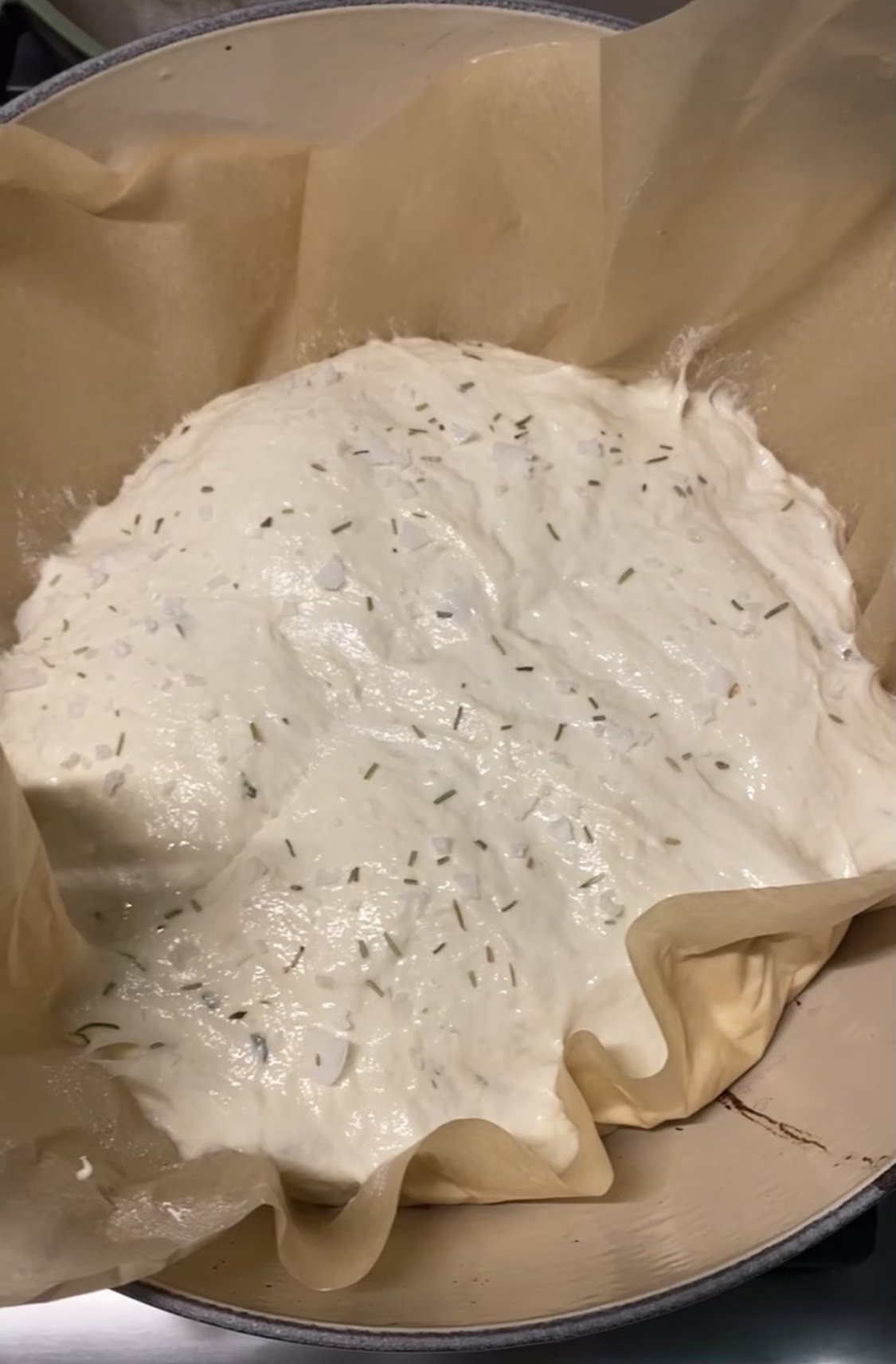 Baking the bread!
Heat your oven to 500 degrees F with your dutch oven inside. You want your dutch oven super hot, so let it sit in there for an hour. While its heating, stretch and fold your dough again, and here is where you can add any herbs or ingredients. I haven't gotten too crazy with added ingredients, but my favorite is definitely adding fresh rosemary. Take 3-4 rosemary sprigs, and chop the leaves and then fold them into the dough. Put dough in the refrigerator for 1 hour, while the dutch oven is heating for the same amount of time.
Carefully take the dutch oven out of the oven and place on your stove top. Remove the lid. Take dough out from the refrigerator and transport it onto a piece of parchment paper. (For beginners you can also put the dough on the parchment paper within the bowl before putting it in the refrigerator, that will make transporting it later much easier.) Holding the sides of the paper, lift the dough and place into the dutch oven. Sprinkle the top with flakey salt, or seeds. (Everything but the Bagel seasoning from Trader Joes is AMAZING as well.) Score your dough with a sharp knife or a lame. The dough should feel much firmer now that it has chilled for an hour. All you really need is one cut down the middle. Place lid on top of the pot, and put in the oven and bake for 20 minutes.
After 20 minutes remove the lid and lower the temperature to 450 degrees F. Bake for 10-15 minutes or until the internal temp is 208 degrees F.
Remove from oven and let the bread sit on a rack, or cutting board for an hour before cutting into it. Waiting might be the hardest part, because it is going to smell SO GOOD.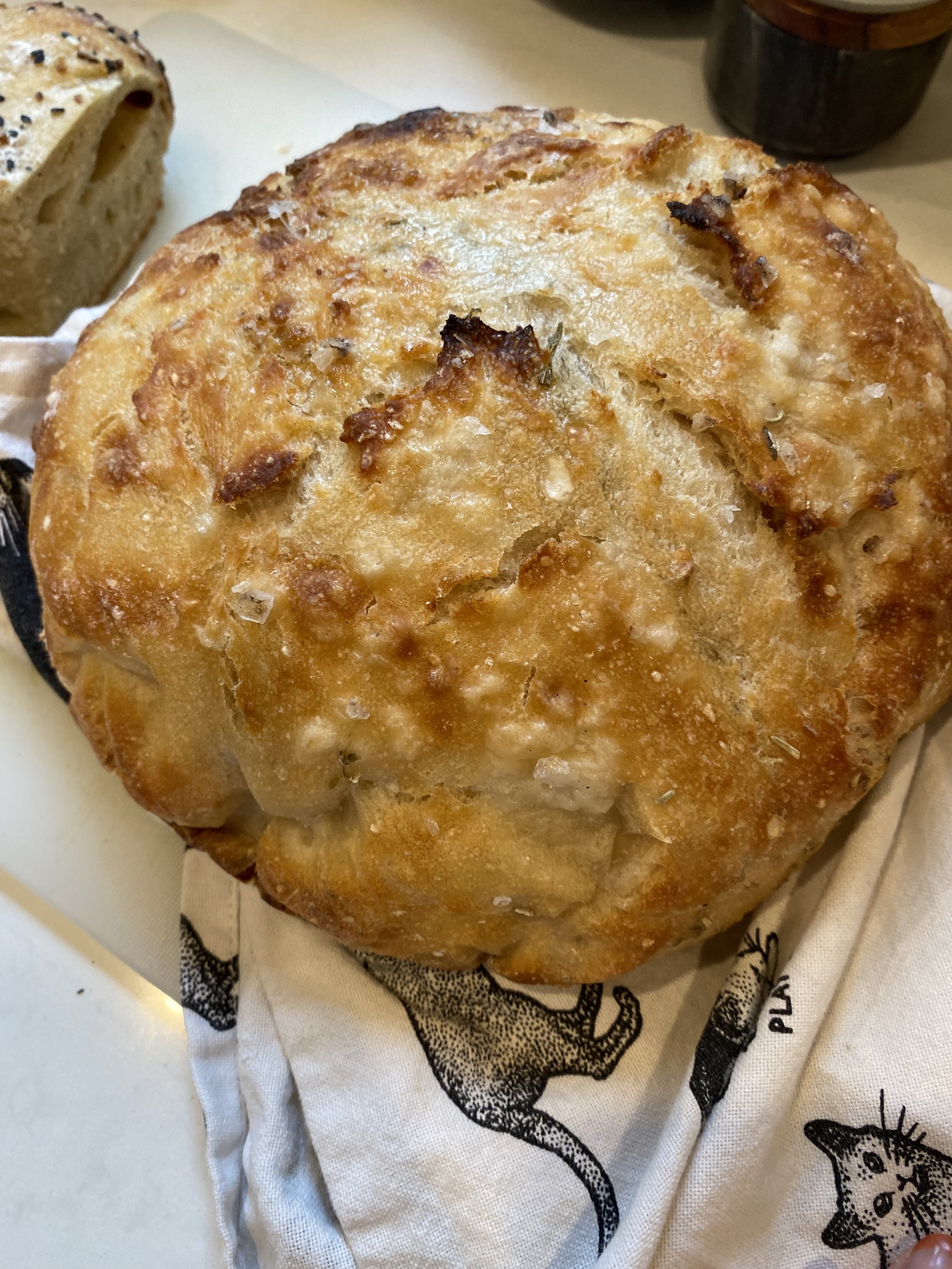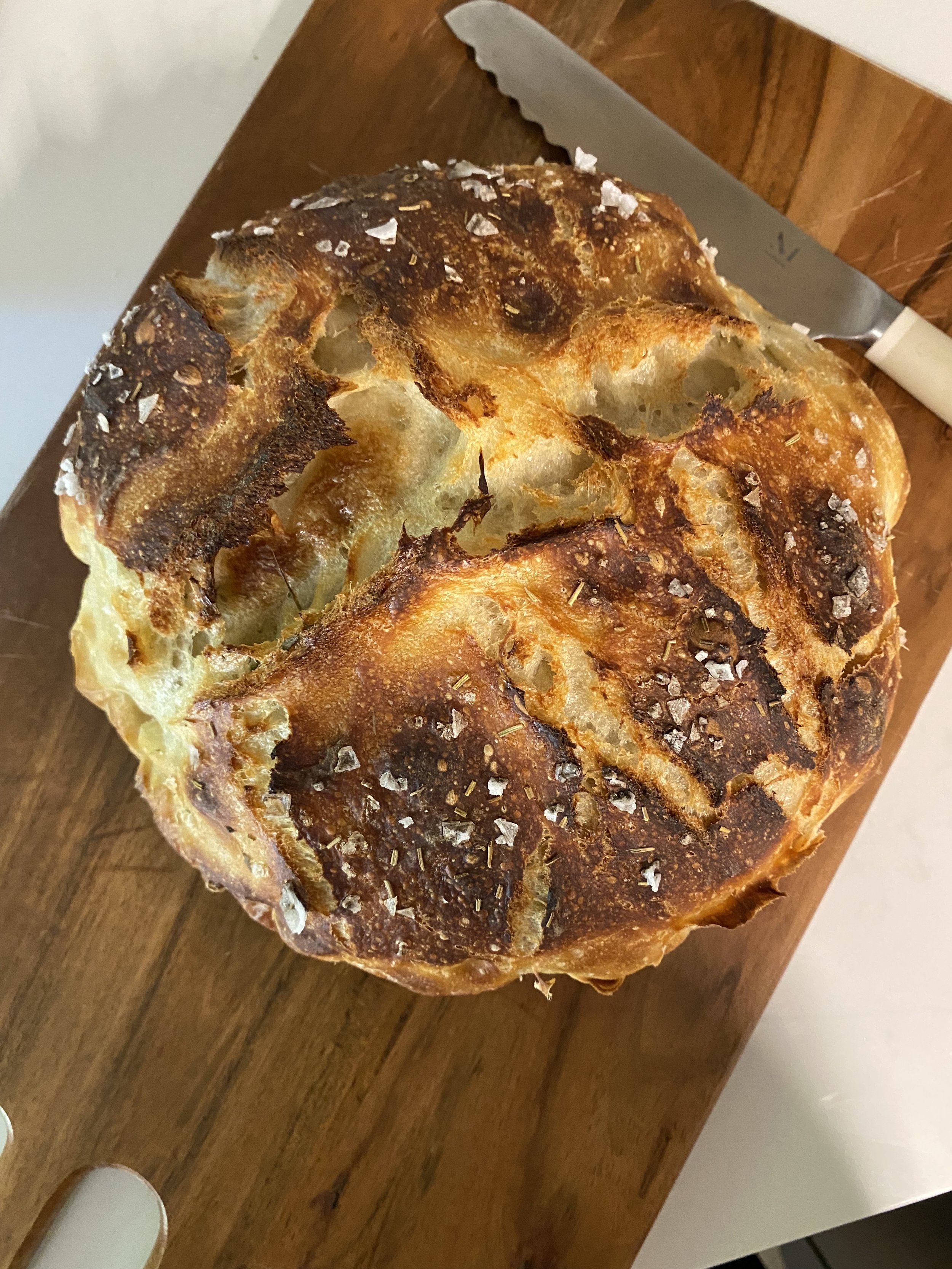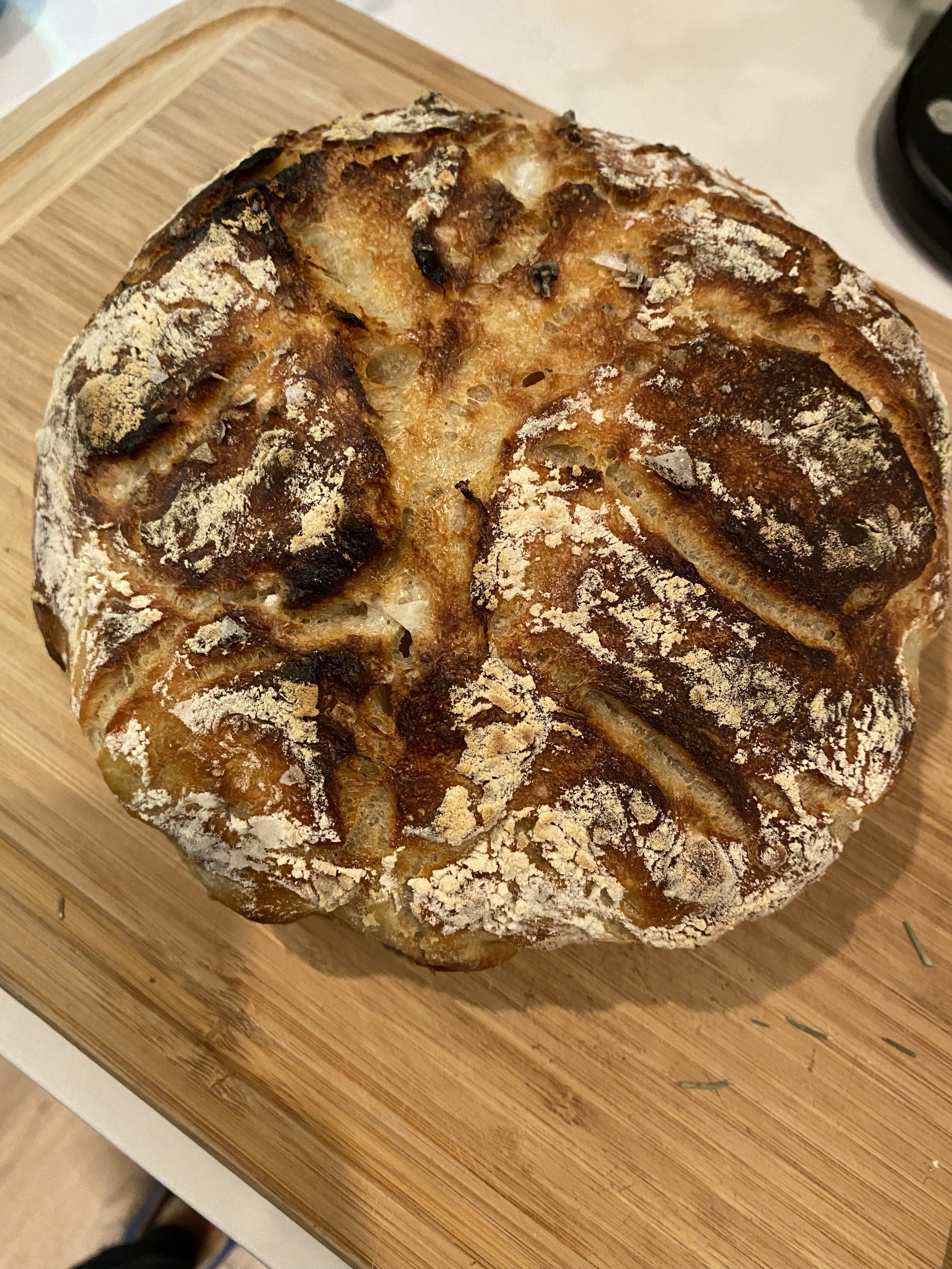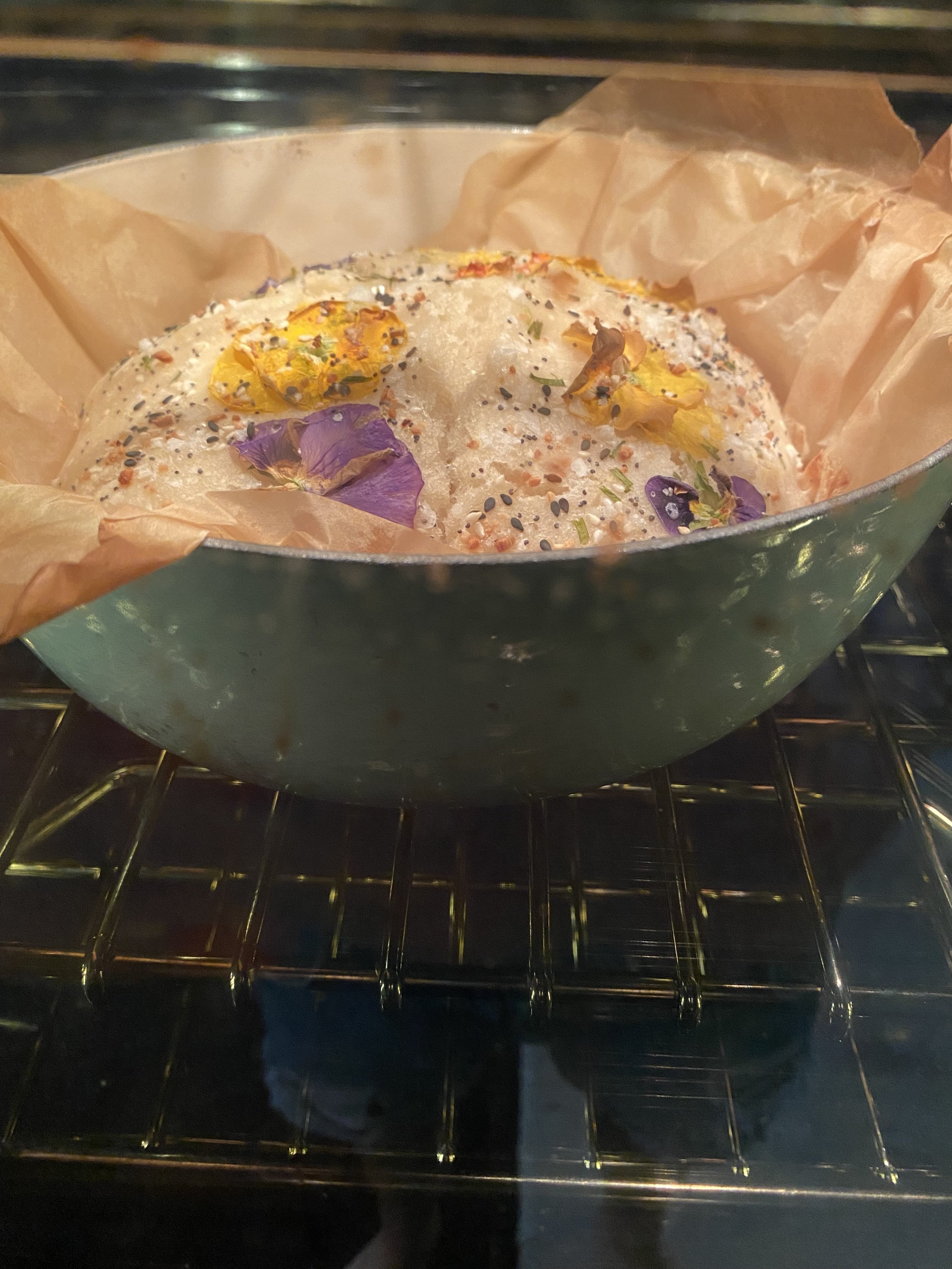 Some other delicious ingredient you can try are: cheddar jalapeño, green olive, lemon and thyme, walnut and cherry, etc. The list goes on! Once you get the basics down, it's easy to try new additions. Be warned, once your friends/family know you can bake bread they're going to ask for some all of the time. 😉
Enjoy !