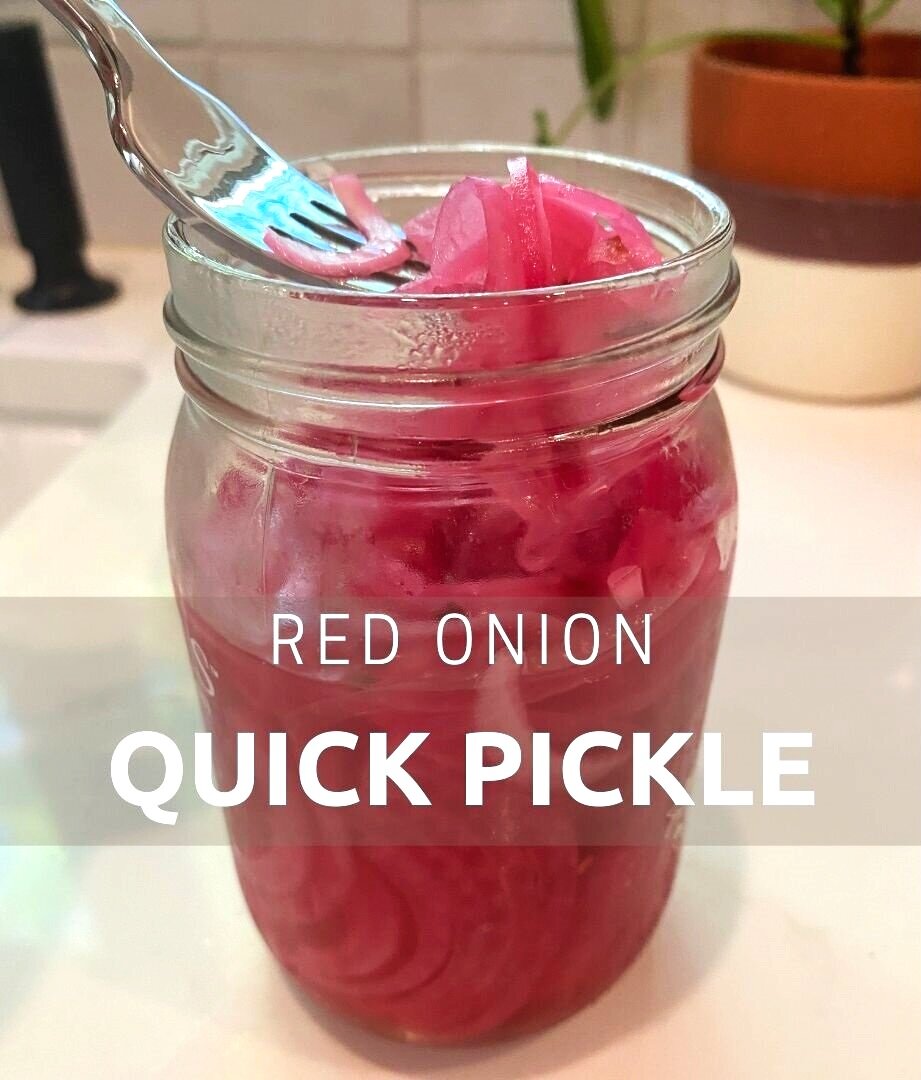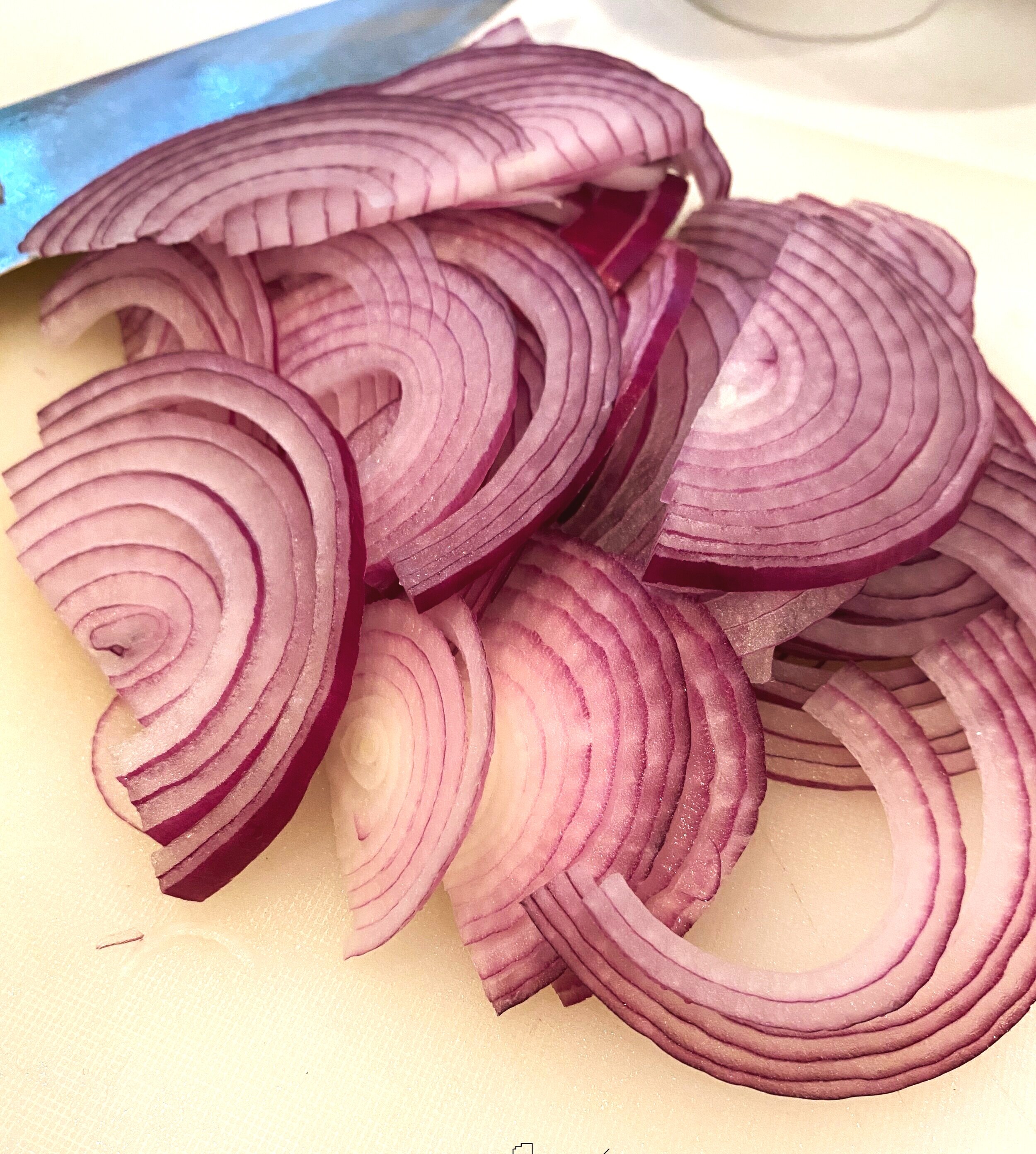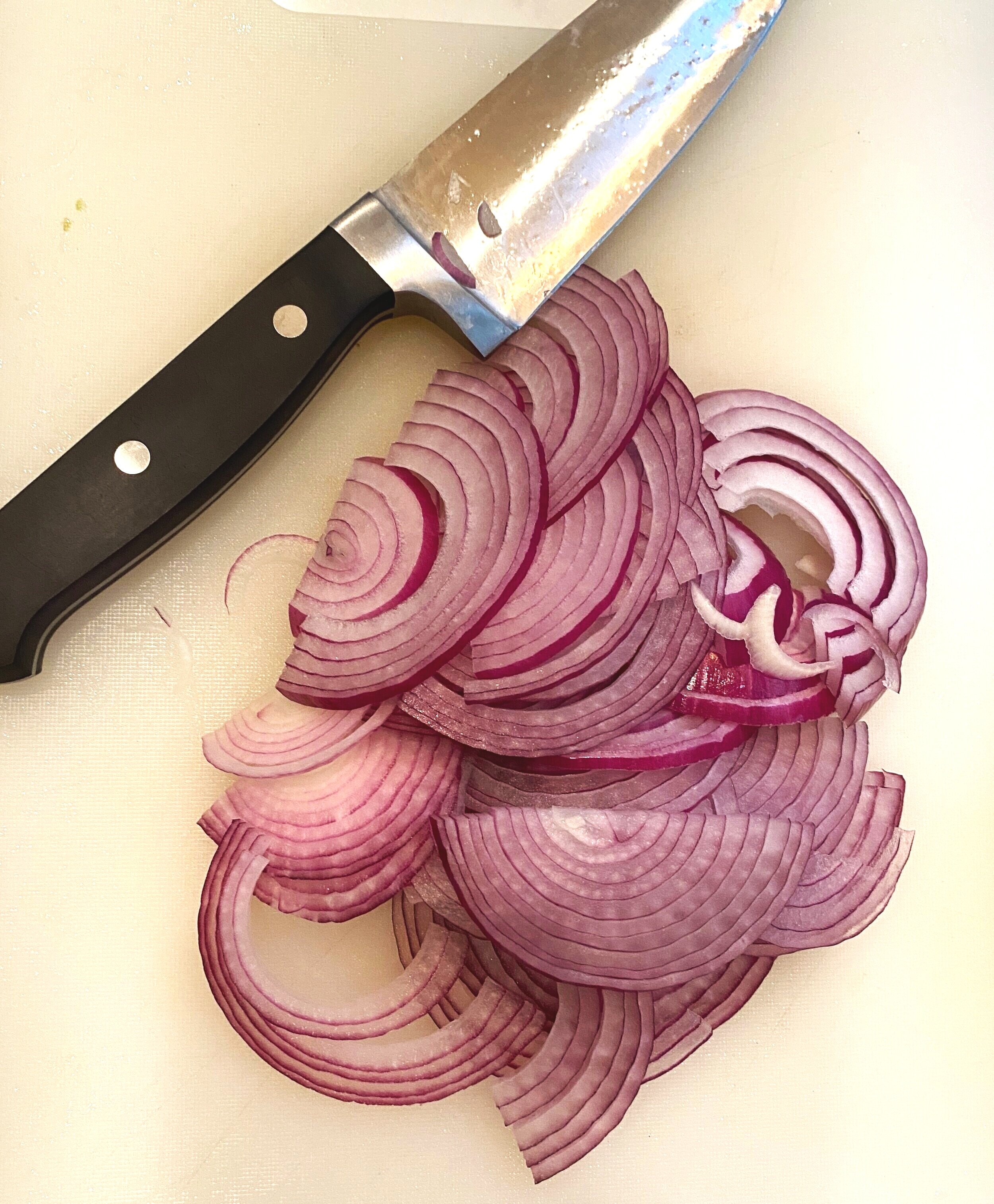 I can see myself eating pickled red onions on almost everything: tacos, simple salads, hearty burgers, grilled cheese sandwiches, almost anything! The pickle, or brine, takes out the signature "red onion bite," so you'll still get a nice dose of crunchy, sharp onion but not in it's full effect. Plus, they take on a nice sour bite as well.
Quick pickling is one of my new favorite things to do. They won't last on the shelf as long as traditional pickling (this doesn't require disinfecting the jars). But if you want to pickle something and eat it right away this is the best and easiest way! You simply take a vegetable of your choice (cucumber, red onion, carrot, cauliflower), steep them in a easy pickling mixture, and enjoy anywhere from 30 min to a few hours later. The recipe below is the basic, original version. So if you are looking for pickled red onions with more of a kick, feel free to add garlic cloves to the mix, toasted black peppercorns, a bayleaf, or sprigs of rosemary. This is a really customizable add-on!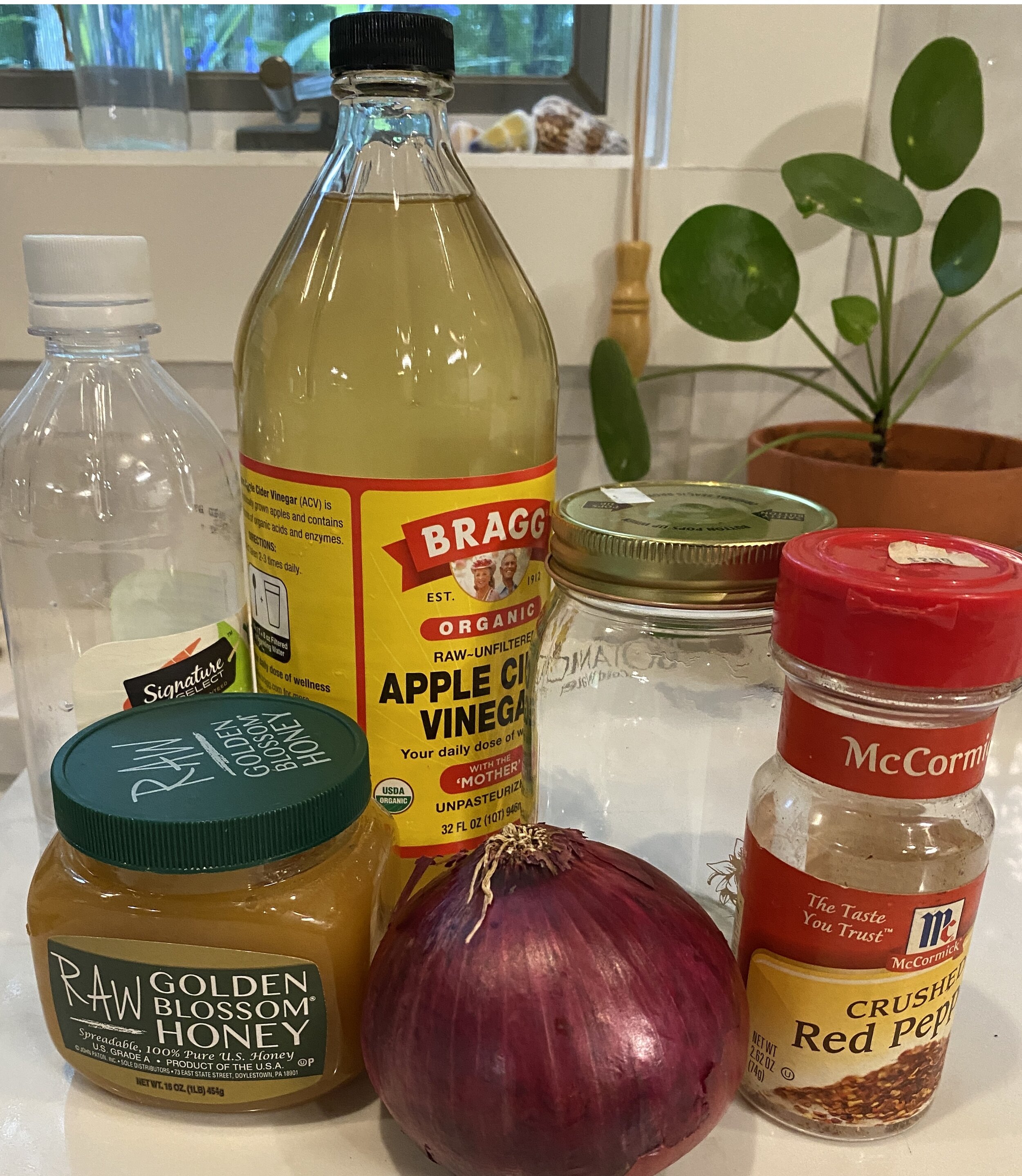 Ingredients
1 medium onions, finely sliced into half moons
1/2 cup water
1/4 cup white vinegar
1/4 cup apple cider vinegar
1 tsp salt
1 tbsp sugar
1/4 tsp red pepper flakes (optional)
Directions
In a medium pot, combine the water, vinegar, salt, and sugar together and heat until the sugar and salt has dissolved.
Place the sliced onions in a mason jar with a twist on lid. (This is when you would want to add your spices or garlic if you're getting creative!) Also DELICIOUS as is.
Pour the vinegar mixture over the onions, and push down the onions with a fork to make sure liquid covers the onions. Let cool without the lid on for maybe 30 minutes or so. Screw the lid on once it has cooled down a bit and put in the fridge.
Serve as is or over your favorite dish. Great on tacos, salads, bowls, eggs, really anything. ? This will keep for around 2 weeks refrigerated!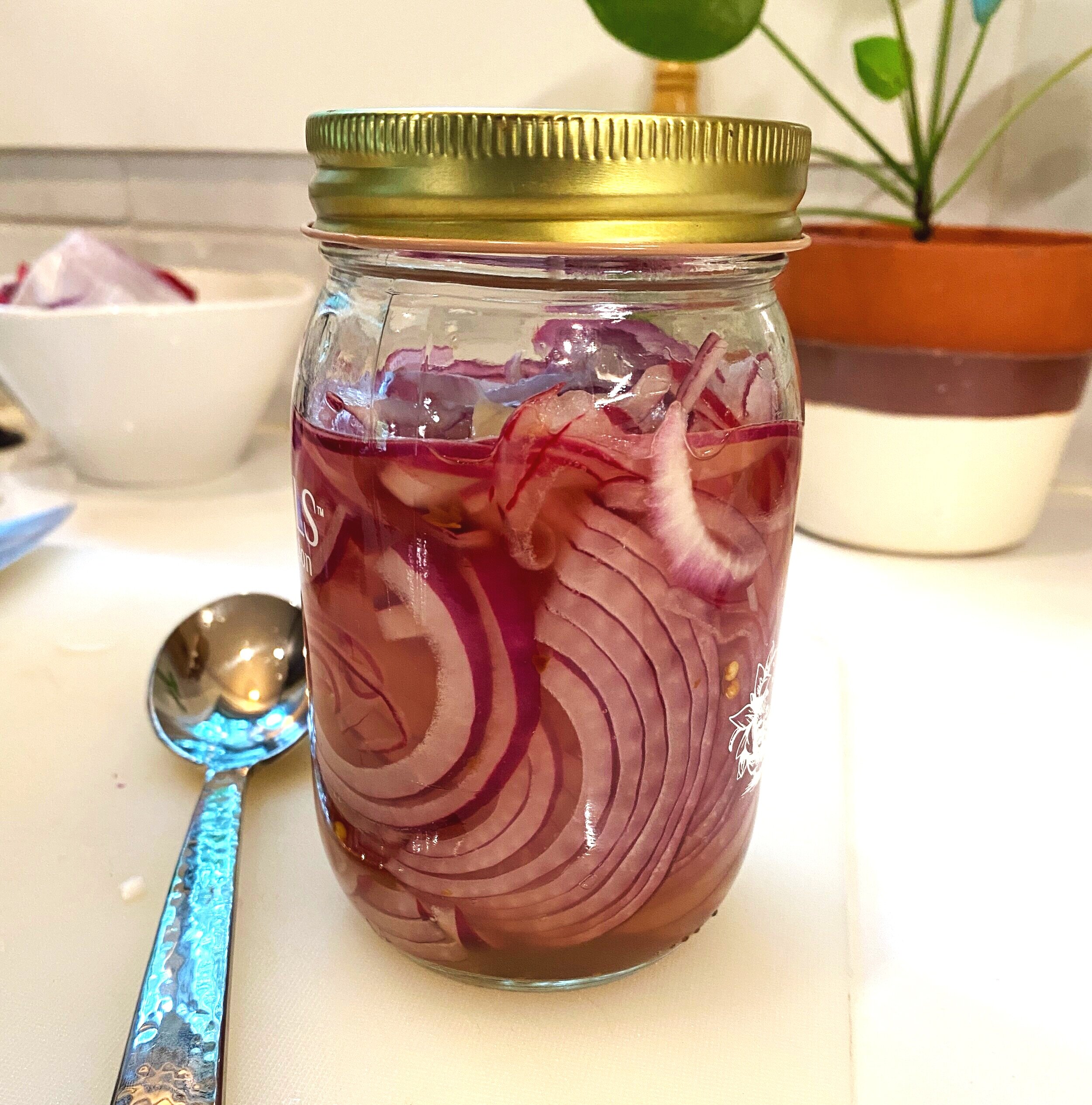 Cauliflower "Fried Rice" With a Kick
Next Post