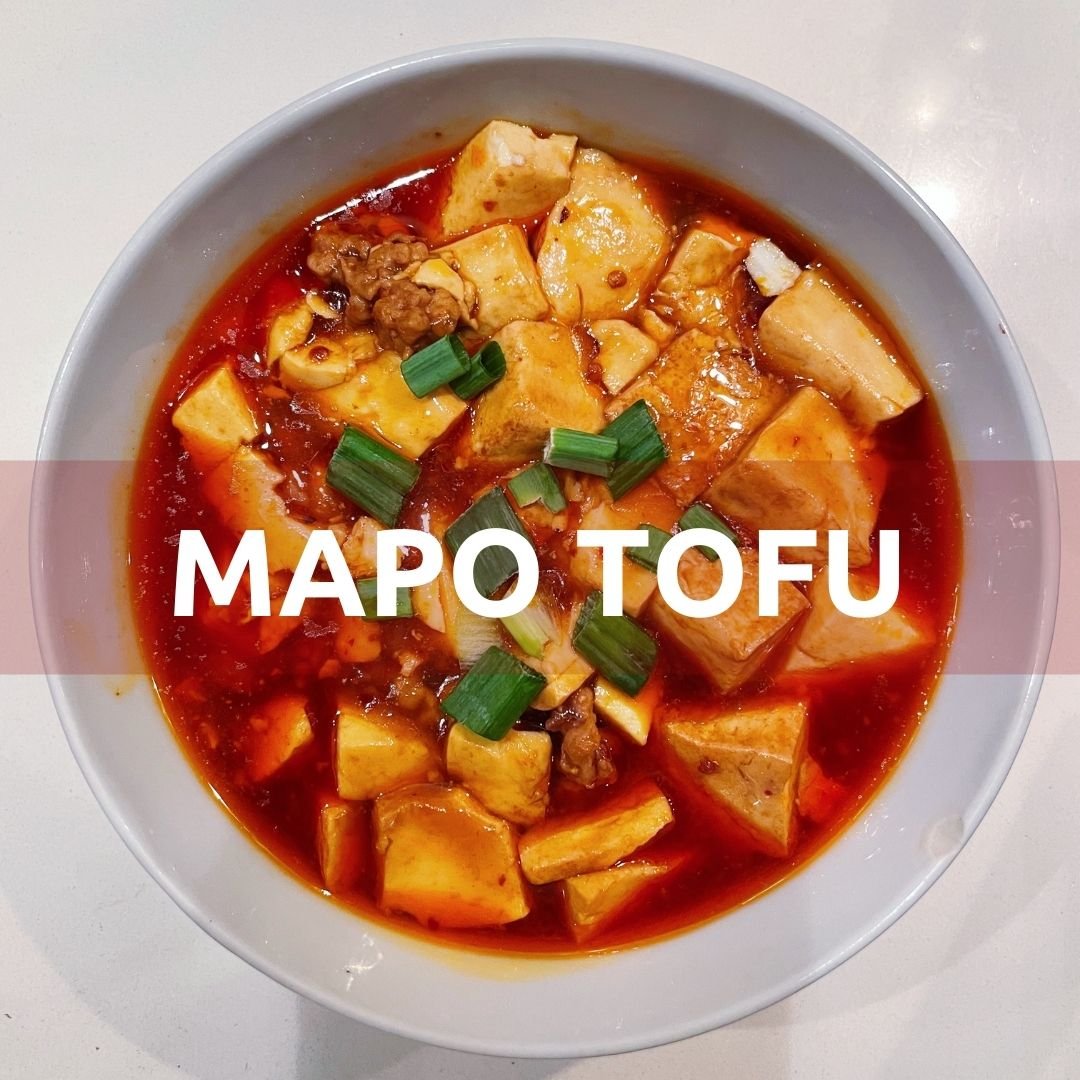 About a year ago, I shared my Dan Dan Noodle Recipe with you, and got such a great response! I love being able to make a popular restaurant dish in the comfort of my home. This dish, Mapo Tofu, similarly was always a dish I would eat in restaurants. In fact, when I was in college and studied abroad to Beijing for 6 months, "Mapo Do-fu" was the only thing I knew how to order at a restaurant, so subsequently that is all I ate for my first week that I was there. Good thing I love it!
In the spirit of Lunar New Year (it's February 1 this year!) I'm introducing another family favorite: Mapo Tofu. Its silky tofu consistency, mixed with a spicy and flavorful sauce, is such a great dish to add to your table of Lunar New Year dishes.
Mapo tofu is a great vegetarian-friendly dish that you can pair with rice or eat as is. It's also one that acts like a cozy, fuzzy blanket- have some of this, and you'll warm right up! This spicy dish is essentially tofu (firm or silken, you choose) simmered in a bath of chili, soy sauce, and Sichuan peppercorn oil. Some restaurants add ground beef or pork, so you have the option to add meat as well. You can find most of these ingredients at your local Asian supermarket, and the great thing is that you can use these ingredients in other Asian and non-Asian dishes alike.
This dish is dangerously addictive. There's your warning!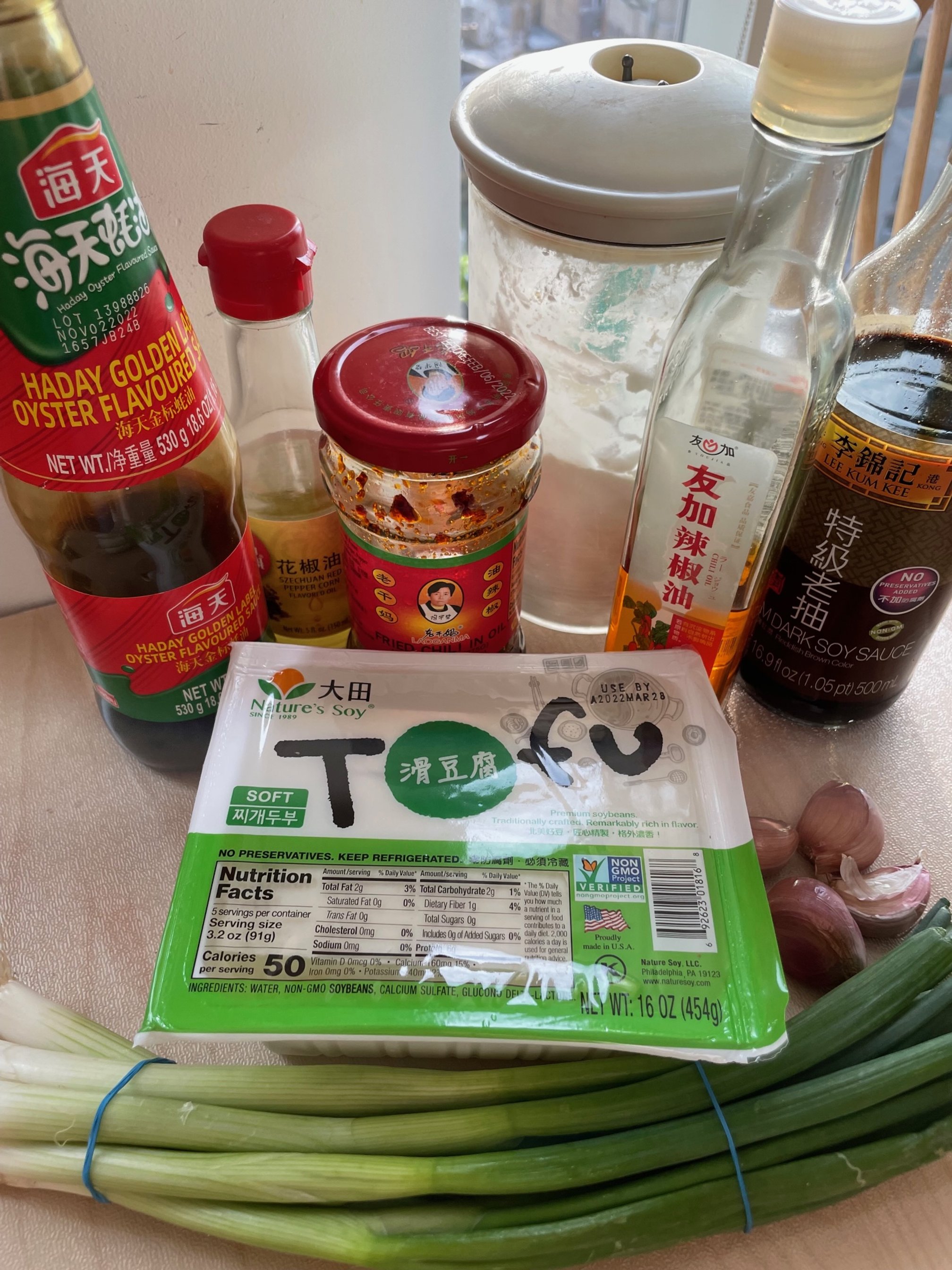 Ingredients
16 oz silken or firm tofu, cubed and drained
1 tbsp oil
2 tbsp Lao Gan Ma chili paste
2 cloves garlic, minced
1 tbsp chili oil
1 tsp Sichuan peppercorn oil
1 tbsp oyster sauce
2 tbsp dark soy sauce
1 tbsp cornstarch
Ground pork or beef (optional)
Scallions to garnish
Directions
Drain your tofu and cut into big blocks in the plastic tray. You will have a chance to cut them into smaller pieces in the pan!
In a saucepan, heat the olive oil and add the Lao Gan Ma chili paste and sauté for about 2 min. Add the garlic and stir to avoid burning.
Carefully drop the tofu into the pan. Now's the time to further cube your tofu into 1/2-1 inch cubes.
Add 2 Tbsp water, chili oil, Sichuan peppercorn oil, oyster sauce, and soy sauce to the pan.
Simmer on low heat for 5-7 minutes. This is where all the flavors meld together
Add 1 tbsp water to the cornstarch and make a slurry: add the cornstarch to the tofu and simmer for an additional minute until it starts to thicken
Remove from heat and garnish with scallions. Serve with rice!
Note: if you want to add ground meat, add it in Step 2 with the chili paste and garlic.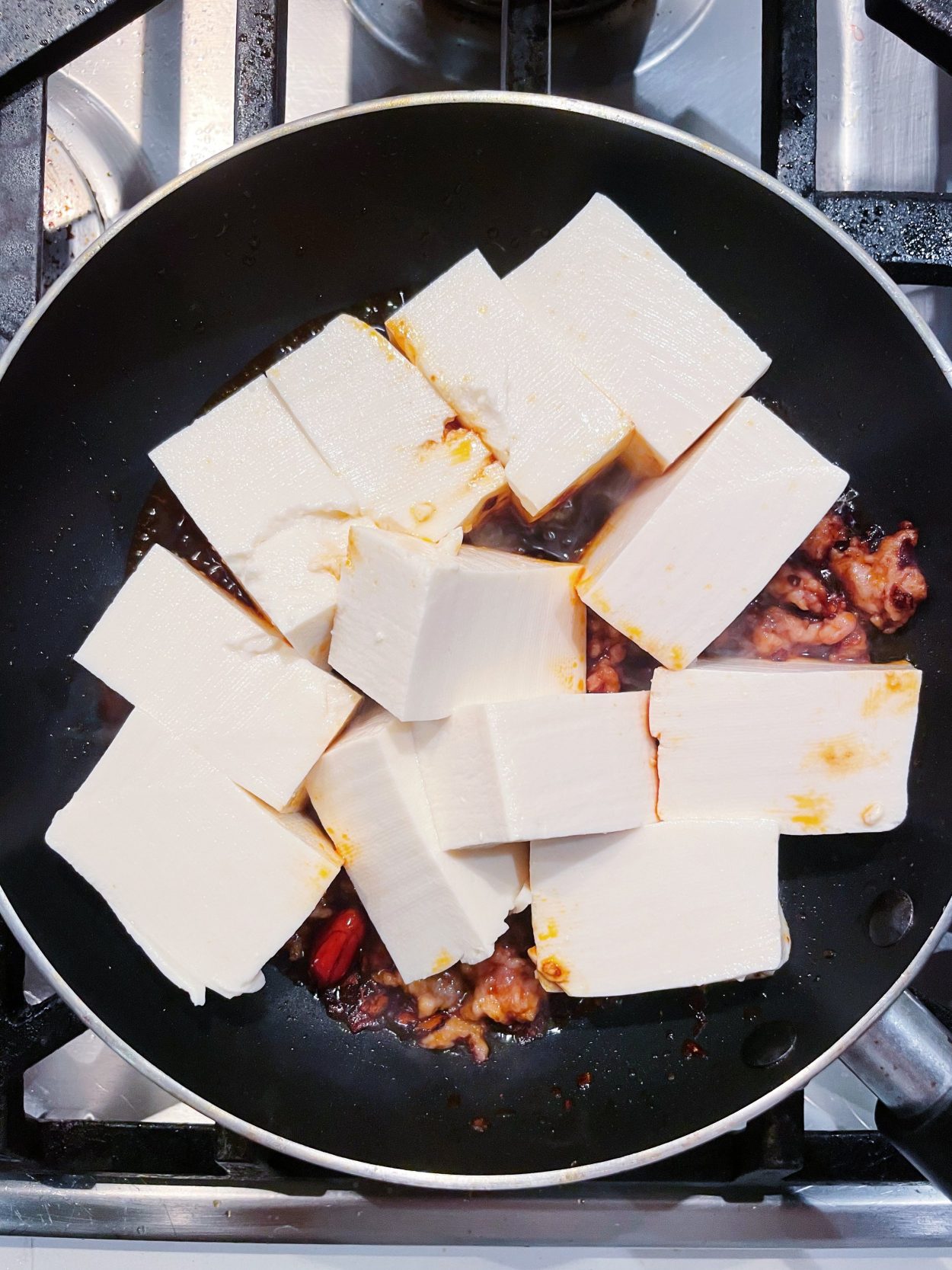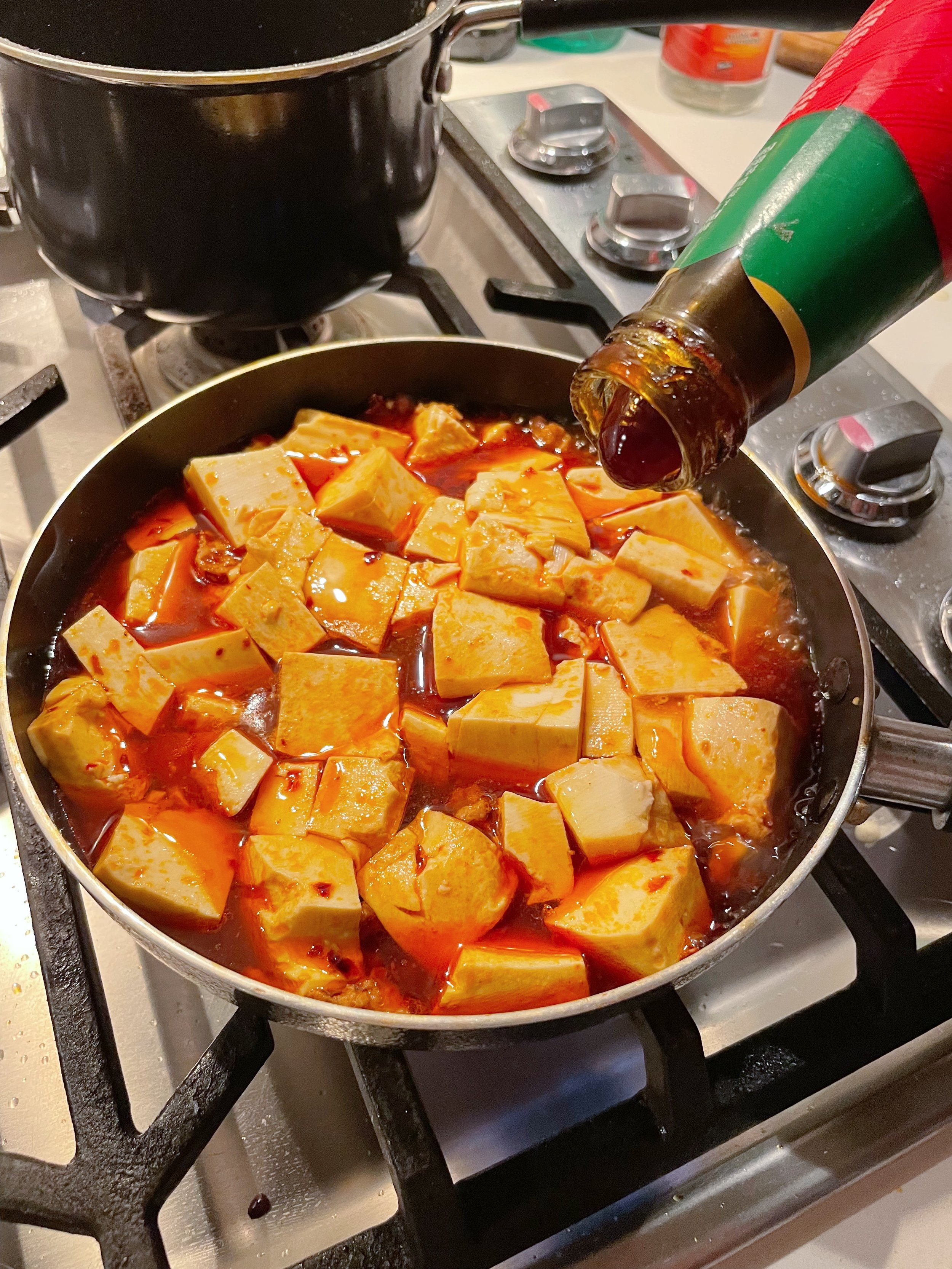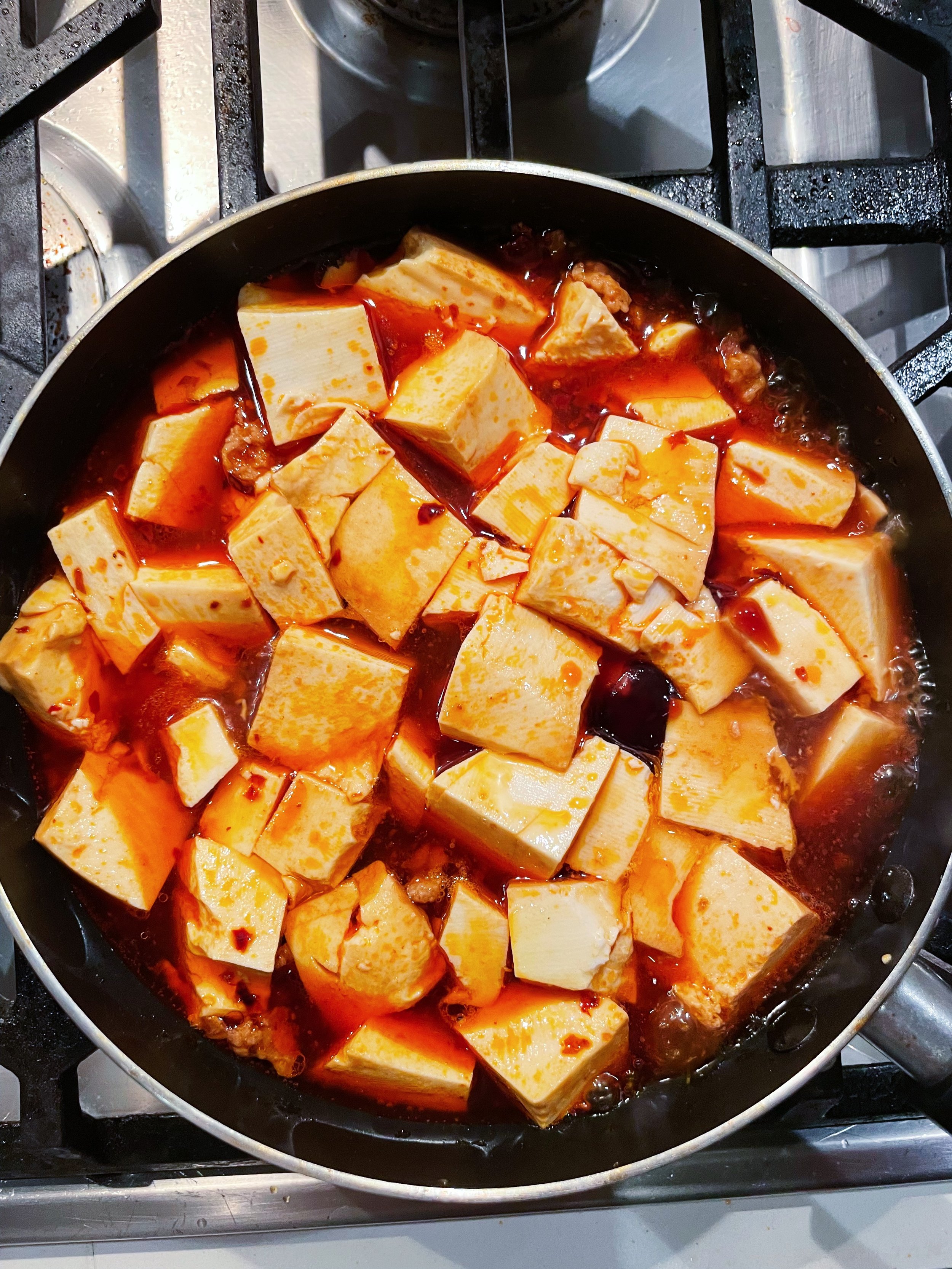 Scallion Cheddar Sourdough Biscuits
Next Post