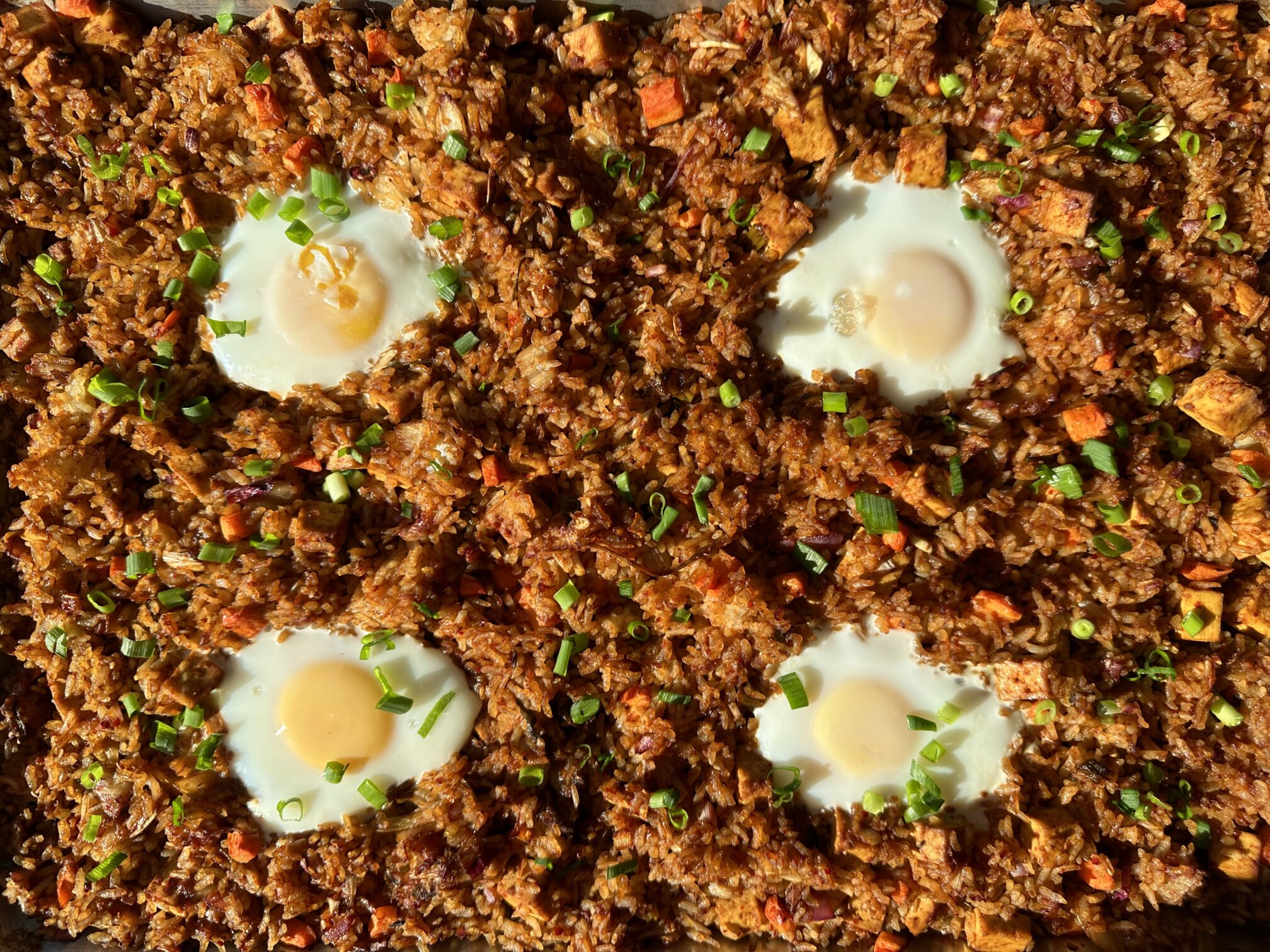 Keeping with the theme of one-"blank" dishes, here's a version of a Eric Kim's sheet-pan kimchi fried rice. Last year, I created a Seafood Paella, which you guys loved (thanks for the feedback!). I find rice dishes especially comforting during the winter season, and one of my favorite aspects of these meals is the difference in texture: there's fluffy, moist rice on the top and crispy, crunchy bits on the bottom. Using a sheet pan for this dish allows maximal surface area for the rice to, literally, fry.
This fried rice basically cooks itself. Once you assemble all the ingredients together, you pop it in the oven for about 20 minutes until you smell the aromatic kimchi perfume your kitchen. Many fried rice recipes typically call for day-old rice. But here, you can use a fresh batch from either your stovetop or take-out order because the oven will draw out more moisture than a stove would. If you're using old rice, add 1 tablespoon of water to every 1/2 cup of cooked rice, stir, and drizzle an extra bit of olive oil on top just to make sure nothing burns. Already dreaming of the next time I'm making this!
Ingredients
4 cups cooked rice
1/4 cup reduced sodium soy sauce
2 tbsp sesame oil
1/4 cup rice wine
2 tbsp miso
16 oz kimchi, drained and chopped, liquid reserved
2 garlic cloves, chopped
1 medium onion, diced
1 medium carrot, peeled and chopped
1 block firm tofu, cut into 1/2 inch cubes and patted dry
4 large eggs
Scallions
Directions
Preheat oven to 400 F.
Combine soy sauce, sesame oil, wine, miso, kimchi liquid, and garlic together in a big mixing bowl.
Add rice, kimchi, onion, carrot, and tofu to the marinade and mix until combined. Taste and add salt as necessary- be careful because the kimchi and soy sauce have a good amount of salt.
Evenly spread the rice on the baking sheet and bake for 30 minutes until top is light brown and crispy.
Remove pan from oven and gently crack eggs into each corner. Return to oven to cook 3-5 minutes until eggs have started to become opaque.
Garnish with scallions, and enjoy!