Last month, I developed a few "no-cook summer" recipes for those hot, humid days. And this month, I've made two grill-inspired recipes! Cheers to the best of both worlds.
Eggplant season runs from mid-summer to mid-fall, so creating a charred eggplant spread was a no-brainer. Feta is a tangy cheese that I love to sprinkle on this and other dishes- it adds a salty, creamy bite to the party . I added crushed tomatoes for another summer fresh burst and chopped peanuts for a crunchy finish. It's SO good! I love this as a stand-alone dish or on toast. It's also a great sharable dish.
If you don't have a grill, you can also split the eggplant down the middle, add some cuts horizontally and vertically within the skin, brush in olive oil, and pop them in the oven at 450F for 35-40 minutes until eggplant looks "collapsed". To make the cooking time quicker, you can also wrap them in aluminum foil so the steam can speed it up. This is a versatile recipe, so don't be intimidated by the word "char."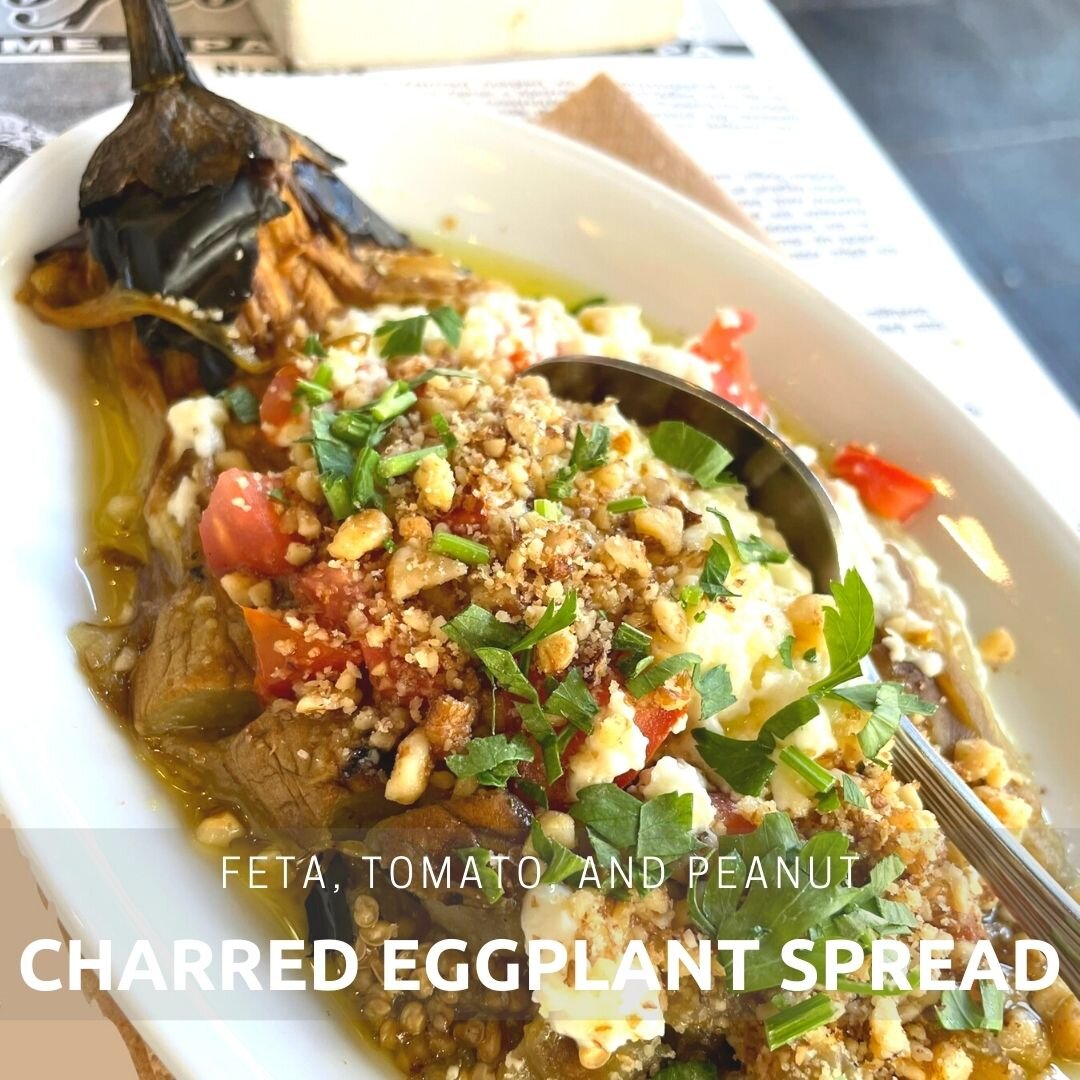 Ingredients
1 medium-large eggplant, skin on
1 small tomato
1/2 cup feta cheese, crumbled
1/4 cup peanuts, chopped
Oregano or scallions for garnish
Olive oil
Salt and pepper to taste
Directions
Cut eggplant in half. If you have a grill/open flame, char the eggplant for 8-10 min each side, rotating halfway through. Otherwise, try my oven hack (roast the eggplant halves, wrapped in aluminum foil at 450F for 35-45 minutes. This foil method will create steam in the eggplant pocket, making it cook quicker!)
In the meantime, chop 1 small tomato and set aside.
Run a fork down the eggplant, creating eggplant "ribbons"
Layer feta and tomato on the open eggplant half
Garnish with chopped peanuts, herbs, and a healthy dose of garlic-infused olive oil (I used a lot! It is also great to dip bread into it: to make it, mince a few cloves of garlic and add to the oil.)
Enjoy!
Greek-Inspired Grilled Prawn Salad Recipe
Next Post