I've been on a squash kick: gourds galore! (Did you check out my stuffed acorn squash recipe?) Keeping with the theme, I'm sharing a pasta dish that's made me rethink butternut squash.
Typically, I cut half-moons of butternut squash, roast them, and eat as is. Or blend it into a warm soup. Or garnish on salads. But what about pasta? Here, I've transformed this squash into a creamy sauce with the help of garlic and walnuts. Garnishing the dish with sage and prosciutto adds another layer of flavor with minimal effort. Check it out below!
Inspired by Half Baked Harvest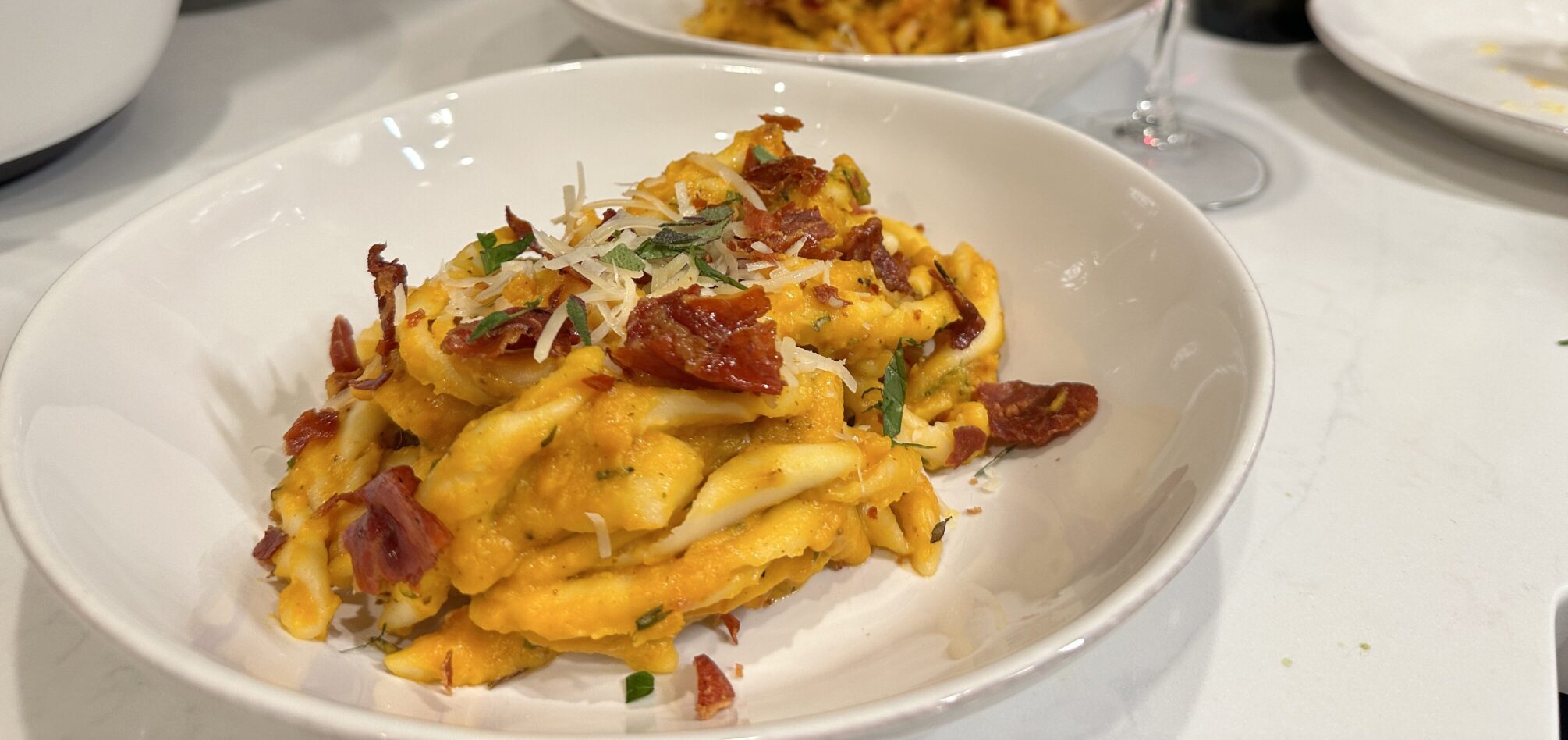 Ingredients
2 cups butternut squash (about ½ of squash), washed, peeled, cubed

1 head of garlic, top chopped off

4 slices of proscuitto, torn

Olive oil

½ cup sour cream

½ cup walnuts, roasted

2 tbsp butter

2 tbsp sage

½ lb pasta your choice, cooked to manufacturer's instructions and 1 cup pasta water

Parmesan for garnish
Directions
Preheat oven to 425 F

Toss butternut squash with 3 tbsp olive oil. In the same baking sheet, add garlic and prosciutto. Roast for 25-30 minutes until squash is fork-tender. Prosciutto and garlic will finish first, so retrieve them before they getburnt! Set ⅕ of squash aside

In a blender, pulse the remaining squash, garlic, sour cream, and walnuts until smooth. You may need to add ½ cup water to help your food processor

In a saucepan, brown butter until fragrant. Add sage, a generous spoonful of butternut squash puree (about ½ cup), and splash of pasta water. Mix until smooth

Add cooked pasta cook until the sauce coats each spiral

Toss with reserved roasted squash and garnish with prosciutto crisps and Parmesan. Enjoy!