Breakfast is one of the most important meals of the day! This is because it gives you nutrients so you can focus on starting your day and make the most of it.
Breakfast can also be time-consuming: There's prep to be done, food to cook, plates and pans to clean all before getting out the door. We all know a healthy, delicious breakfast can be a bit challenging in the early hours of the day. Which is why I wanted to share one of my go-to recipes that's easily customizable whether you're rushing out the door or planning a more relaxed morning.
I've been making these tacos for a while now, and during my trip to Austin for SXSW a few weeks ago where I had tacos for almost every meal (yum!), I was inspired to share this recipe. It starts off with a griddled tortilla that's then topped with spinach scrambled eggs, a spoonful of black beans, pickled onions, and a healthy dose of hot sauce. You can also make this an open-faced sandwich, add avocado, poach an egg, add a fresh relish… If you leave the tortillas on the stove for a few minutes longer, no problem- you've just made breakfast tostadas! Scroll below to see how I make my go-to breakfast tacos.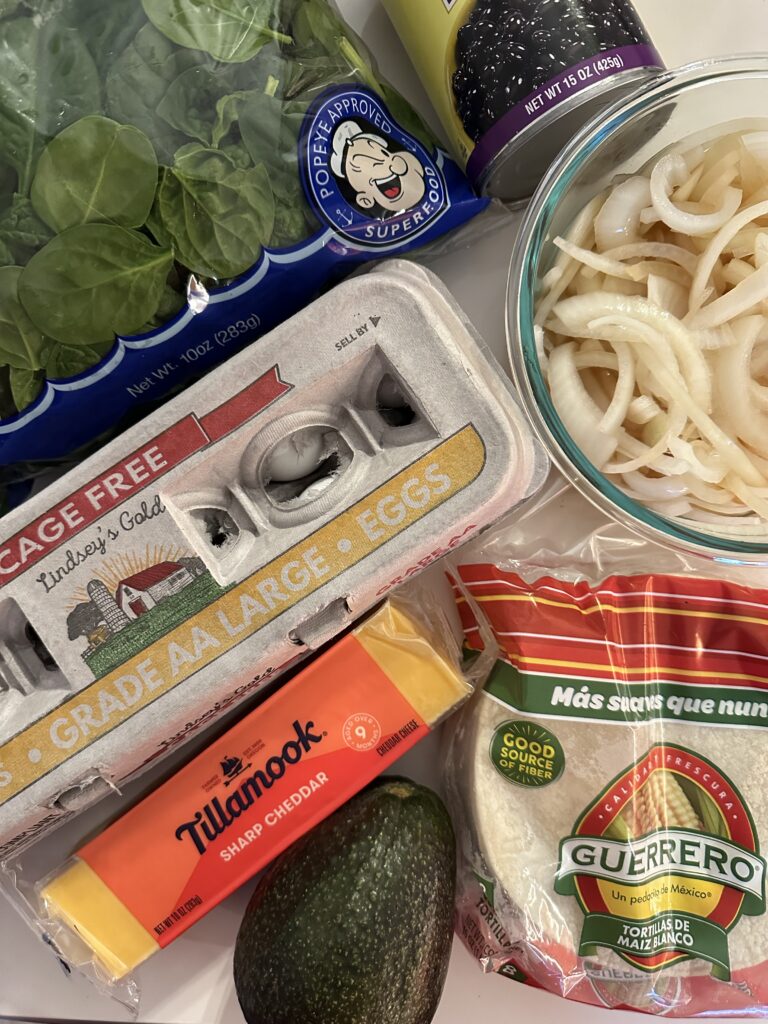 Ingredients
4 corn or flour tortillas
4 eggs
1 handful of baby spinach, washed
1/4 cup black beans, washed and drained
2 oz cheese, grated
Pickled onions
Hot sauce (optional)
Avocado (optional)
Chorizo (optional)
Directions
In a pan or on a griddle, heat tortillas on low heat and add a sprinkle of cheddar on the top. Cook for about 3 minutes until crispy.
Whisk eggs in a medium bowl. In a separate pan over medium heat, add olive oil to barely coat the pan. Slowly add the eggs, scrambling as you go for about 30 seconds.
Add spinach to the egg mixture and cook until wilted, another 30 seconds.
Add spinach scramble on top of the tortilla. Add a spoonful of black beans, a few slices of red onion. Option to add avocado and/or chorizo if you want to make it a more decadent breakfast. Don't forget hot sauce!  Enjoy!