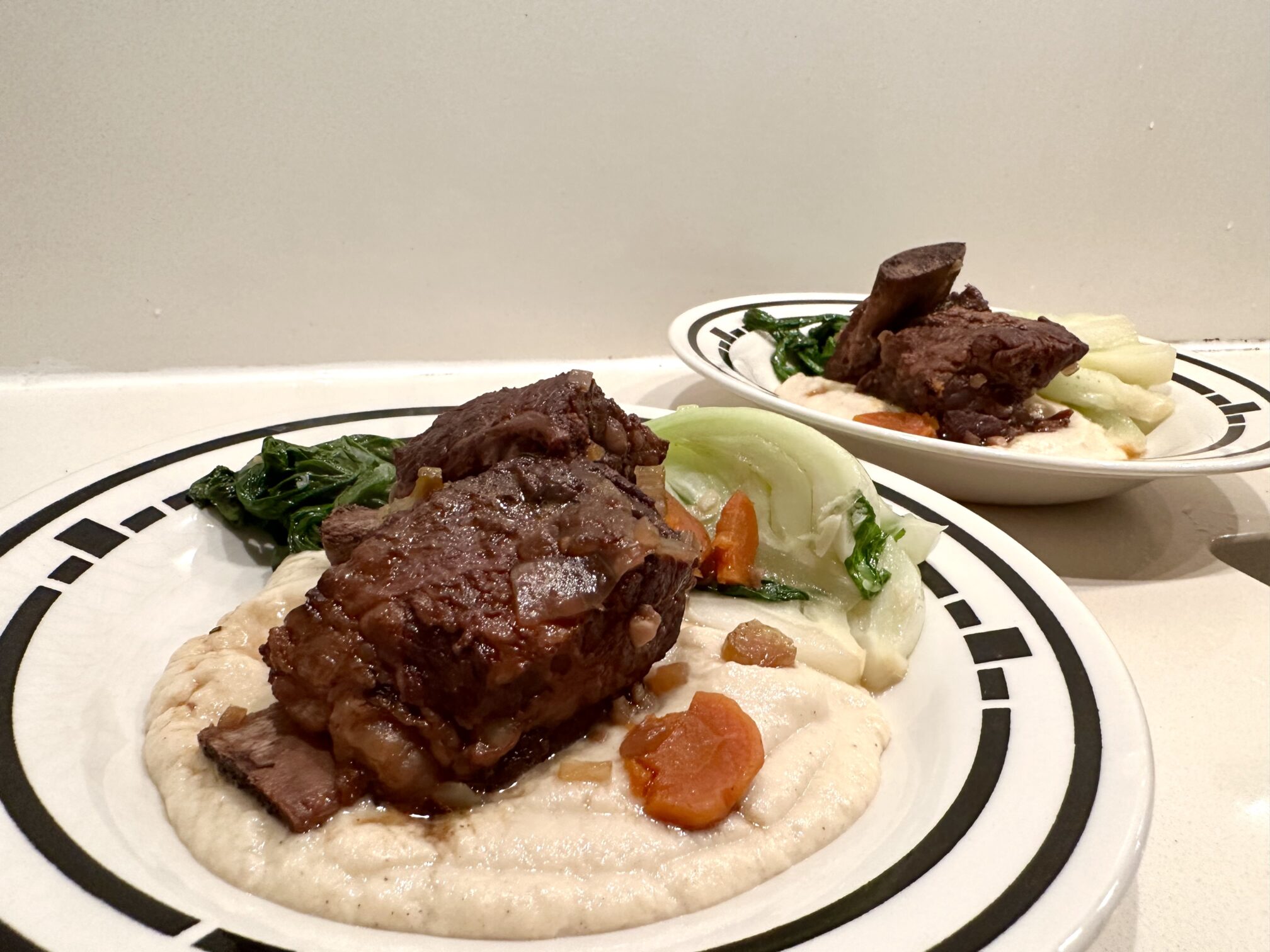 Crockpot recipes, stews, or oven-based recipes typically rule my house in the winter. Anything to keep me cozy and the home warm!
I've been experimenting with short ribs recently, and I think I finally got the right balance of heartiness, warmth, and unctuousness (yep, that's my word of the month). Short ribs are a decadent cut of meat, so complementing it with wine (in the pot and to drink!) does wonders. Having bone-in cuts give greater flavor depth. The trinity of stewed vegetables- carrots, celery, onion- gives the dish a lighter, sweet note.
I know big cuts of meat may seem intimidating, and they were for me initially. But this is a foolproof dish with the main challenge of cutting the veggies. Once everyone's in the pot, wait 3-4 hours, and you're golden. Treat this recipe as your base, and try adding other flavors as you go along. Soy sauce and gochujang for a Korean-inspired version? Delicious. Tomato paste and thyme for a riff on Italian osso buco? Yes. Options are endless once you try this original recipe!
Ingredients
Olive oil
2.5 pounds bone-in short ribs cut into 3-4 inch pieces
Salt and pepper
2 heads of garlic, heads cut off
1 medium onion, chopped
2 celery stalks, chopped
2 carrot, chopped
2 cups red wine- about half of a bottle)
2 cups stock
4 sprigs of thyme
2 sprigs of rosemary
2 bay leaves
Directions
Season short ribs on all sides with salt and pepper.
In a big pot or Dutch oven, heat oil until shimmering. Sear short ribs in batches until browned on each side. Take time with this step to develop flavor, and don't crowd the pan! Transfer browned short ribs to a clean plate.
Add halved garlic to the pan to roast, 2-3 minutes.
Add onion, celery, and carrots to the pan. Season with salt and pepper and cook until softened, 10 minutes.
Stir in red wine and scrape up all the delicious caramelized bits. Simmer for 3-4 minutes until part of the alcohol evaporates off. Add stock and herbs.
Return short ribs to the pot and make sure everything is submerged.
Simmer on low heat for 3.5-4 hours until short ribs are falling off the bone.
Serve with your favorite sides. My current faves? This month's new parmesan parsnip puree and garlicky bok choy. Enjoy!