I'm always on the search for versatile recipes: can this be breakfast? Or snack? How about an appetizer for entertaining friends? This recipe checks all the boxes.
My air-fryer is one of my favorite gadgets in my kitchen. It doesn't heat up the room yet produces super crispy food with minimal oil. A win-win! Here I've made potato pancakes with a simple yogurt-caper sauce. While some recipes I've seen use mashed potatoes, I prefer to use shredded potatoes. (But don't let me stop you from using leftover mashed potatoes from Thanksgiving or otherwise!)
No air-fryer? No problem: you can also roast these guys in the oven (see recipe for specific time and temperature) or pan fry them.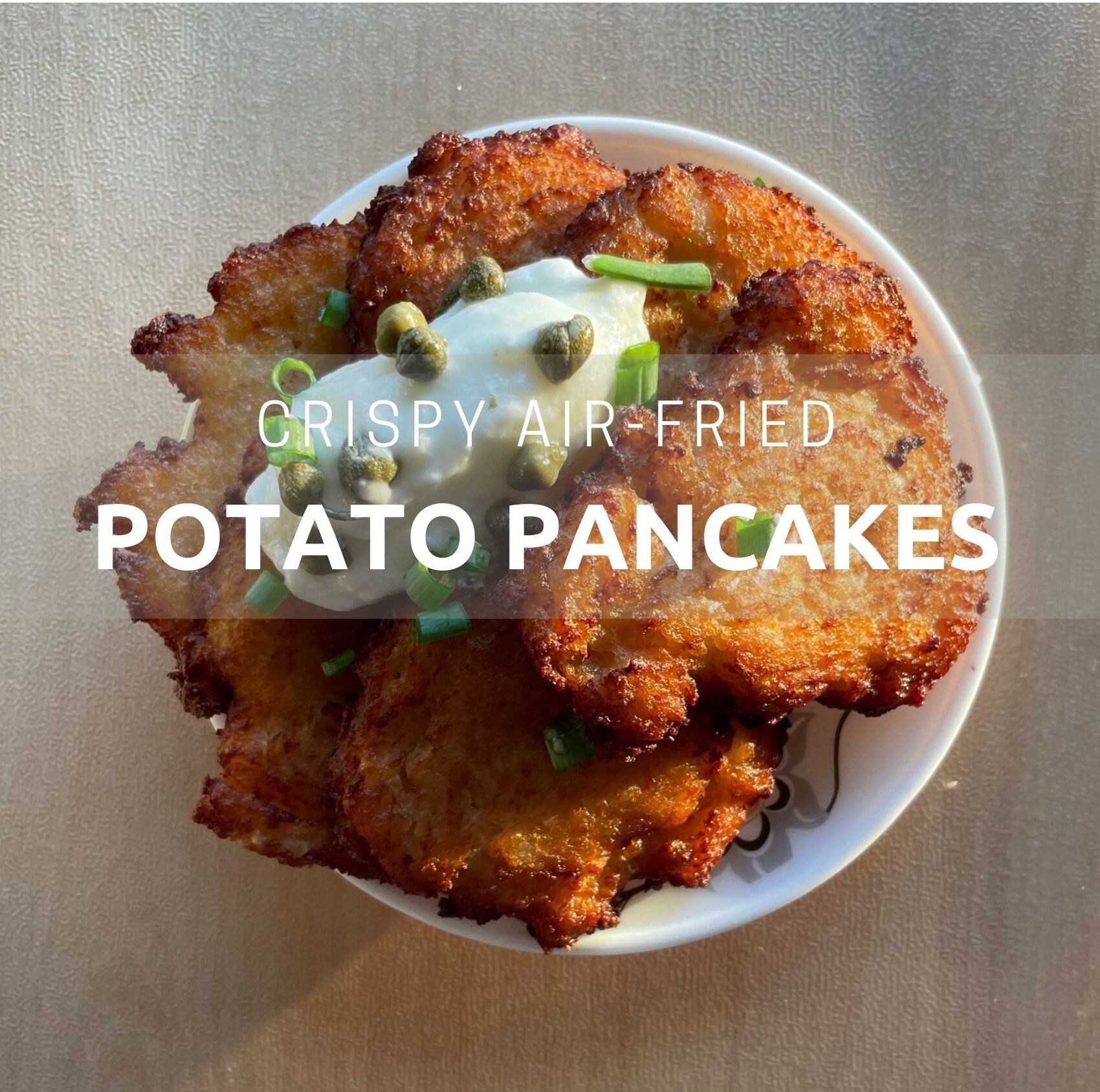 Ingredients
2 medium potatoes, scrubbed, peeled. This should be about 2 cups of shredded potatoes.
1 small white onion, finely diced
2 scallions, cut
1 egg
1 tbsp breadcrumbs, panko, or flour
1 tsp parsley
1 tsp salt
1/3 cup Greek yogurt (nonfat or whole is completely up to you)
1/2 lemon, juiced
2 tbsp capers if desired
Directions
Grate the potatoes on a wide box grater. This will give you larger potato slivers, which will maximize the crunch.
Combine the diced onion and potatoes being careful not to break the potato shreds.
Whisk the scallions, eggs, breadcrumbs, parsley, and salt together.
Add the egg mix to the onion-potato combo.
Form small patties with your hands and brush a little bit of oil onto each.
Air fry for 12-15 minutes at 425F or roast in the oven for 15-18 minutes at 425F, flipping them over about halfway through.
Make the sauce by simply combining Greek yogurt with lemon juice. Add capers if you like.
Voila!