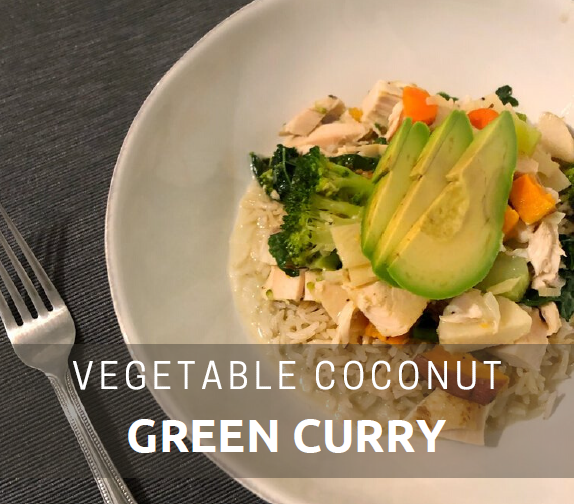 Here is a favorite dish I like to order when I go out to eat Thai food. So when I finally figured out how to make it at home, I was psyched! Check out this recipe below, you can change up the vegetables you throw in, and can also add a protein like tofu or chicken as an option. Hope you enjoy it!
Ingredients
2 cups broccoli florets (1 small crown)
1 small white onion diced
2 cups sugar snap peas
1 chopped medium carrot
1 small can of bamboo shoots drained
1 cup of cubed Taro root (optional, and hard to find!)
1 tablespoon coconut oil
2-3 cloves of minced garlic
1 tablespoon finely grated fresh ginger
One 13.5-ounce can coconut milk
1 to 2 tablespoons green curry paste
2-3 tablespoons fresh lime juice (1 1/2 limes)
1 large avocado, sliced to place on top
1 cup diced chicken breast from a rotisserie chicken (optional)
Directions
Heat coconut oil in a large saucepan (or wok) on medium heat. Add broccoli, onions, and carrots first. Sauté for 2-3 minutes.
Add in garlic and ginger, and sauté for another 3 minutes stirring frequently.
Add in coconut milk, taro, and bamboo shoots and bring to low heat to simmer. Add in green curry paste and stir in well. Cover for 7-10 minutes
Add diced chicken and cook for another 2-5 minutes or until vegetables are cooked through, (broccoli is still bright green and does not turn brown.)
Serve over basmati brown rice, and sliced avocado on top.
Enjoy!
Summer Tomato and Nectarine Bruschetta
Next Post