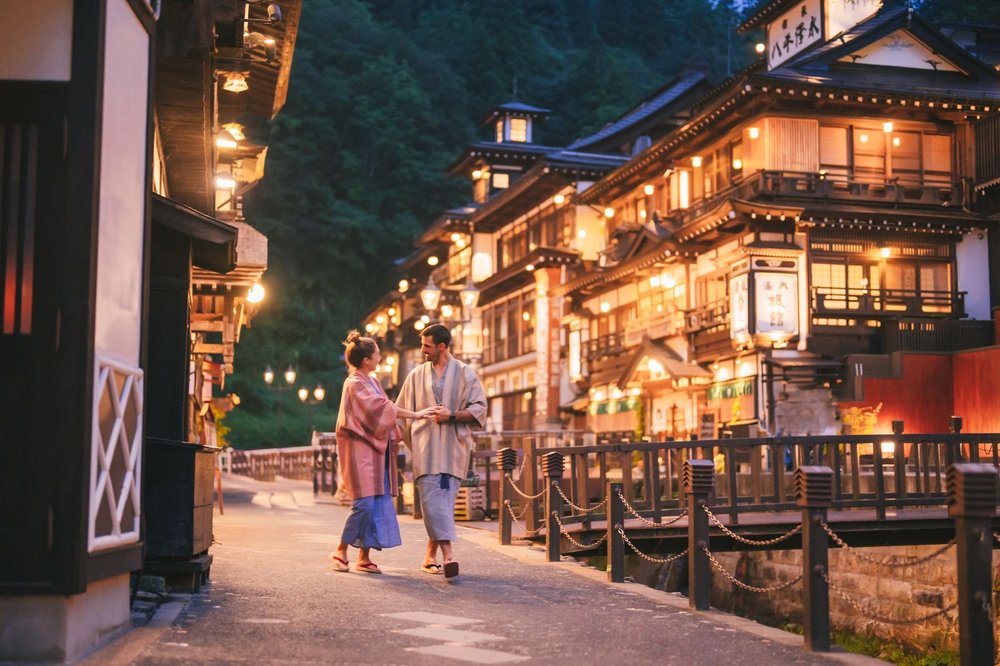 While it's impossible to capture our entire trip to Japan in one blog post, I'm going to do my best. Dave and I recently visited Japan on a trip with elsewhere. They organized the most perfect trip for us, and really understood how we like to travel and what our interests are. Our local guide, Derek, designed the whole trip for us, and stayed with us for almost all of the trip. It was incredibly helpful to have someone who speaks fluent English and Japanese with us. Plus Derek had all of the local contacts so it was easy for him to make us dinner reservations in otherwise difficult places to get in, as a tourist. Below I've divided some of our trip highlights into categories, and I will also share our full itinerary below.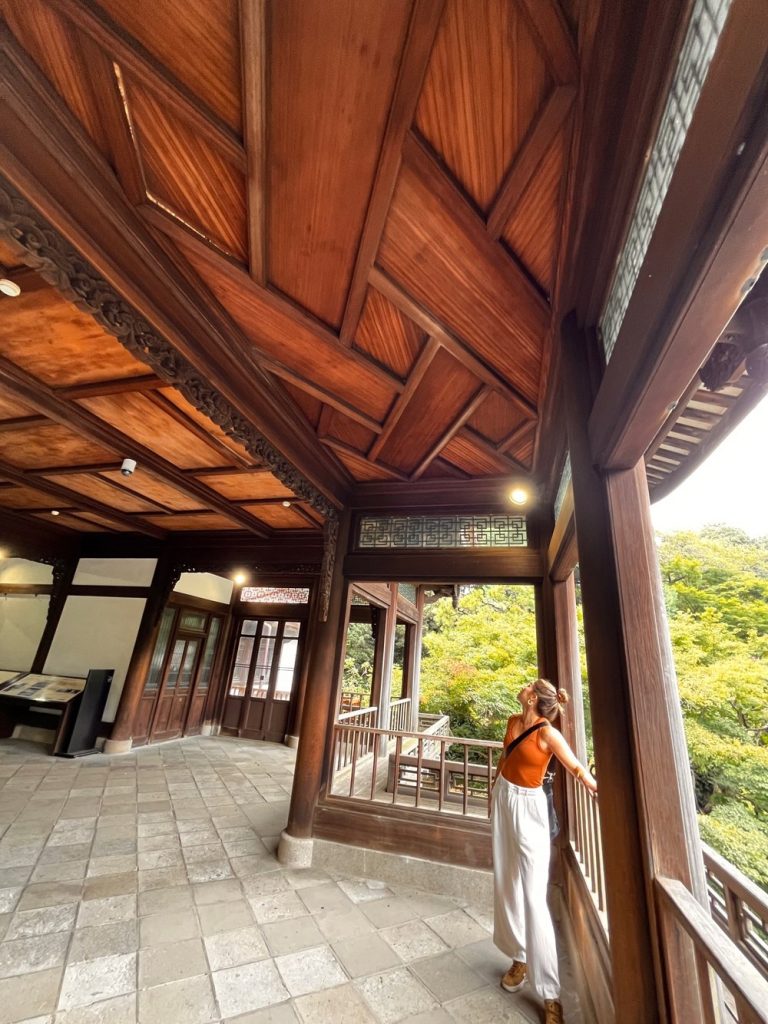 We started off in Tokyo for two days, had some of the best food of my life, and then headed up into northern Japan, visiting Niigata and Yamagata prefecture for the remainder of the trip. The sprawling mountains, rice fields, and drastic ocean shoreline were an incredible sight to be seen. The coast kind of reminded me of the coast of Oregon, with steep cliffs with lots of fishing towns. There were hot springs all over, and we definitely took advantage of that throughout our trip. Also all of the activities that Derek planned for us were perfect. We learned how to make a knife with master knife makers who have spent 30 years perfecting their craft. We took cooking classes, and got to see Maiko, or training Geisha, perform. We went for a 140km bike ride as a part of an annual ride through the mountains and coastline. We hiked in the mountains, and met the Yamabushi monks who taught us about their vegetarian cooking with mountain vegetables. We stayed in a Buddhist temple and meditated with the monks morning and night. We stayed in some beautiful Ryokens (traditional Japanese hotels). Sake tastings, pottery making, shopping, sightseeing, and alllll of the memorable meals. I could go on and on.
See below for some of our trip highlights, and make sure you check out Elsewhere when you're planning your next international trip.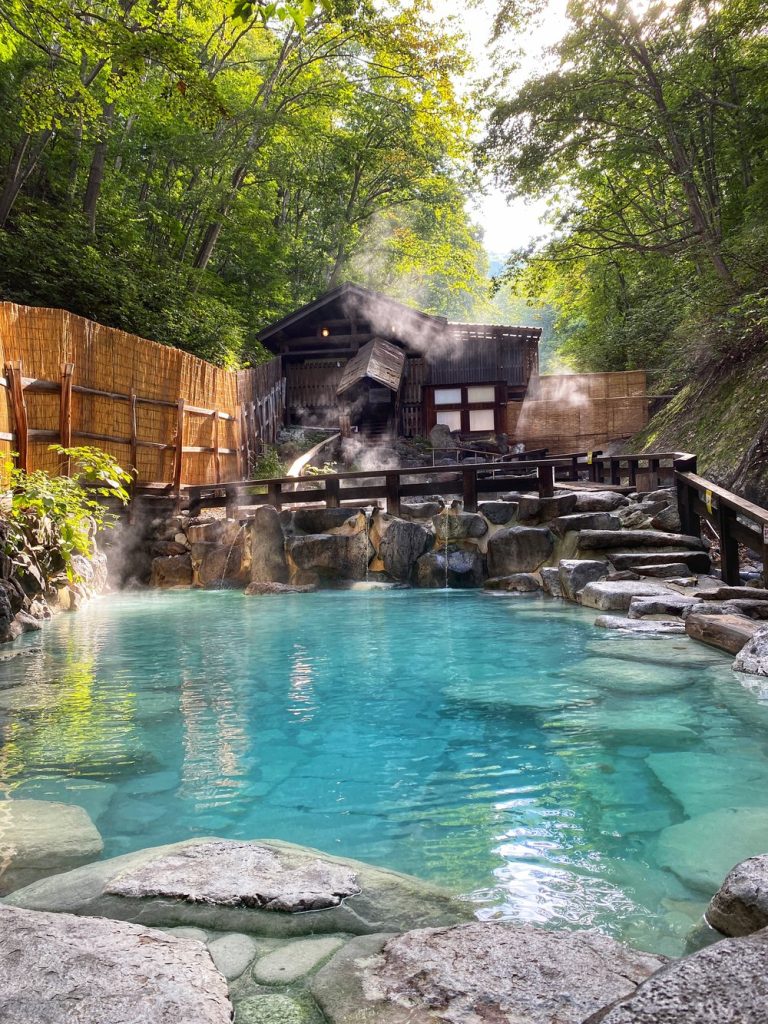 Helpful Tips When Traveling to Japan
Bring a change purse, or a wallet that has a zipper because a lot of their money is in coins.
Wear shoes that are comfortable and easy to put on and take off. I knew that I would be taking my shoes off a lot when going indoors, but I didn't realize quite how much. Sometimes I'd have to take my shoes off 20 times a day. It makes a big difference if your shoes are easy. And wear socks! (without holes!)
7/11s have really good food, don't skip out. Great drink selections, and their rice balls and some of their breads are my favorite.
Learn a few helpful sayings in Japanese, like, "Arigato gozaimasu." (Thank you very much) You will be saying it a lot!
Download Google translate. There is also a camera option so you can take a photo and it will translate the photo for you.
Dress conservatively if you'd like to fit in. I noticed people didn't wear very bright colors, or loud patterns, or show much skin. There were no ripped jeans, etc. The main clothing colors I noticed in Tokyo were white, black, grey, and navy.
Learn the proper way to receive a business card. With two hands, receive it, bow, and look down, and then look back up and place the business card in a special place. Better yet, bring an extra credit card wallet just to keep business cards.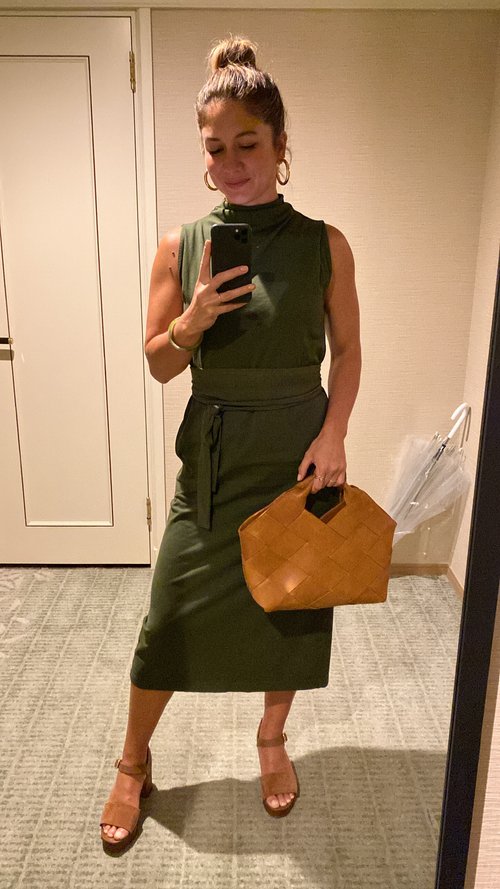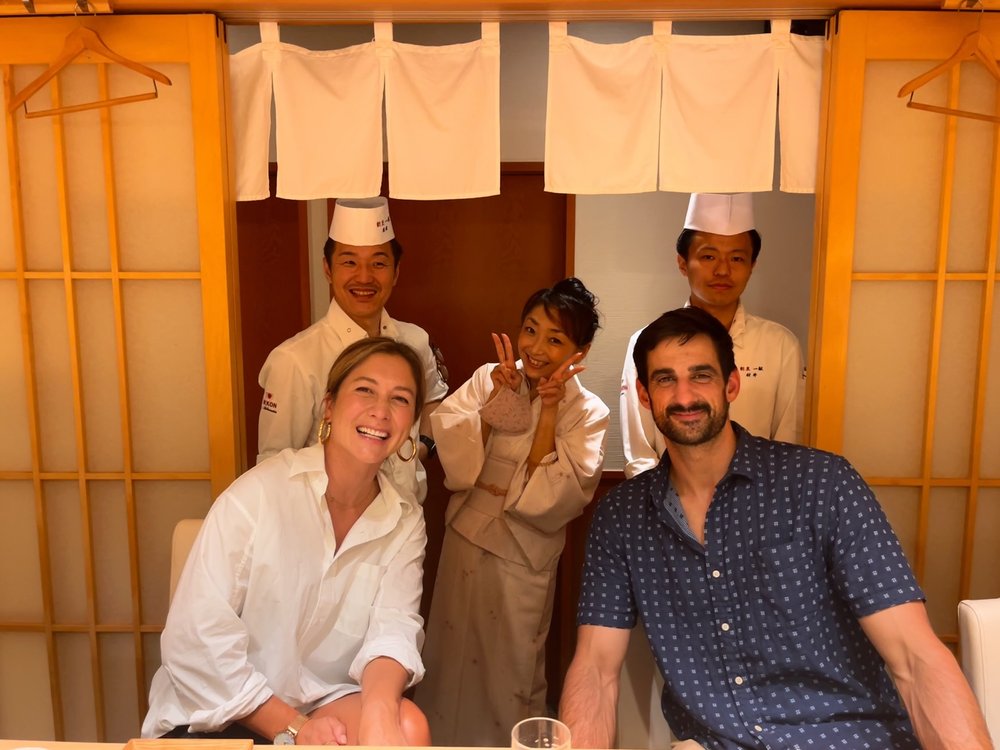 Dining
Our first meal in Tokyo was with Chef Shogo Shikawatari with a memorable 10 course meal. It was a traditional Kaseiki dinner, with tons of small dishes being brought out for a 2.5 hour experience. The presentation was incredible, and the food had so many different and delicious flavors.
Best Ramen-Kagari Honten-hidden away down a small alley in the Ginzen area of Tokyo. I searched online for the best ramen, and this one came up a few times and was recommended by a friend as well. Great truffle broth, and perfectly cooked noodles. Cute, small, but high-end environment.
Omakase dinner-Yoshi Matsunozushi. Yoshinori Tezuka. He is the 4th generation owner of this small restaurant that has been around for 110 years! Truly an amazing experience. He explained how the knives are used to cut through fish bones. And gave us a full explanation about Tuna, how they shop for it every day, and showed us where the best part of the tuna is, which is the otoro, the belly of the tuna.
In Niigata, we had an incredible experiential lunch learning all about the Sanjo region, where 95% of knives and cutlery in Japan come from. The restaurant, which is Japanese/Italian, was in the Tsubame Sanjo Regional Industries Promotion Center. We got to use the utensils in the meal that are made in that region. One utensil set we ate with was worth $1000! My wagyu bolognese pasta was mouth watering.
Famous flying fish ramen for lunch at Sakata Azumacho. We ordered the ramen through a vending machine, and then sat down at the counter to eat. Casual spot, so delicious.
Hike up Haguro mountain and then cooking with Chef Ido. He took us foraging for wild mountain vegetables to make a traditional ido sojo ryonen meal developed 1200 years ago. It was created for the monks to sustain themselves during their long isolation periods on the mountain. The food is said to cleanse the body from impurities and many health benefits. We prepared a sesame tofu with the Chef, and then got to eat this delicious meal, full of pickled and fermented vegetables, tofu and fresh ingredients.
Chef Takeshi Suda at Tsuruoka Imaizumi prepared us a private dinner where we got to try out our new knives and he taught us how to use them. We got to hold a special knife for cutting conger eel. It cost $4,000! He helped us prepare puffer fish sashimi which you need a license to cook & prepare since it is poisonous. Then I learned how to make sushi and the proper way to make matcha.
Araki Soba. We had a delicious lunch in a 200 year old building, with a thatched roof. They specialize in their homemade buckwheat soba noodles. The noodles come out on a wooden board, with a small bowl of broth. You take the noodles, dip them into the broth and then eat. They were so good!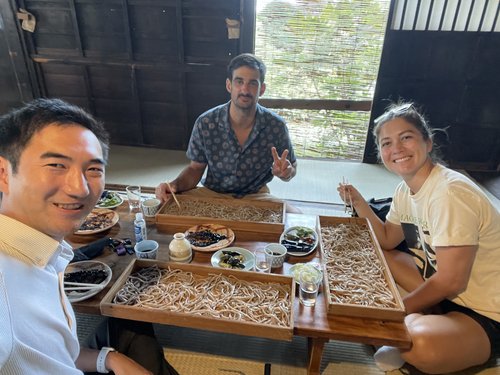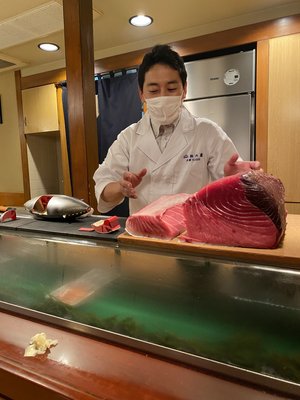 Activities
Every chance we had to check out a garden, we took it. There are too many to name, but throughout Tokyo and every other town we went, there were gorgeous botanical gardens and Japanese Gardens with meandering paths to walk around and take it all in. I took away some great inspiration for my own gardens!
Traditional Japanese knife making with artisans in Niigata, Japan. We worked with master craftsmen to make our very own knives. The process took a long time, because we were just learning, but I have so much respect for these artisans and the patience, steady hands, and skills it takes to make these knives.
The Tsubamesanjo regional industries store in Niigata was amazing to shop at. They had tons of kitchen knives, garden sheers, cooking and dining ware, silverware, etc. I wanted to buy everything, but walked away with some garden tools, titanium cups, and some serving spoons.
Five Stories Pagoda in Mt. Haguro was breathtaking. This pagoda was made without any nails. There is also a huge pendulum in the middle of the pagoda that helps preserve it during earthquakes. It's a short walk to the pagoda, but then you can continue on to walk up the mountain to the top. Relatively easy hike, with stone steps, though some of the stones get kind of narrow.
Stayed in a Buddhist Temple after our Haguro Mt hike. Though the accommodations weren't the most comfortable, the entire experience was wonderful. Meditating with the monks before bed, and then waking up at 5am to meditate again before starting the rest of our day. So beautiful to experience such a different way of life.
We participated in the annual Giro de Shonai bike ride in the Shonai region. Check out this beautiful video to see the route!
We got to see a Maiko performance (Geisha's in training). They were kind enough to teach me some of the moves!
Ginzan Onsen is a must see. We were there at the end of summer and it was gorgeous, however in the winter it is covered in snow and apparently stunning and impossible to get a hotel reservation. The winter months are the most popular time to head there, so if you're interested in going make sure to book early! Ginzan Onsen used to be an old mining town and is built on a hot spring, so all of the hotels have hot springs and give you traditional Japanese robes to walk around in. I felt like I was on a romantic movie set!
Iaido of Muramaya City. The term iaido refers to a Japanese martial art that focuses on being aware and responding quickly by drawing the sword when faced with sudden attacks. Iaido is usually practiced without a human opponent and is classified as a non-fighting form of martial arts. After an hour of learning katas with unsharpened swords, we were allowed to swing a real samurai sword and slice through a rolled wet tatami mat. It was invigorating! This was one of my favorite experiences. These swords are so dangerous that you need a special license in Japan to even own one!
Sightseeing on Mount Zao. We took a gondola to the top of Mount Zao, which had an incredible view. There was a short hike to the very top that we did as well, to get a full 360 degree view.
Paddleboarding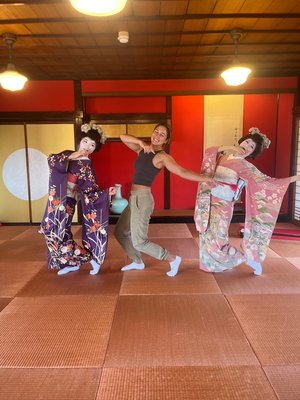 Hotels
Note: Many of the hotels we stayed in provide dinner and breakfast as part of your stay. And all of the food was incredible. Something to keep in mind when looking at hotel prices.
Hotel Gajoen in Tokyo. Incredible museum in a hotel. The breakfast was buffet style with a Japanese section, American, and Chinese sections. It was amazing.
Snow Peak hotel. Snow peak is an outdoor brand that makes beautiful and simple camping gear among other things. At their HQ in Japan they have a new hotel called Snow Peak Field Suite Spa in the hills located in Moramachi. Great views, delicious dinner and breakfast as well.
Tsuruoka Yunohama hotel with hot springs. Gorgeous older hotel with a stunning garden in the courtyard of the hotel. You would never guess it was there, as you pull off the highway along the coastline. There are multiple hot springs for hotel guests and even a private hot spring tub in our room. The breakfast here was especially good!
Yamagataza Takinami. We stayed here on our last night and I honestly which we could have stayed here for more than just one night. The architecture is modern, but still classic. Our room was absolutely gorgeous with a private hotspring tub, and indoor/outdoor shower. The meals were amazing and they had a fantastic selection of Sake. Such a beautiful oasis in the heart of a busy area.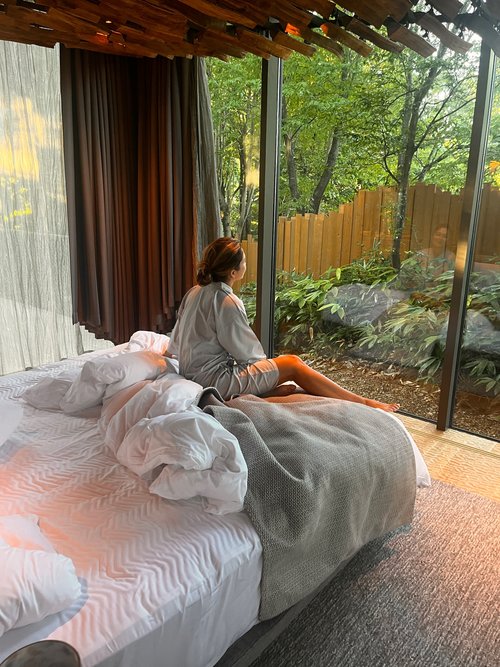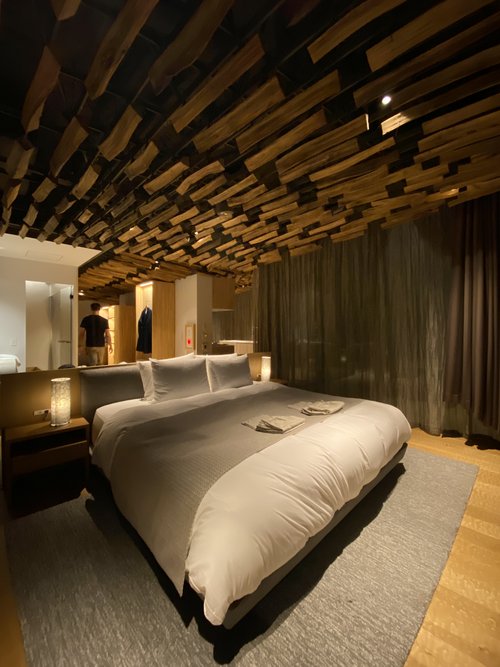 Notable/Unique Takeaways
The fruit was so perfect in Japan. If you go into a fruit shop you'll notice how perfect all of the fruit is, perfectly shaped and perfectly ripe. I was told they will sometimes trim all of the fruit off of a tree except for one, just so that one piece of fruit will get all of the nutrients and be the best, sweetest, piece of fruit. I tried some shine muscat grapes, and paid $25 for them, and I don't regret it at all.
Japan loves cats! There was so much cat memorabilia in all of the stores, and I loved it. Plus Hello Kitty is from Japan, so I purchased two Hello Kitty sweatshirts to take home.
Try the vending machines! Not only is the experience of picking out what you want fun, trying all of the different types of drinks (and even soup) was exciting and delicious.
Practice patience. As a New Yorker I'm used to everything moving quickly, fast service, fast traffic, etc. I noticed in Japan everything takes a little more time, in the best way. Everything has an explanation, and it's usually a pretty good one, so take the time to listen, and breathe, and chew.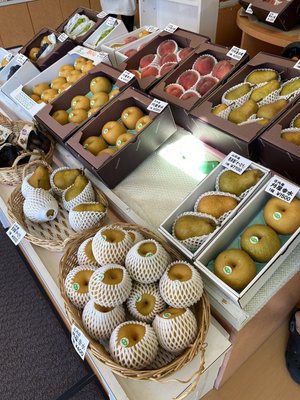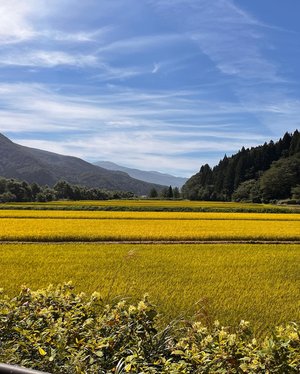 Check out my full itinerary below!