Our first trip to Italy!
We took our FIRST ever trip to Italy a couple of weeks ago, and I'm glowing just writing about it. I've never met anyone who didn't like visiting Italy, so I already knew that I'd be blown away by the food and the beauty. I had no doubt that it would be spectacular, and basically what I'm trying to say is the hype is real. The only downside is that it's crowded, and that's because everyone knows how beautiful it is. Below are some highlights from our trip. We spent time in Rome, Naples (but only for one day) Ischia island (one of our favorite parts for sure!) and Positano. The trip was a total of 10 days, and that honestly felt like a good amount of time, although of course the whole time Dave and I were thinking — "Could we live here? Should we just move?" As we do basically on every trip that we take. 😂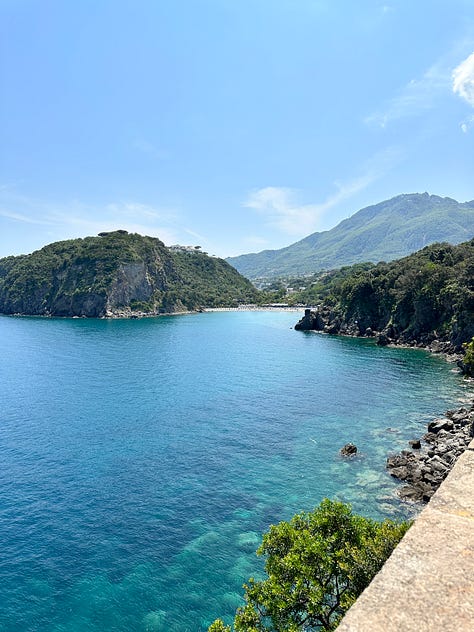 Rome
Rome was probably my favorite part of our trip. I don't know if it was because it was the first stop in Italy and I was just completely blown away. But it could also be because the food was INCREDIBLE, and Dave and I both love learning about history. Seeing Ancient-Rome right next to Renaissance-Rome, while people are zipping by on electric scooters in Modern Day-Rome, was truly unimaginable. How could these buildings from 200 A.D. still be standing up tall, looking untouched and more grand than any building built in the last decade? We weren't able to get tours of everything, but I'll list some of the sites that we saw, and where we hired a guide. Keep in mind if you want tickets for a tour of the Colosseum or the Vatican you may need to reserve them up to a month in advance.
Favorite Sights:
The Pantheon — We did a group tour with Viator app, and it was short and worth it. There's so much history, and having someone really explain the history, architecture and materials was great. The tour took about an hour, and we got to skip the line to get in. Walking up to the Pantheon was probably the most dramatic and something I will always remember. It is truly incredible, and its just right there in the middle of all these shops and restaurants. It is stunning.
Piazza Navona — We did not do a tour, but actually stumbled across it while we were walking around the city. I wish every city had giant squares like this with fountains. 🙂
Circus Maximus — We did a half day tour with an incredible guide who took us through Palatine Hill, Circus Maximus, Tiber Island and by the Colosseum. It was a walking tour, and truly appreciated learning just *some* of the history.
Torre Argentina Cat — This is a cat sanctuary that is by the ruins of where Julius Caesar died. We arrived when it was closed so we din't get to go in, but we saw plenty of cute kitties running around the area, and the ruins. Kind of fun!
Trastevere— This is a funky area in Rome that kind of reminded me of Brooklyn. It's known for more innovative restaurants, craft beer, and artisan shops. It was one of our favorite areas to go to. We went for dinner two nights in a row and the streets were lively with multiple people busking and street performing American and Italian songs and the crowds loved it, and were singing along.
Basilica of St Peter (in Vatican City) — Largest church in the world, at 448 ft tall. We were advised to wake up early and go at 8am, so we did. And the line was so short comparatively! I think we waited maybe 20 minutes, and there is no fee to enter. Seeing this building inside was truly remarkable. I have never seen anything more grand in my life. I think doing a tour in here would have been nice to get a little more history, but we went on our last day and weren't able to schedule one.
Capitoline Museum— There was little to no line to get in and so many incredible features of artwork and sculptures. We could have spent all day there, but ended up spending around 3-4 hours. Incredible art and sculptures there. The cafe is really cute there as well and has a great view overlooking the city.
Trevi Fountain— Where all the Instagrammers go for the photo and we managed to snag a photo without anyone in the background. We found out that you are supposed to throw the coin with your right hand over your left shoulder. I just tossed it in so hopefully my wish still comes true. The money in the fountain is used to support Rome's homeless population.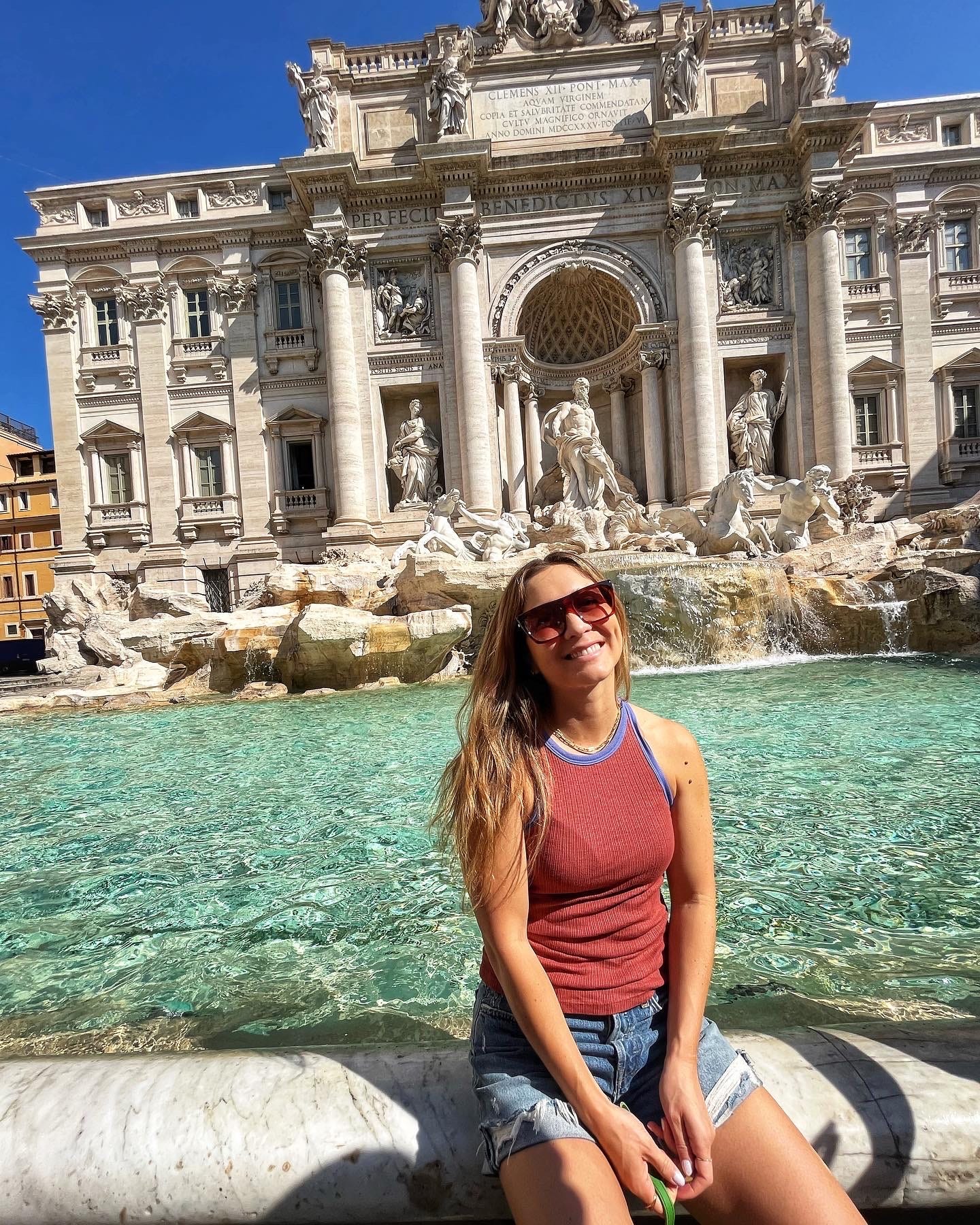 Sant' Eustachio— We stumbled across this church on the way to dinner. I could have spent hours just staring at the amazing ceiling. Breathtaking and so cool that you can just walk in for free.
The Colosseum— We were not able to get a tour, but it was amazing just walking up to it and seeing how magnificent it is. Apparently the evening tours are great!
Food & Drink
First thing I'll say is the food in Rome was the best, in my opinion. Also, we received SO many recommendations from friends and to be totally honest we didn't go to a single restaurant that was recommended to us, and yet every single meal we had was the best meal we'd ever had. Ha! We didn't make any reservations, and kept our schedules open for wandering and exploring, and anytime we were hungry we'd look on google maps or Tripadvisor and see what was in the neighborhood. Or we'd walk by a cute place, I'd look it up, see that it had 4.5 stars and then we'd walk right in. We ended up finding some real gems though, that you can't find on Instagram. I like that and find it refreshing.
Piazza Sant' Eustachio— First restaurant we went to in Rome. We ordered the carbonara and cacio e pepe with a glass of house wine. The rumors hold true, the house wine is incredible!
Emma— Of course I had to go to this restaurant because of the name. 🙂 It had the most amount of tourists out of all the restaurants, but the best Pizza we had in Rome. It was a the perfect introduction to pizza in Italy.
TreCaffe Bistro—A great cappuccino! Also note, its only approved to drink warm milk, like cappuccinos in the morning. After 12pm you are only *allowed* to drink espresso. We followed the rules.
Meridionale— In Trastevere, one of our favorite meals! I had a pasta with prawns and a citrus salad with pistachio and fennel. It definitely felt like a more local spot!
Osteria del Tempo Perso Belsiana — we stumbled upon this restaurant for lunch, and we really lucked out! There was a line of people waiting for it to open for lunch, so we jumped into the short line and got a first seating. The truffle carbonara was INSANE, as was the truffle ravioli. This place was great, and it's not on IG!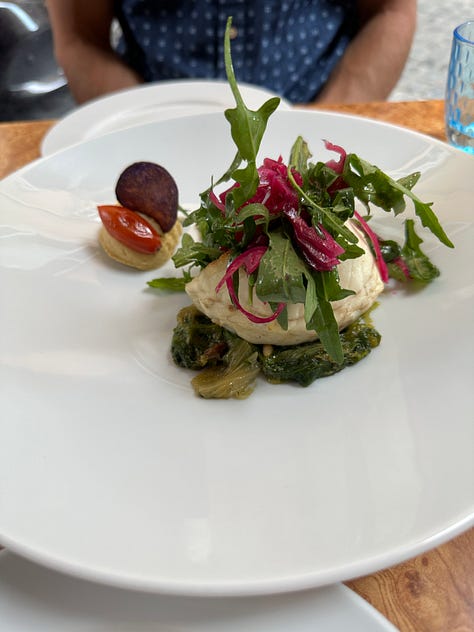 Accommodations
We stayed in an Airbnb right near Piazza de Popolo, and although the apartment was nothing to write home about, and also a 5 story walk up, the location was perfect!
Tips
Bring clothes that cover your knees and shoulders otherwise they won't let you in the churches and temples. If you don't have the appropriate clothing you have to buy a shawl from a local vendor. Yes, I own a shawl now 😂
Get the gelato, just do it. Also pistachio gelato is the best. I said it.
Wear comfortable shoes, there's a lot of walking! We also used the electric scooters and bikes and felt very safe on them. The roads are narrow, but because of that I didn't feel like the cars were driving very fast.
There is clean water fountains all throughout the city of Rome, and it tastes great! Bring a reusable water bottle and you can fill it up throughout the city.
"Grazie Mille," means thank you very much! And you'll say it a lot. The pronunciation— graht-see-eh mee-leh
Ischia
Ischia is an Italian island in the Tyrrhenian Sea that lies at the northern end of the Gulf of Naples. It is an island near Capri, and while many Americans go to Capri on vacation, Ischia is where a lot of Italians and Germans holiday. We took a ferry from Naples to get there which was a little confusing because there are multiple ferry companies and ports. But we managed to get there. IT. IS. STUNNING. I highly recommend Ischia, and it was definitely a lot less crowded than the Amalfi coast/Capri.
Favorite Sites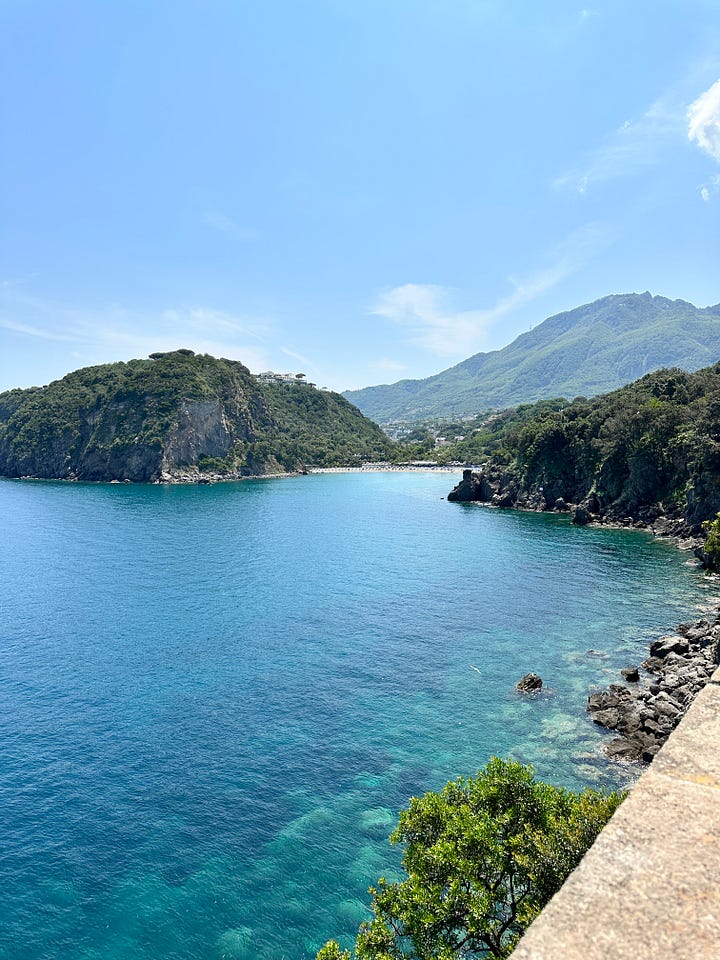 Giardini La Mortella— This was a beautiful botanical garden developed in 1956 by the British composer Sir William Walton's wife Susana. Its expansive, and we spent about 2 hours there, but could have wandered around for longer. The views are beautiful as well from the top.
Jumping in the Mediterranean Ocean—The water was incredible and the perfect temp! I could float In that Mediterranean blue water all day!
Thermal Baths, Volcanic Mud Treatment— These are everywhere on the island! The ancient Greeks were frequenters of the Ischia thermal springs as far back as 8th century BC. They used them to heal battle wounds. While we did not have battle wounds, it was the perfect place to relax. The hotel we stayed in had volcanic mud treatment and thermal baths. I loved it. The mud was an experience — an older Italian man basically spreads mud all over your body, and then you lay with plastic over you, and the 100 degree F mud for maybe 20-30 minutes. You sweat like crazy but its supposed to draw out the impurities, and help with many different ailments.
Food & Drink
We ate most of our meals at Mezzatorre, our hotel. But the one time we went into town everything was so much cheaper. You could get a $5 Aperol Spritz and $6 pizza opposed to a $20 Aperol Spritz at the hotel.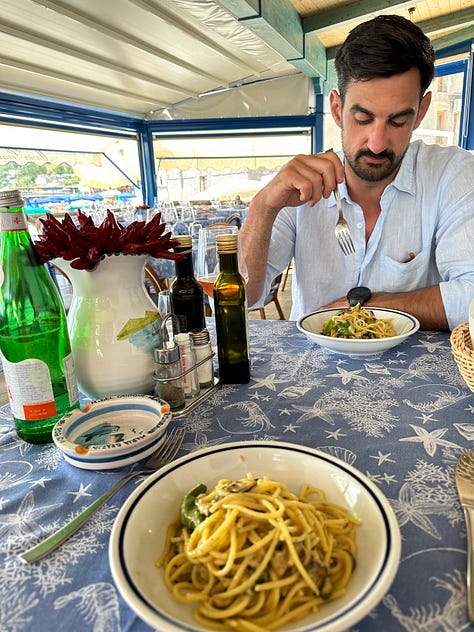 Accommodations
We stayed at Mezzatorre Hotel & Thermal Spa and we loved it! There were a lot of Americans and English speaking people there. They had a nice gym and amazing amenities. The views are incredible. Definitely seems like a place you'd go on your honeymoon!
Positano
Pure magic. Positano felt surreal, like you had to take the polar express, or a magic carpet to get there. I couldn't believe it was real. We arrived in the early evening as the sun was going down, and the lighting was spectacular. Slowly the building's lights were starting to come on, as the sky got darker, and it truly felt like I was in a fairytale.
Favorite Sights
We rented a boat from the Viator app and drove ourselves around Capri, and the Amalfi coast. We stopped for lunch at Maria Grazia in Nerano, which is the inventor of the famous spaghetti alla Nerano, and was founded in 1901. Delicious!
We also used Ischia Charter boats for transportation from Ischia to Positano, and that was a really nice, and luxury experience. We did some sightseeing at different ports and islands, and the crew were really fun!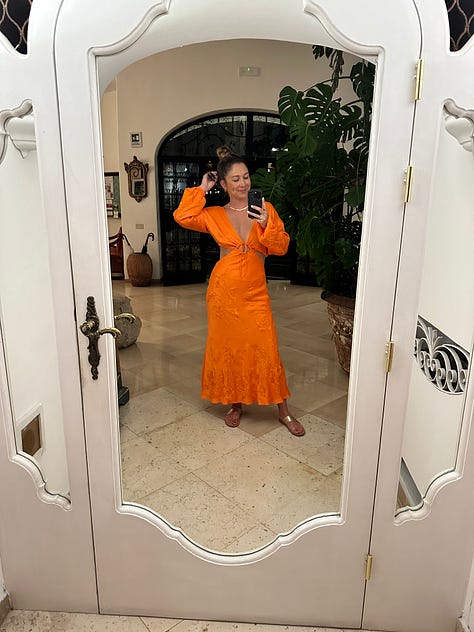 Food & Drink
Mediterraneo Restaurant— When we arrived it was late and there weren't many restaurants open or that had availability. Our hotel recommended this restaurant, and it was SO good. Definitely reasonably priced as well, and they had live music that was very entertaining.
Il Ritrovo Restaurant— Definitely a highlight for us in Positano! The octopus was so good and I am convinced we need to come back here for a cooking class.
Rada Beach Bistrot— Right on the beach and beautiful views looking up into the hills of Positano. The night club Music on the Rocks is connected so be sure to go there after dinner for some dancing!
Accommodations
Poseidon Hotel— Definitely on the pricier side, but the views are unbeatable. They have an amazing brunch on Sundays that is pretty popular.
It was truly and incredible trip, and there is so much more to see. Next on our list in Italy is definitely Florence, as well as the Umbria region, and Puglia region. If you're about to go on your first trip to Italy, enjoy! I know you'll love it.