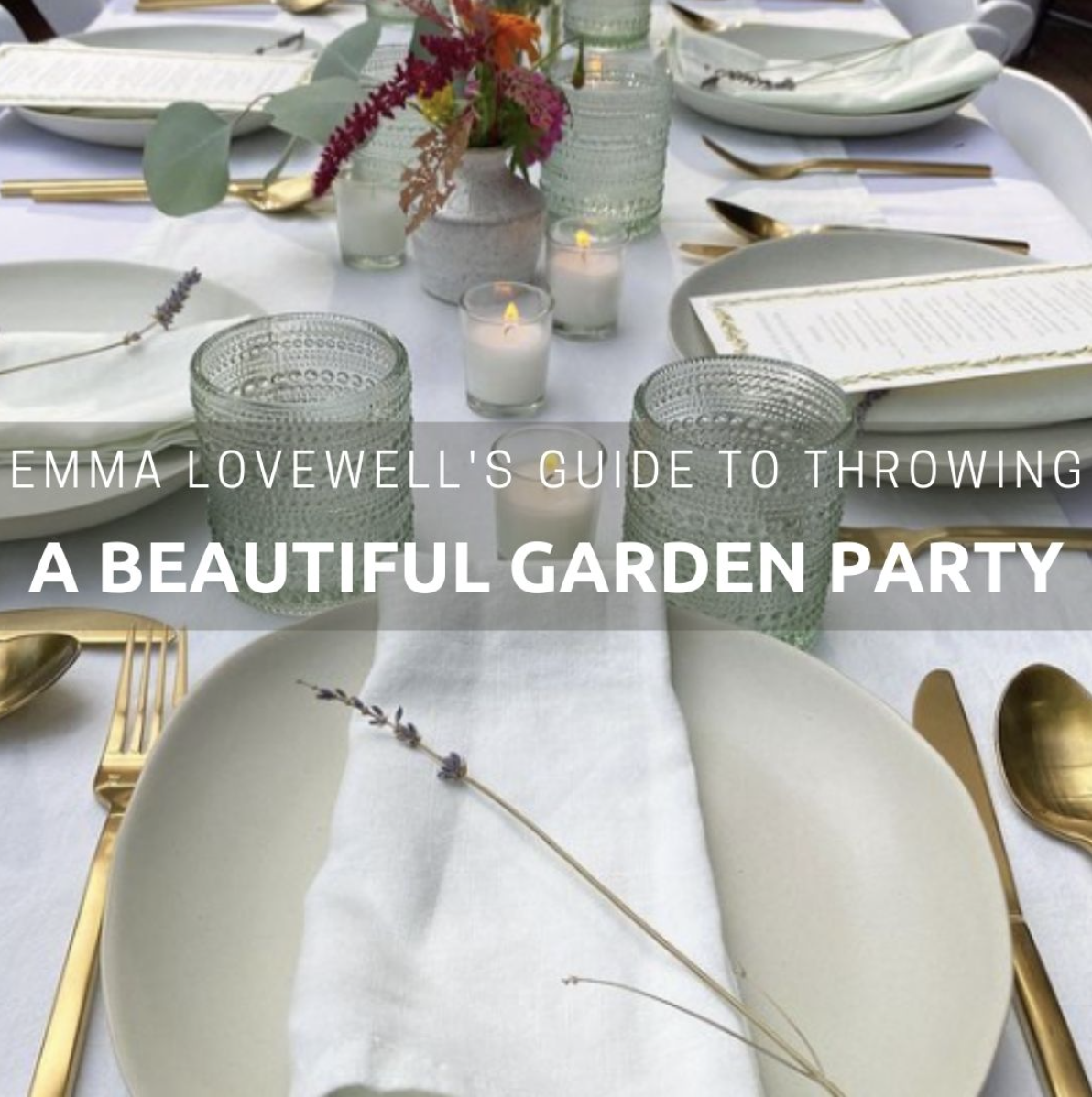 This past weekend, I threw my mom a banger of a 70th birthday celebration! With relatives coming in from both the the east coast and west coast. It was so good to [finally] see family in-person and invite them to my new home.
Many of my guests were my aunts and uncle who have taken care of me and fed me for many many years. This felt like an amazing time to celebrate my mom and to also treat my family to an amazing meal, and fun experience in my OWN home! They have served me countless delicious meals in their homes, so this was my turn.
I am sharing some of the helpful tools and brands that helped me pull this event together. There were so many things that I wanted to do myself but realized it would be better and more time effective if I hired someone else to do it. Obviously you have to take budget into account, and prioritize where to outsource and where to put some sweat equity in. Cooking for example: although I love to cook I hired an amazing caterer, Trigg Brown from Winson Brooklyn. He specializes in Taiwanese/American food, and I knew that his food would be exactly what my mom and family would enjoy and also, I've never cooked for 30 people before, so that took a lot of the pressure off of me on the day of the party. However flower arrangements? I absolutely did those myself, because I personally really enjoy it and I could do those ahead of time, AND use flowers from my garden outside.
Take a look at some of my other helpful tips for hosting this beautiful garden party for my mama.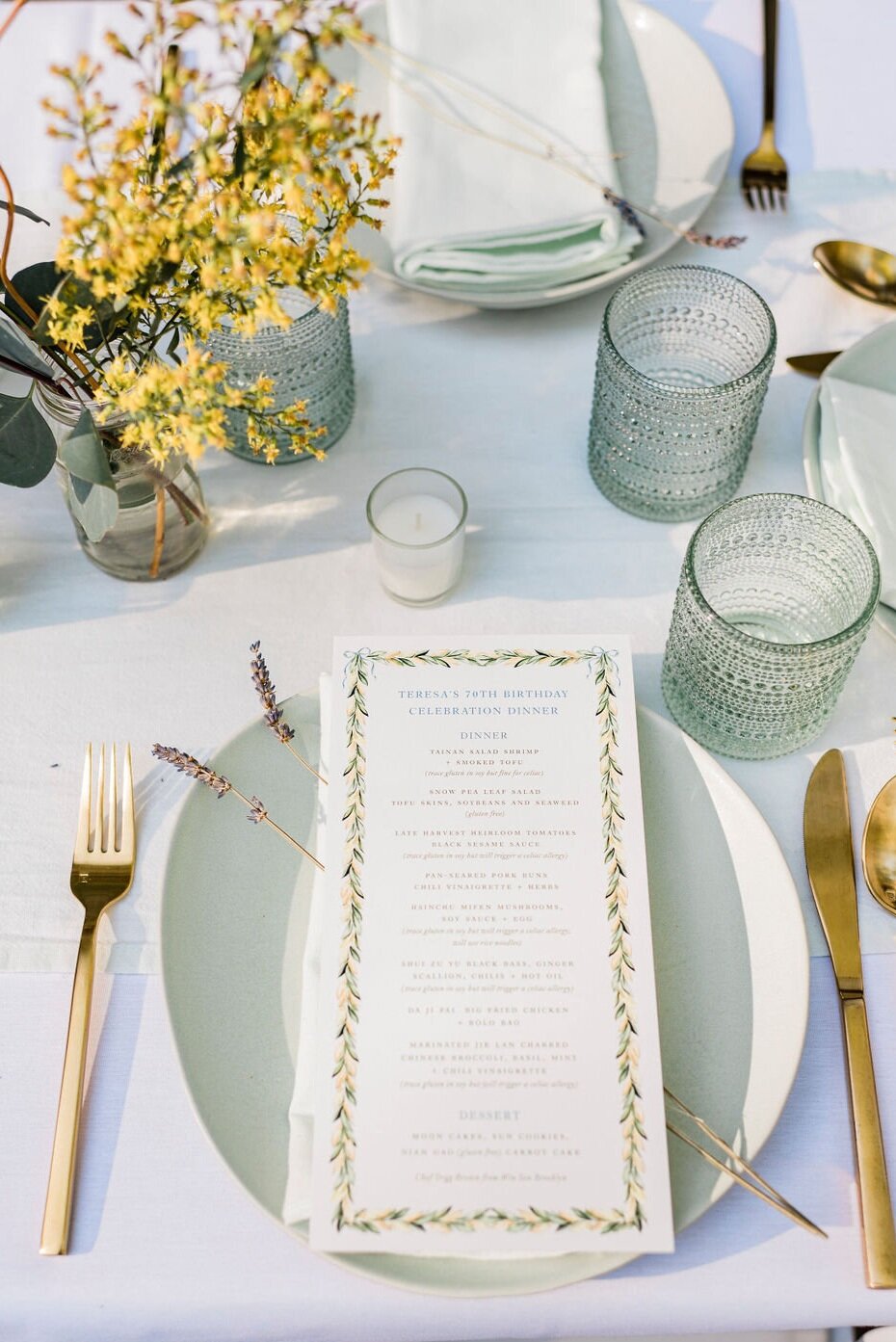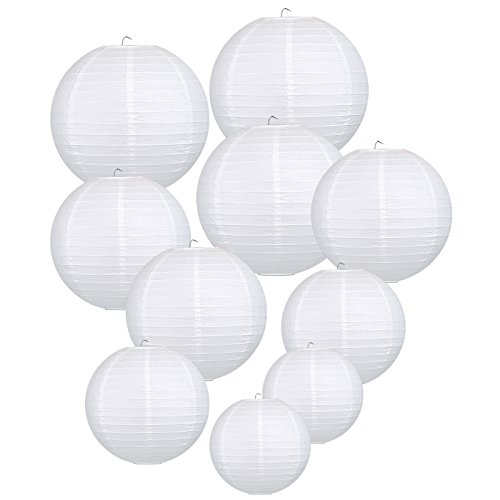 LIHAO White Hanging Paper Lanterns for Wedding Party Decoration, 4 Size – 10 Piece
LIHAO
Printed menus, and food labels. This was a really nice touch, that is not necessary but it definitely took it up a notch. Especially since we had such an amazing menu and so many people with different food allergies, we wanted to make sure everyone knew exactly what was in the food. We used Dogwood Hill for our menus, and labels, and they were incredible to work with.
Hanging lanterns. These were such a nice touch in creating the ambiance that we wanted. We hung these over our deck as well as scattered throughout some trees. I had actually ordered larger mint green ones as well, although those didn't show up in time. I think having different sized lanterns creates a beautiful dynamic space.
Serving platters. I got these amazing dough bowls from Etu Home, so that all the dishes were served on matching platters. We decided to do a buffet style so that way we didn't have to hire a full catering staff. Just the Chef and his helper. The buffet was right on the kitchen island, so people were able to walk in from the deck serve themselves, and walk back to the table.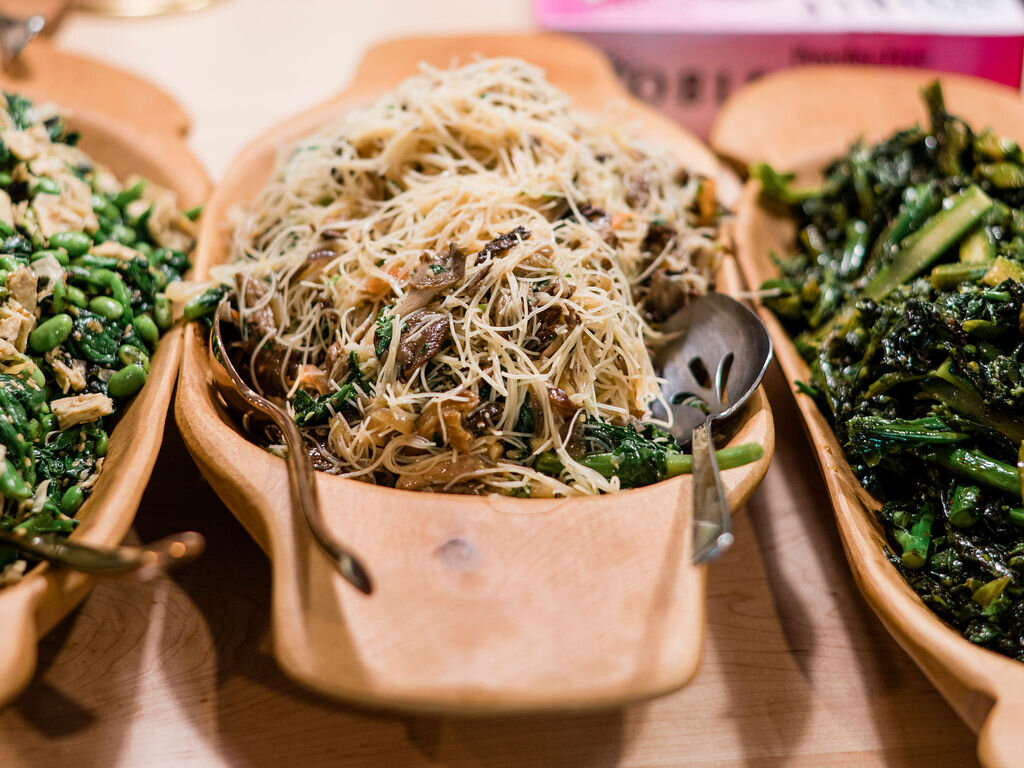 We hired a local Mariachi Band! This happened last minute and I can say this might have been my moms favorite part!? They played for two hours 3-5pm during cocktail/appetizer time right before the dinner started. My family loves to dance so my mom was doing the foxtrot, salsa, merengue, you name it.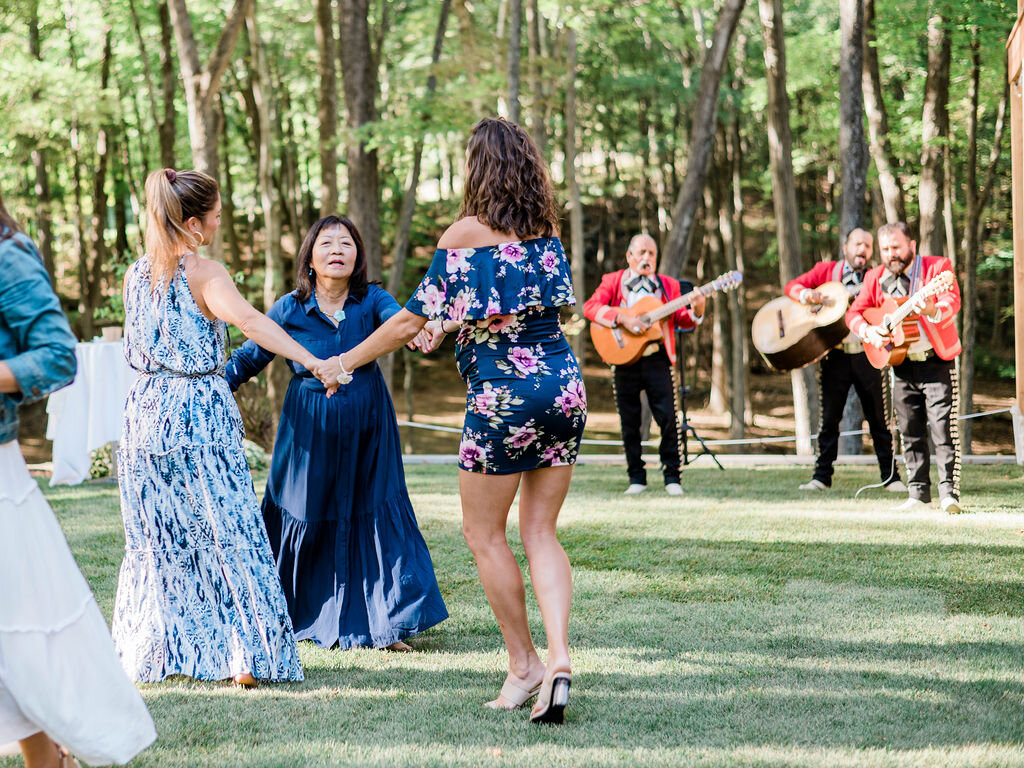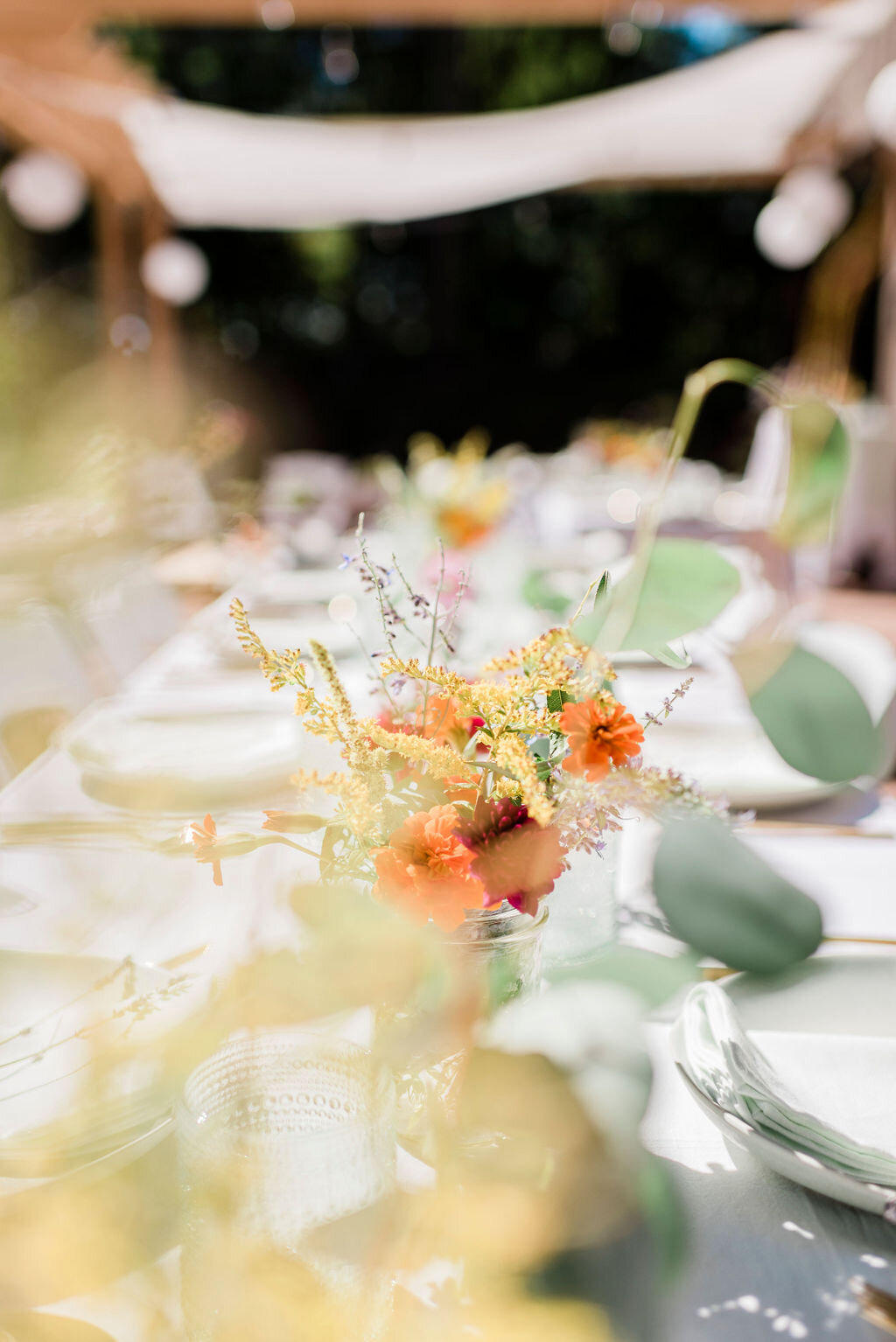 Flower arrangements and vases. We were able to get a handful of matching little white vases for the tables, but I also went ahead and used glass mason jars to add more flowers to the tables. I also suggest going to your local Goodwill to get little glass jars for flowers. Having mix-matched jars and vases of different sizes makes things look imperfect, and a little rustic which I personally find beautiful. We used some wild goldenrod, zinnias, cosmos and dahlias from my garden. I bought a few bundles of echinacea at the grocery store — the soft sage green color is so beautiful next to the bright vibrants flowers. Also dark maroon amaranthus which looks beautiful draped over the sides of the vases. Every arrangement was a little different than the next one, and it looked really special and beautiful!
Dessert. I had some family members pick up Mooncakes from Chinatown, which is a special dessert that is eaten around the Harvest moon/Mid autumn festival. I also went to the local farmers market the day of and picked up two pies, a peach and a blueberry pie. And lastly I ordered a carrot cake from a local bakery. A little tip — The bakery offered to put flowers on top of it the cake for an extra $20. I thought wow, that would be so nice ! I should have clarified, as I assumed they were putting on edible, handmade sugar flowers. Instead they stuck one fresh flower in the middle. I definitely could have done that myself! ha!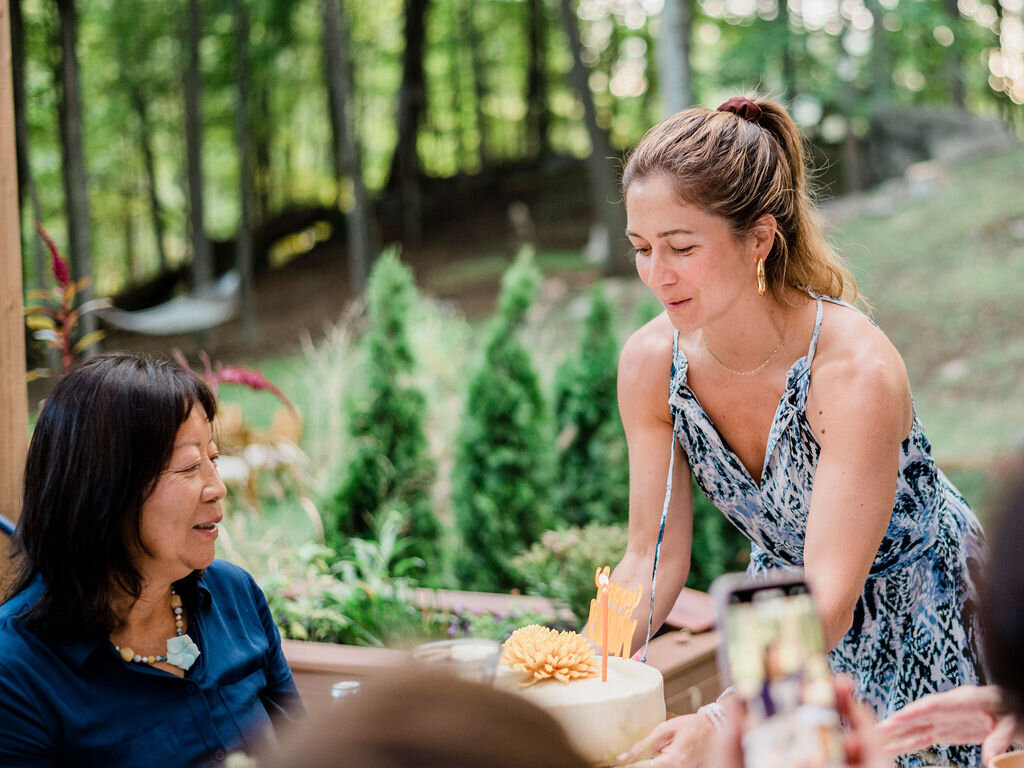 Table, chair, table setting rentals. Renting tables and chairs was so much easier than I had initially thought. We used a local party rental business and they dropped off 30 chairs, and 4 rectangle tables with white table clothes two days before the event. We included a couple high top tables as well for cocktails/apps etc. It took awhile to figure out the flatware and place settings, etc but we ended up using Social Studies.which was perfect! You can pick the style that you like, and they drop those off two days before the event. My sister-in-law and I set up all the tables, and also broke them down, and had to put each dish and utensil back in the box after the event. Definitely took some time, but it was all worth it.
We decided to hire a photographer. We used Patty Brown Photography to capture these beautiful photos. I love taking photos but I wanted to make sure I was staying connected and present to my family and friends, so we decided to hire a photographer. My grandmother, who is 104, came to the party and it was a big deal that she was there! I made sure to tell the photographer to get lots of photos of her with everyone in our family. Check out more photos below!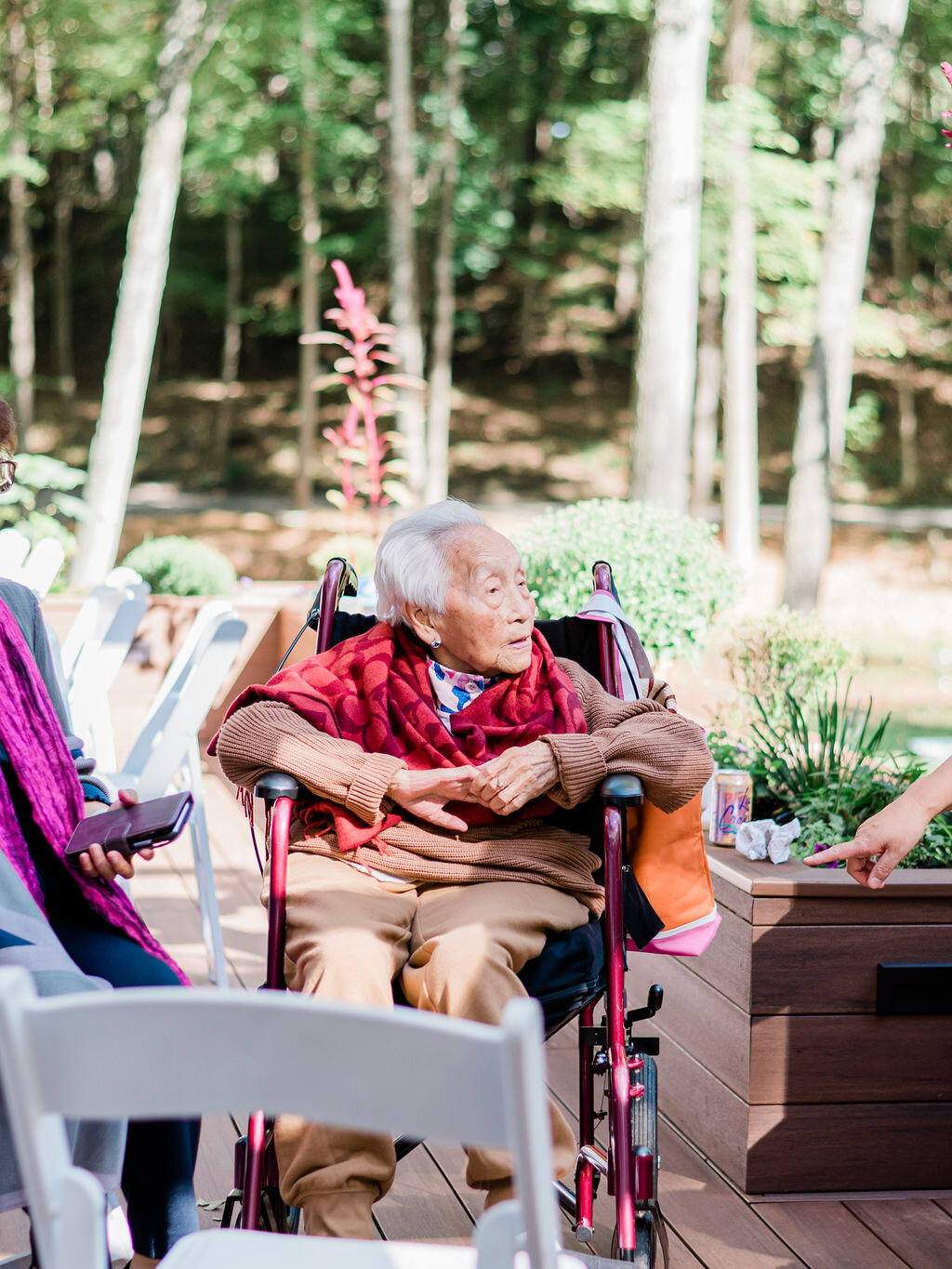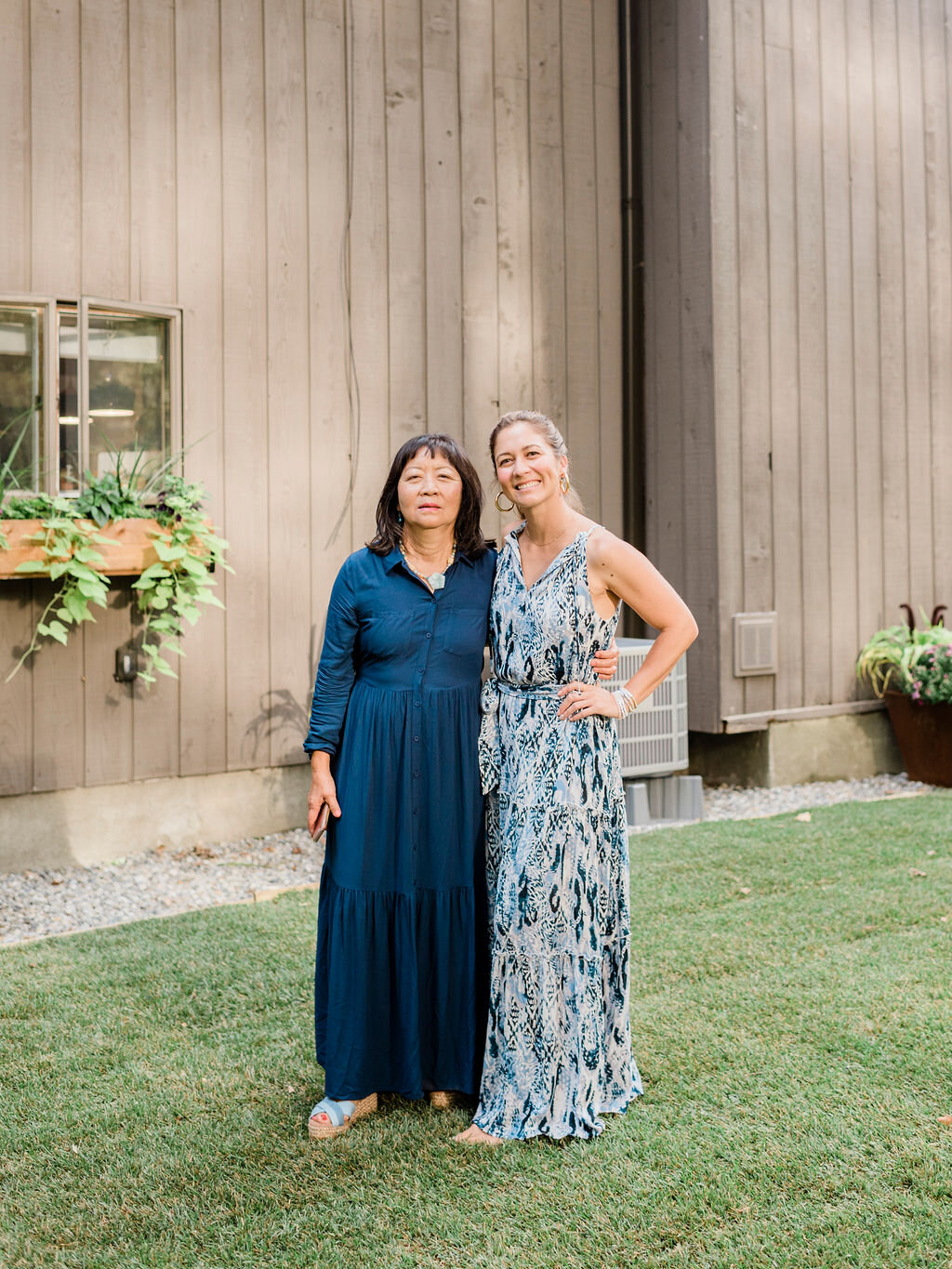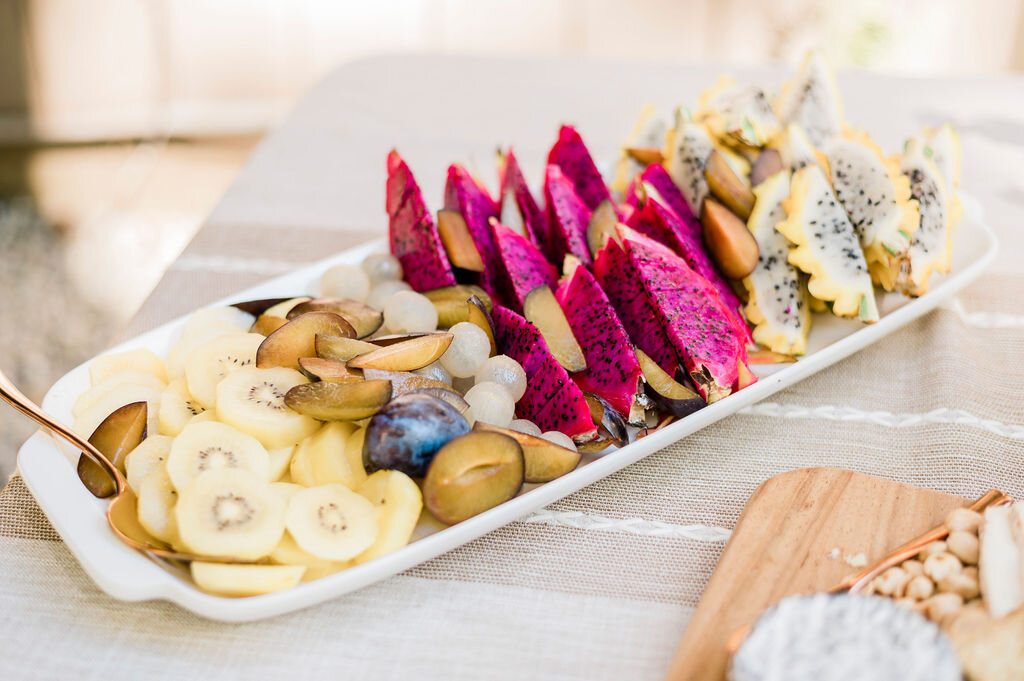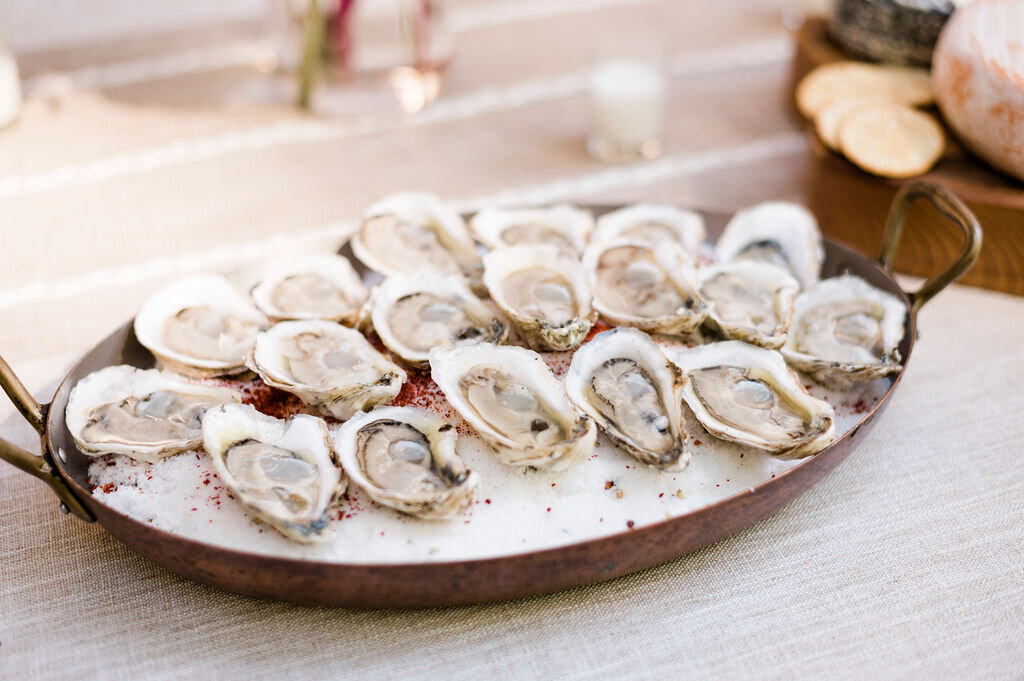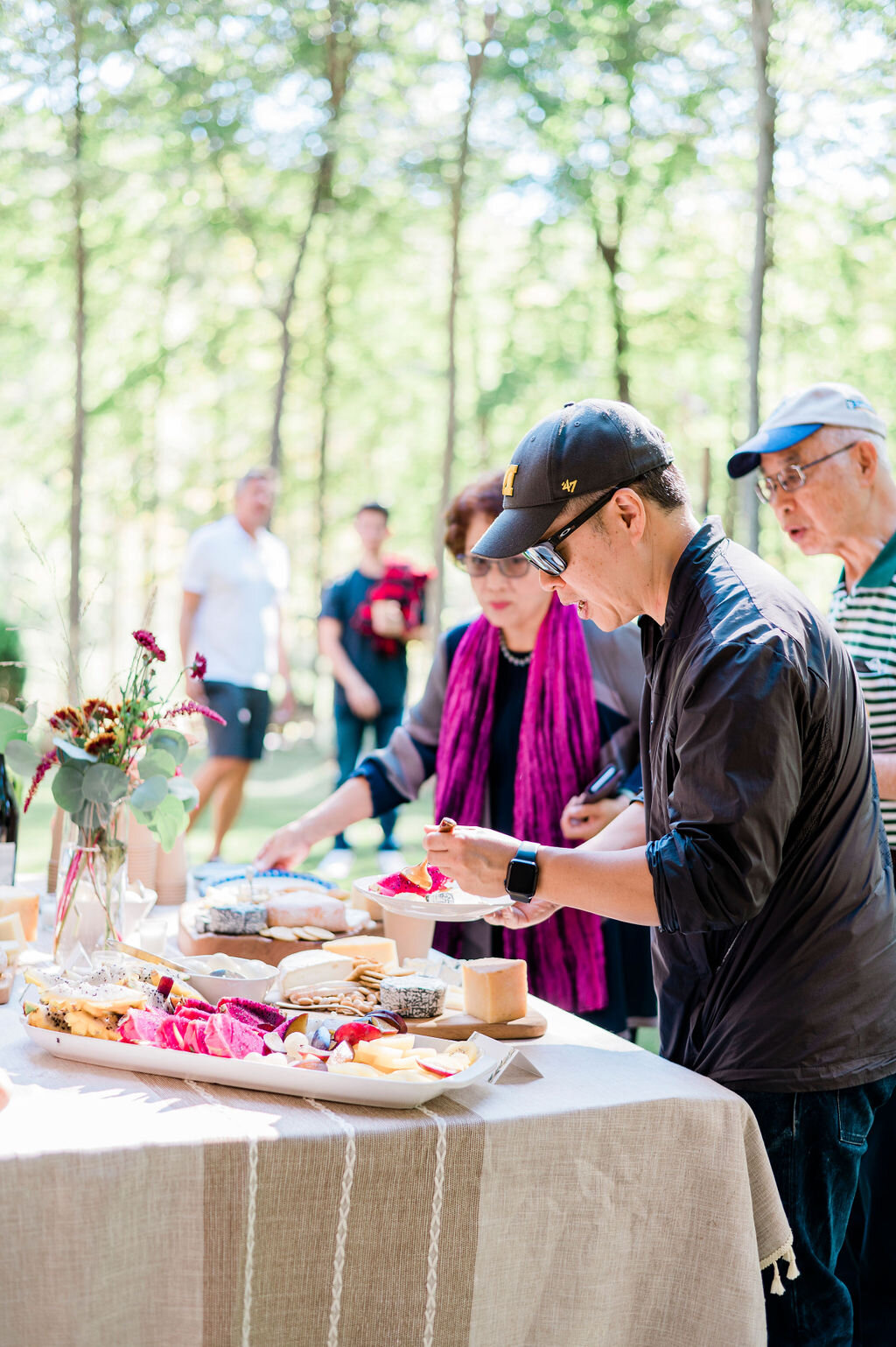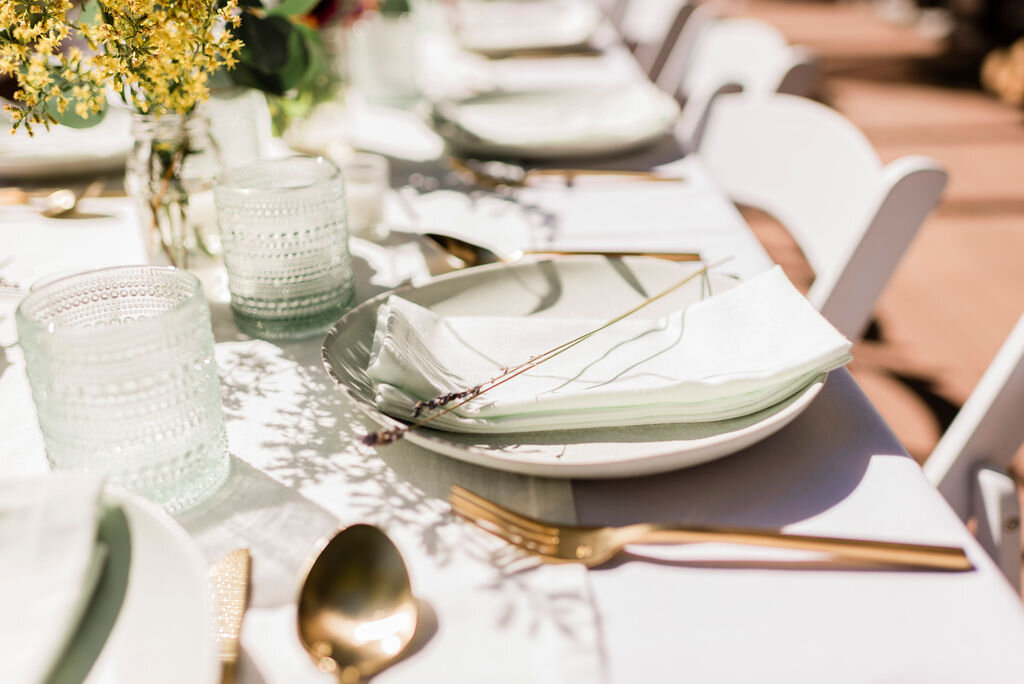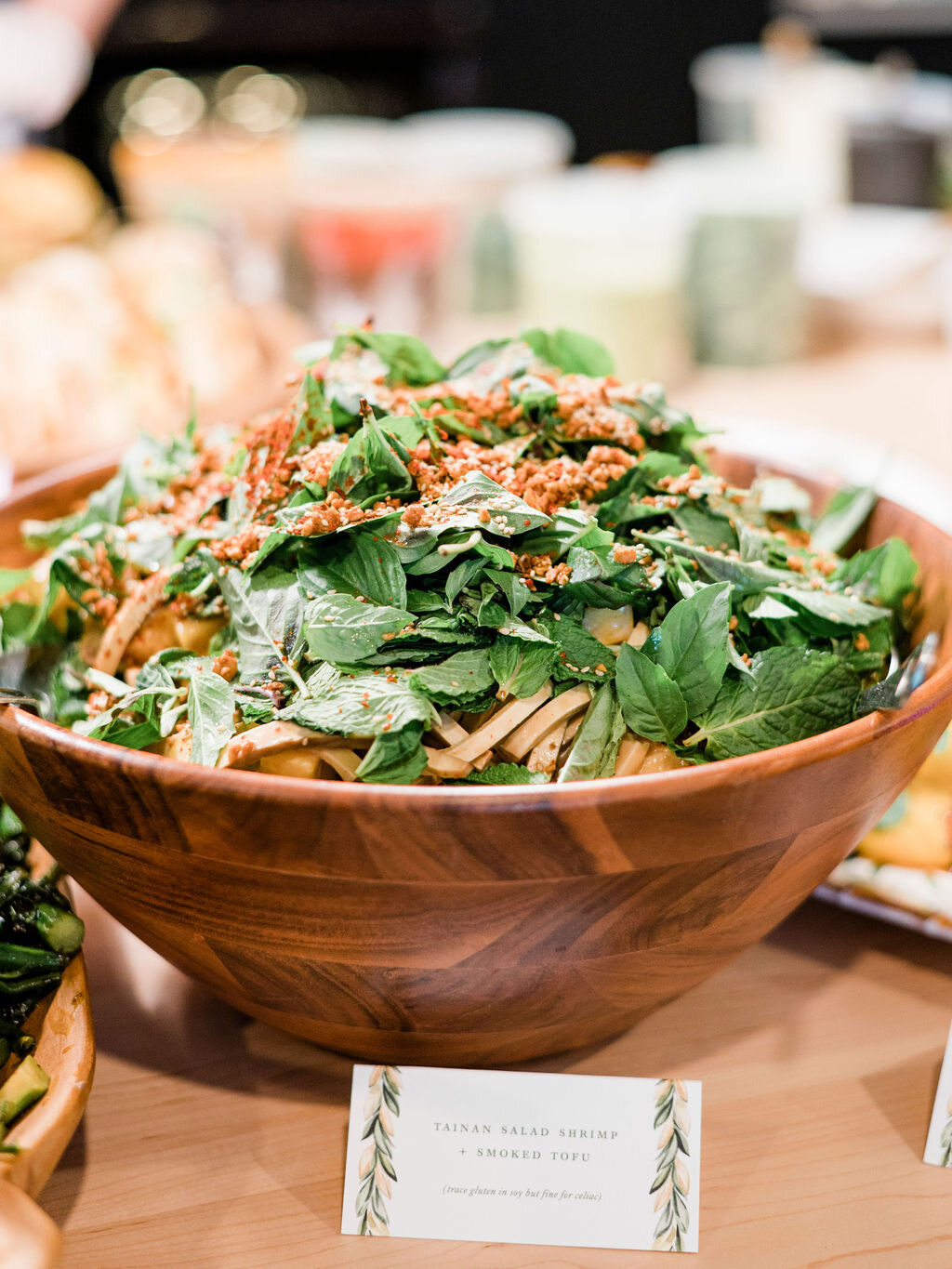 Sene X Emma : Custom Jeans by Me for You!
Next Post