Whether it's the ads for spiced lattes or the slight chill in the air, but as we've been inching toward winter, I've been feeling inclined to shake up my décor. And I know I'm not alone here. In fact, my Instagram feed is full of so many pumpkins that I'm beginning to crave soup. I'm working on some pumpkin themed recipes, TBD. I love fall decorations, but something I've never gotten that into is Halloween decorations. Maybe its because my birthday is so close to Halloween that as a child every single birthday party was Halloween themed? I had a pumpkin shaped cake and my mom even made a "pin-the-tail-on-the-black-cat" party game for everyone. I like to dress up, and I love the candy, I just haven't given in to the Halloween decor.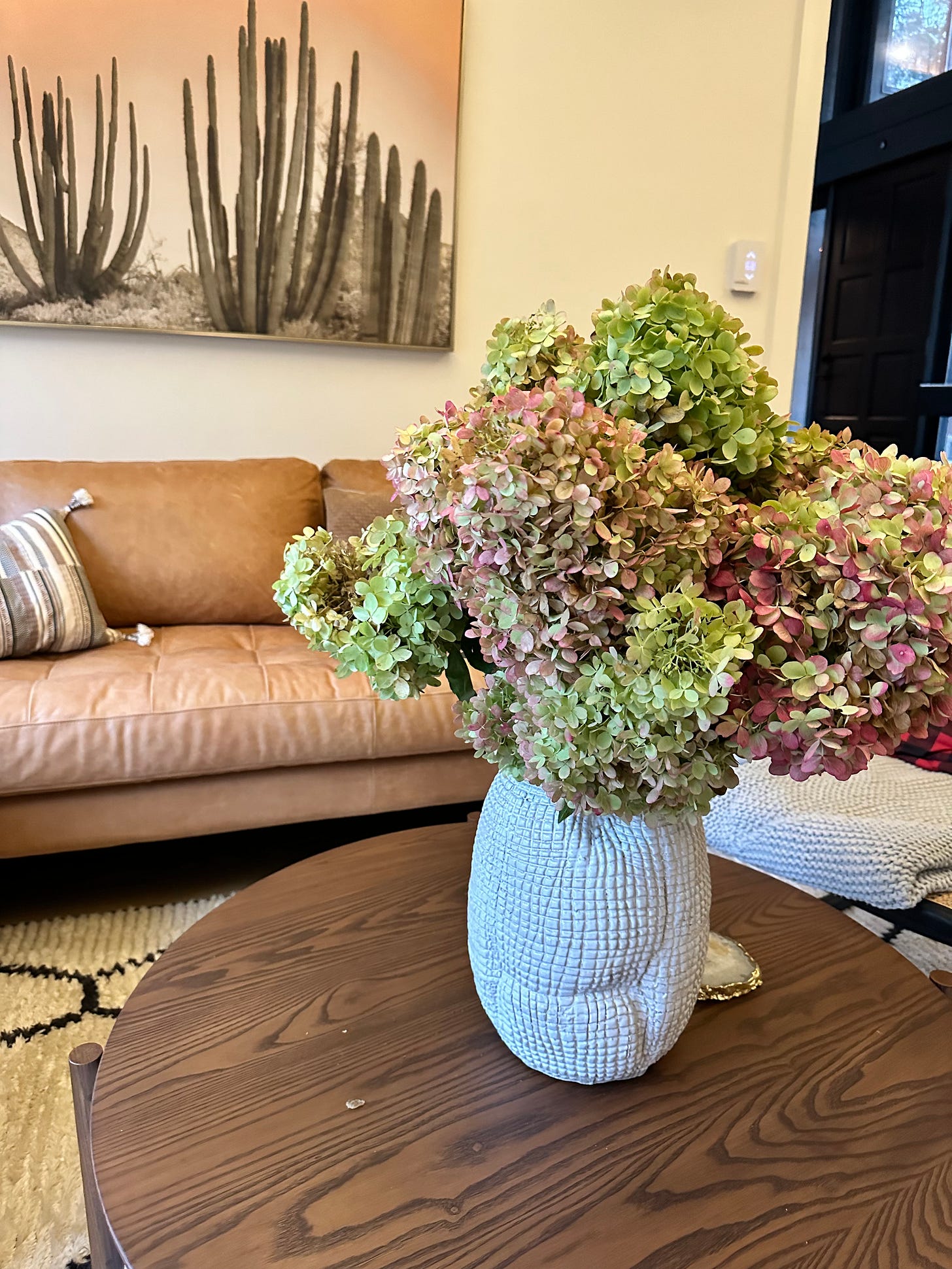 Instead, I've been using my garden as inspiration for my fall décor. I always love the concept of merging the inside and the outside, and by bringing pieces of my garden inside, it means I can enjoy all those benefits, with none of the frostbite. Here's what's inspiring me at this moment:
Dried hydrangeas
Have you seen these in the store? They can be dyed beautiful shades, but I love to let them dry naturally. Kept in a vase with a little water, they'll do what they need to do and leave you with a fall-inspired, long-lasting décor option. (I do hear that if you put food coloring into a vase with a little water, the hydrangea will take on that color. I'll need to try that and report back.)
Embrace gourdsI love pumpkins, but gourds hold a different place in my heart. Mainly because they fascinate me. Not only their varying shapes and sizes, but their process. Last year, I bought gourds and composted them after winter. This year? I have free gourds! (Trust me – give it a try this year.) It's wild that so many different looking gourds will grow off the same vine, and they make a really cute display in a wooden bowl.
Bowls of pinecones
There's just something about pinecones that take us back to our childhoods. The beauty is that they're easy and fun for the kids in your life to collect. Place them into bowls around your house, or step it up a notch by spray painting them. Closer to Christmas, I'll be spray painting some gold for a festive vibe.
Grow strawflower
Strawflower is such a hardy plant, and the flowers are beautiful. I've been cutting them recently for arrangements and I'm looking forward to them lasting all throughout the holidays.
Dehydrated fruit
If you have a fruit dehydrator, make the most of it! Cut apples and oranges not only make your home smell like a bakery, but can be used throughout your home. You can lay them in a bowl or hang them on a string, but this year, I'll be using mine to decorate a wreath.
Dogwood
I love the way red twig dogwood branches make for a fun and simple arrangement when placed in a large, tall vase. (Scavenge for them in your local neighborhood – you can't miss them popping out of white snow!)
Dried CornI grew purple corn this year and it was so beautiful that I didn't bother eating it. I ended up drying it and hanging it on my door as pretty fall harvest decor.

I'd love to hear from you. What décor are you bringing from the outside into your home this season?