On a journey to make my backyard feel like vacation.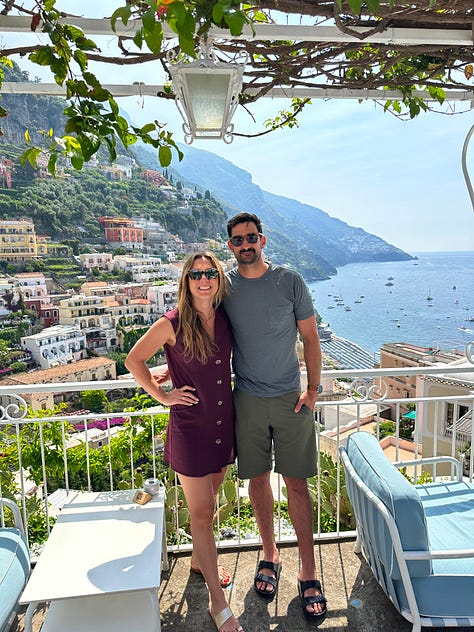 Are you sick of hearing about my trip to Italy yet? Travel brings inspiration, and as you might know I spend a lot of time outdoors. A huge part of the reason Dave and I moved outside of the city was to have more space and spend more time outdoors. After we completely renovated our kitchen and bathrooms (and the rest of the house) we decided to remodel our deck. Originally it was incredible old and splintery and as the inspector said, "a hazard," so we knew this one was a priority. I've been on a 3 year journey now to make my outdoor space feel as peaceful, beautiful, and aromatic as possible. So while traveling around Italy I was SO inspired by how they utilize and decorate their outdoor spaces. From rooftop gardens and balconies, to cute outdoor restaurants with stunning dishware. Below are some ideas on how to re-create that vibrant outdoor space that I enjoyed so much while in Italy. Also, I posted this last year, but one of the best ways to avoid mosquitos outside is using a fan! Get a big fan from the hardware store, and aim it right at your legs during an al fresco dinner. Those little mosquito wings can't keep up in the wind.
Let me know how you're adding beauty to your outdoor space this year?
Plants
Jasmine and mandevilla were two memorable flowers from Italy. The flowers were amazing, fragrant, and everywhere you went! Once I got home I knew I needed both of those plants in my outdoor space. I planted the mandevilla with some purple petunias in containers next to the door. Then in the other box, I planted lavender, jasmine, and citronella to smell amazing and to also keep bugs away!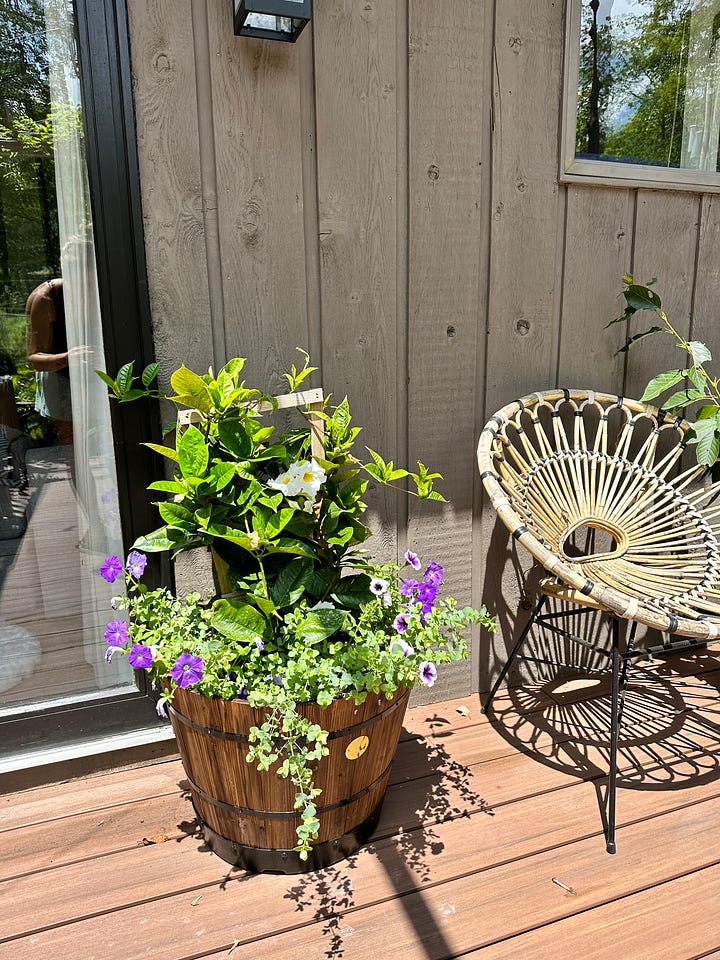 Here are some options you can order offline or you can do what I did and head over to your local nursery. As you know, that is my happy place! Pick up some other flowers while you are there too! You can never have too many 😂
Perfect Plants Confederate Jasmine Live Plant, 1 Gallon Pot
Star Jasmine | 3 Live Plants | Trachelospermum Jasminoides | Fragrant Blooming Evergreen Vine
White Dipladenia (Mandevilla Vine)
Bonnie Plants Citronella 2.32 qt.
Achla Obelisks– This handcrafted wrought-iron trellis is perfect for climbing jasmine.
Planters
This one I have from Gardener's Supply (pictured above) actually works great! But if you are looking for some more Italian style planters here are two that caught my eye!
RusticReach Large Terracotta Red Concrete Planter Pot– Really gives rustic Italian vibes.
20″ Cortina Self-Watering Planter– Who doesn't love a planter that self waters?
Center piece, wooden bowl of lemons
Nothing beats the simplicity of a wooden bowl filled with fresh lemons. Love this as a centerpiece! Grab some lemons from your local grocery store or farmers market and one of the bowls linked below and you are all set!
Open Kitchen by Williams Sonoma Wood Salad Bowl– Comes in a few sizes and is so sleek in design!
Wood Decor Bowl – Hearth & Hand™ with Magnolia– A great Target find and from one of my favorite home designers. This one is great for a bowl shallow in depth.
Folkulture Wood Fruit Bowl– The perfect Amazon find and has a pedestal.
Candles
Candles create the best ambiance. Check out these amazing "Italian" scents below!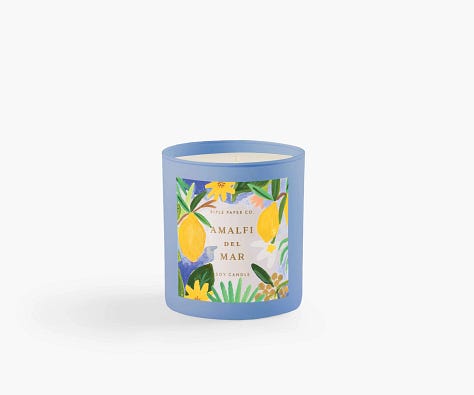 Rifle Paper Co Amalfi del Mar 9.5 oz Candle– The packaging is so fresh and fun! A great gift as well!
NEST Amalfi Lemon & Mint Votive Candle- These votives are perfect for a dinner party.
Brooklyn Candle Studio Italia Escapist Candle– An Italian scent made in Brooklyn? Sign me up!
Malta Outdoor Lanterns– These come in all sizes and are a great way to elevate your table scape.
Glasses & Dishware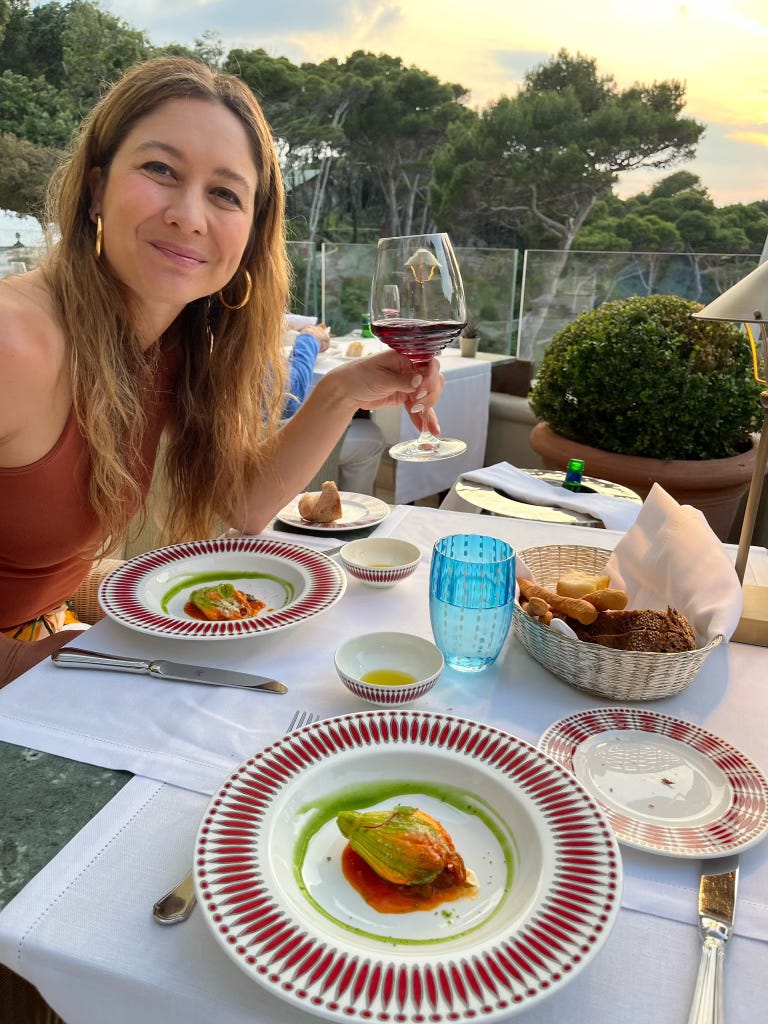 Dining al fresco isn't complete without the perfect glasses to drink an Aperol Spritz out of. Ahhh takes me back! And even if you don't drink alcohol, I love to drink an ice cold water or lemonade out of a wine glass. Makes me feel fancy! Here are some of my favs!
Schott Zwiesel Tour Outdoor White Wine Glass– Shatterproof and break resistant, need I say more?
Estelle Colored Wine Stemware– A bit more fragile, but I can't get over the beautiful colors. Reminds me of the fisherman's colorful homes in the ancient fishing village of Procida. They also come in all glass shapes!
Amici Home Faceted Hermetic Glass Bottles– Not glasses, but the prettiest water bottles for your outdoor dining table. I couldn't not share!
---
I asked for some of your favorite outdoor dishware over on IG and received some awesome recs that are Italy inspired as well.
Sicily Outdoor Melamine Dinnerware– These are inspired by the vibrant colors and patterns of Italian maiolica. There are so many options when it comes to this set!
Monique Lhuillier Positano Melamine Dinner Plates– A lot of you recommended Pottery Barn's outdoor dinnerware and I can see why! It is so beautiful yet functional for the outdoors!
Glenna Dinner Plates– Crafted in Italy and you can get them from Anthropologie. I love the rustic feel these have.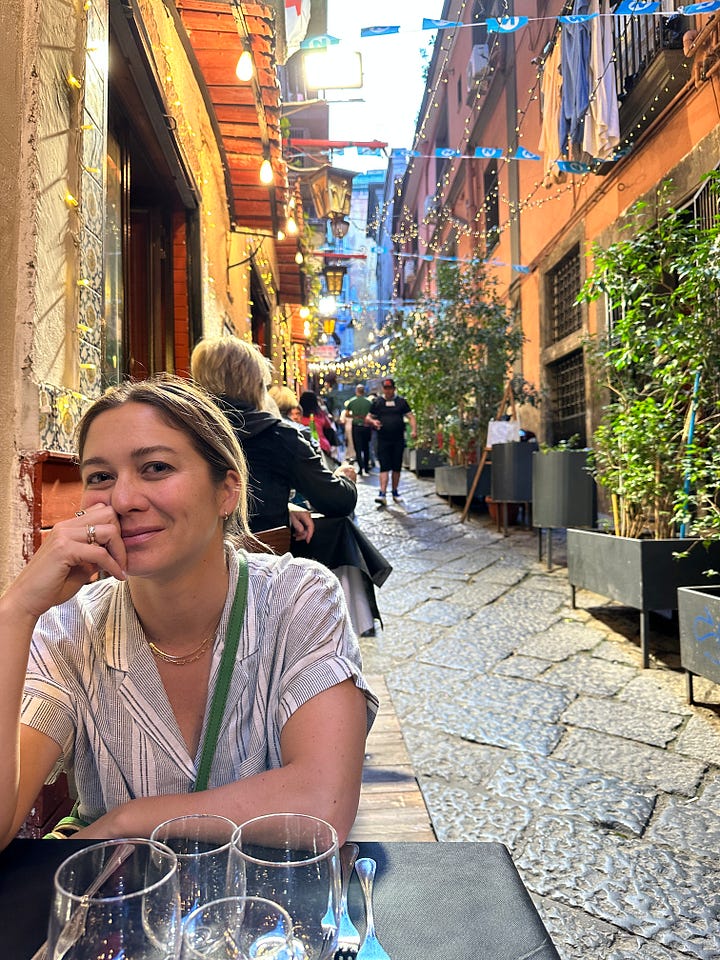 There you have my list! How are you adding beauty to your outdoor space this year? Comment below!