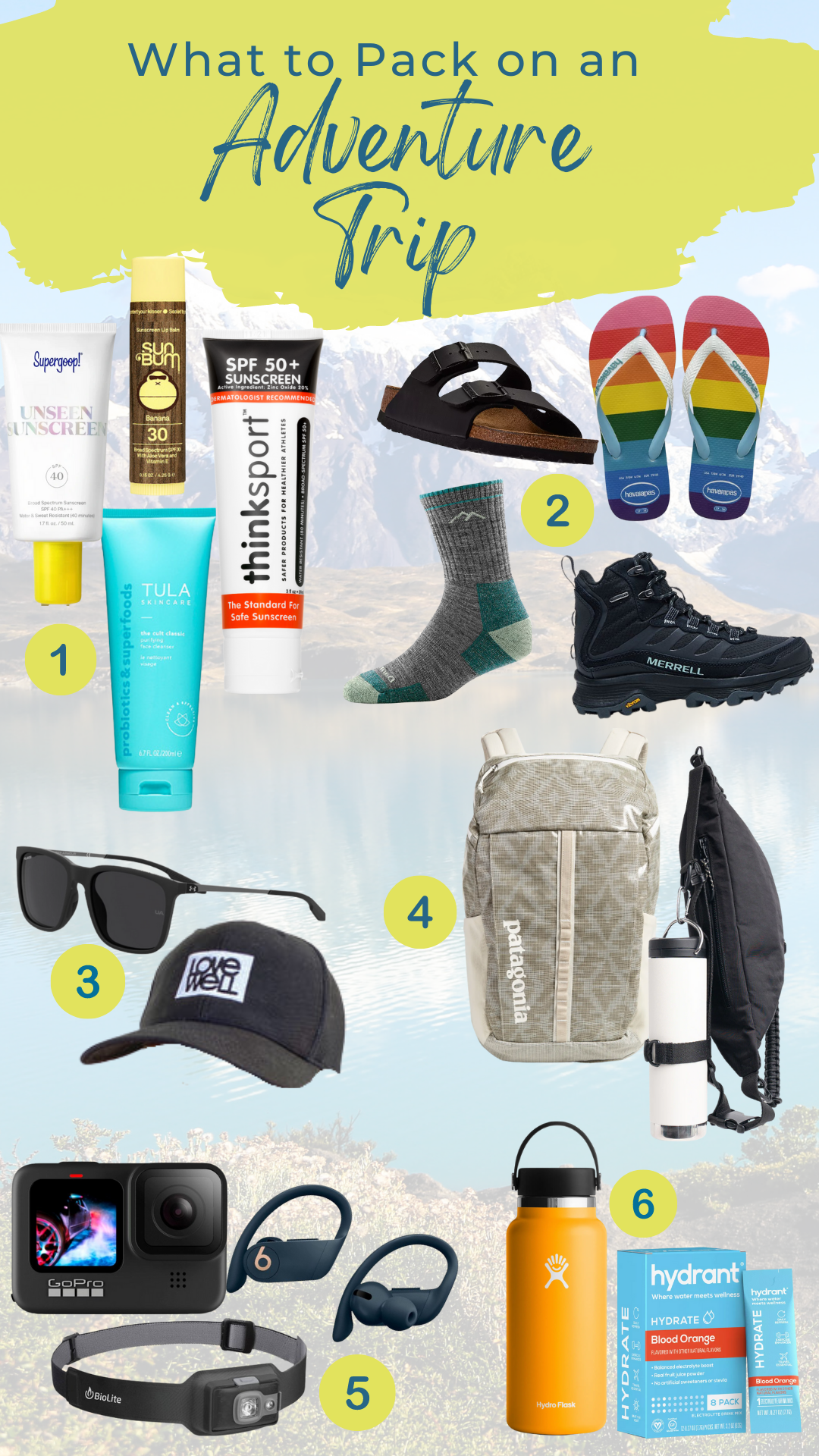 Skincare
Thinksport Sunscreen– I have been using Thinksport sunscreen for years as it has a high SPF that is nontoxic, was created for athletes, outdoor enthusiasts, and environmentally conscious consumers, and is dermatologist tested. I don't have to worry about it not working if I break a sweat. 

Super Goop Sunscreen

– I love to use this sunscreen on my face because it is lightweight, the ingredients are clean and reef-friendly, and it is dermatologist tested!

Tula Face Wash

– This face cleanser is a favorite of so many! It is something I am always grabbing for after a long flight, a day at the beach, or a hike. A great way to remove dirt and refresh your skin.

Sun Bum Chapstick

– What is better than a chapstick that also contains SPF? It comes in so many fun flavors too!
Footwear
Sun Protection
Under Armour Sunglasses

– These unisex sunglasses are one of my go-to pairs. They are stylish and sporty at the same time. They also are polarized which helps cut through the glare on the water!

Lovewell Cap

– Rep the LOVEWELL brand in the sun, or the rain, with this versatile cap.
Bags
Patagonia Daypack

– It's always great to have the perfect size backpack for adventuring! This one can hold your belongings, snacks, and the best part, it is water repellent! An added bonus is that it is made entirely from post-consumer recycled fibers. 

Belt Bag

– Ever not want to take a tote or backpack with you, but still need your essentials? This one is perfect for your keys and cards! It also has a cool carabiner to hook your water bottle onto.
Electronics
Sport Headphones- Beats by Dr. Dre – Powerbeats Pro Totally Wireless Earphones

– These are wonderful because they are wireless, water and sweat-resistant, and have ear hooks–so you don't have to worry about it falling out of your ear off a cliff!

GoPro Camera

– Dave and I never want to forget our amazing adventures especially when the views are so beautiful. It captures clear images and videos, is water-resistant, and has great battery life. 

BioLite Headlamp

– This lightweight headlamp allows you to keep your path lit when your adventures carry on into the night. The battery gives you up to 40 hours of light!
Hydration
Hydro Flask

– Isn't this orange color so fun? The bright color makes me smile and is easy to find when it's buried in my bag! Not to mention this Hydro Flask keeps my drinks cold for up to 24 hours!

Hydrant Blood Orange

– It is no secret that my favorite flavor of Hydrant is blood orange! Plus the individual packs make them perfect for traveling!
These are products I either have in my home or daydream about. Some of these products are affiliate links, meaning, at no additional cost to you, I get a commission if you click through and make a purchase. Thank you for supporting Live Learn Lovewell.
Our trip to Chile with elsewhere.io
Next Post