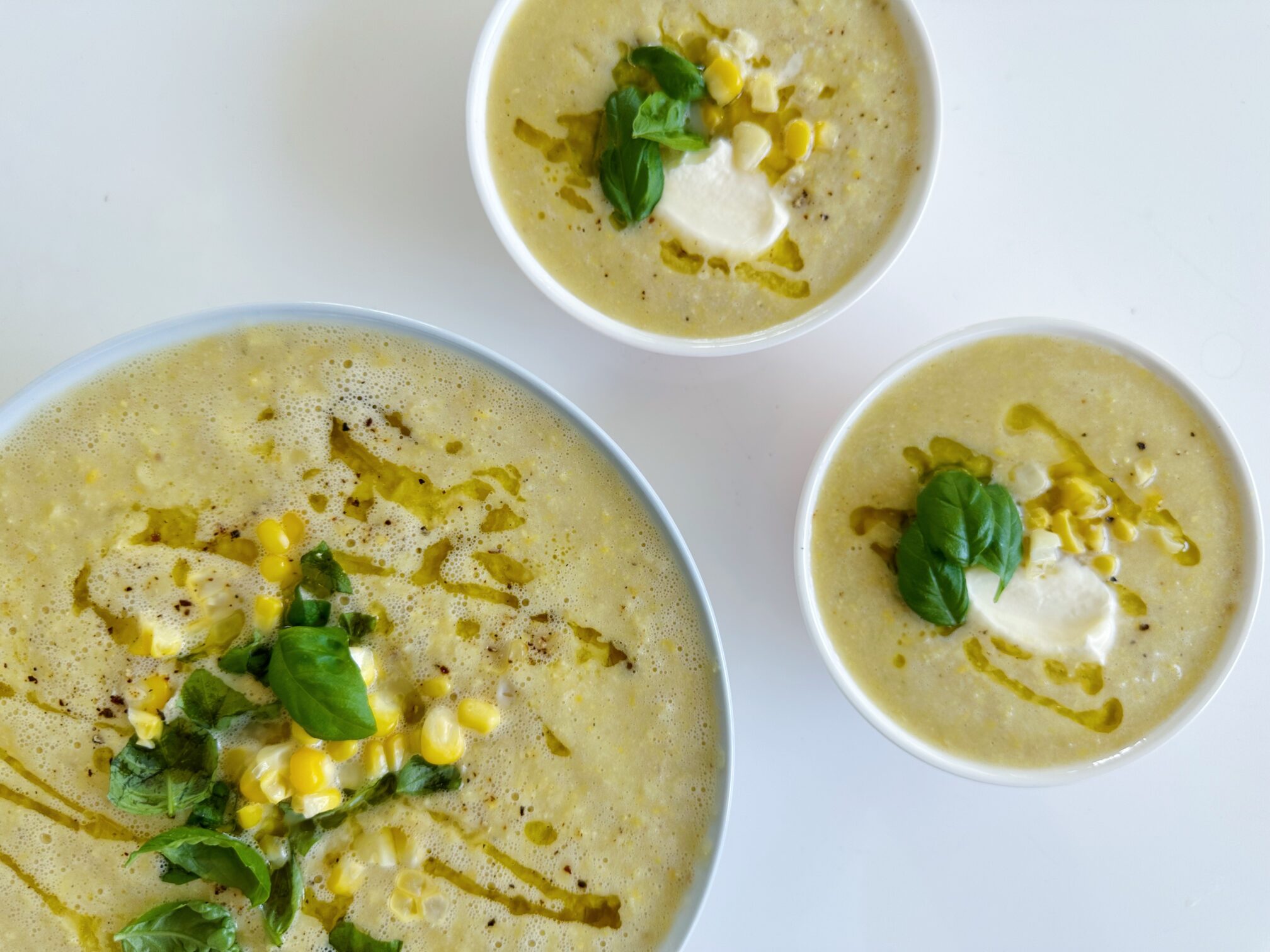 There are so many ingredients that remind me of summer, and corn is definitely one of them. Whether it's grilled over an open flame, steamed in a clam bake, or served raw in a salad, corn has this silky, buttery sweetness that shines by itself or pairs well with almost anything.
Recently, I was feeling a bit under the weather. Dave was a lifesaver when he made me a healing bowl of chicken soup. When I recovered, I thought, "Why not introduce corn to the party?" Summer months call for something chilled, something refreshing. An escape from the muggy, warm summery days. So finding a silver lining, I developed the recipe below.
Summer corn is the cornerstone of this recipe. Try to look for corn still in their green husks for guaranteed freshness. And once you cut the kernels off the cobs, remember to save them: We're using the cobsto create a corn-forward, corn-centric flavor!. I add a spoonful of creamy creme fraiche after I ladle soup into the bowl, but you can add heavy cream to make it ultra-luxe. If you can't find fresh corn around (or it's the winter and you're planning on a hearty, warm bowl of corn soup), you can use frozen corn.
I like to make this the night before so it gets a chance to chill overnight: While I'm preparing that night's dinner, I have another stovetop going with the corn and stock. An added bonus is only having to clean the kitchen once! This soup keeps well in the fridge for 5 days, so you can revisit it any time during the week.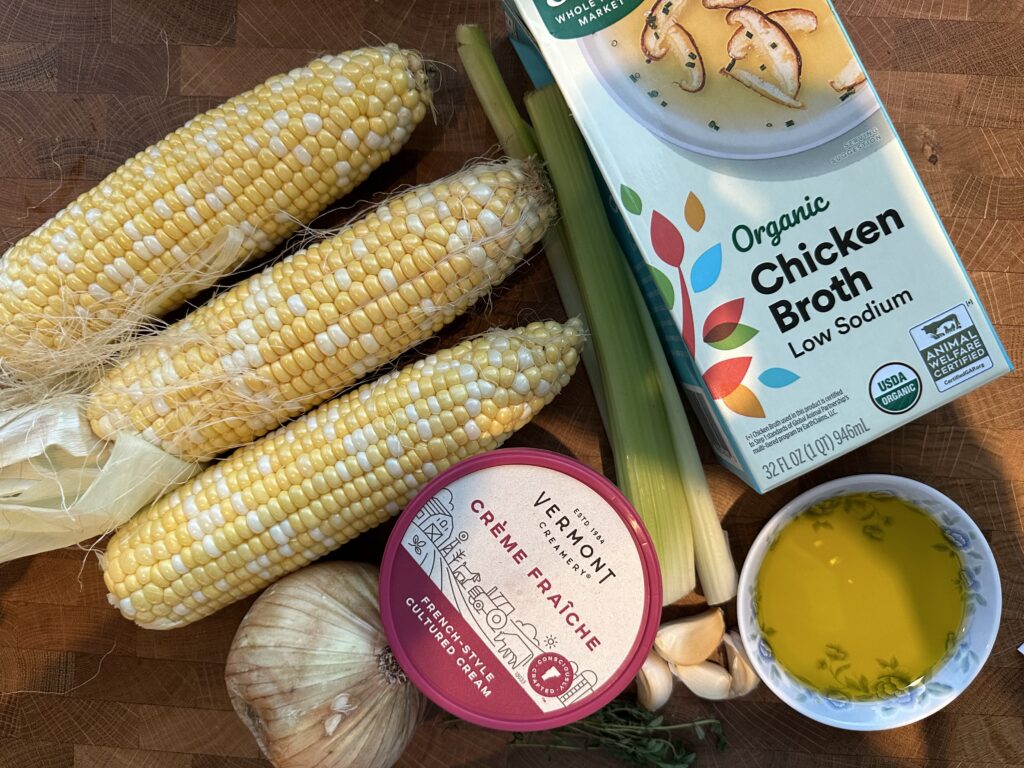 Cook time:
1 Hour (+ 2 Hours Chilling)
Ingredients
1/4 cup olive oil
4 cloves garlic, chopped
2 stalks celery, chopped
1 medium onion, sliced
Bundle of thyme
3-4 large ears yellow corn
4 cups chicken stock, low-sodium
4 cups water
Salt and pepper to taste
Creme fraiche
Basil
Splash of heavy cream (optional)
Directions
In a saucepan, heat olive oil until shimmering. Add garlic, celery, onion, and thyme. Cook for 5 minutes until soft.
Cut corn kernels off the cob and set cobs aside. Add corn kernels to the garlic-onion mixture and cook for 10 more minutes.
In a separate large pot, bring chicken stock and water to a simmer.
Add cobs to the stock pot and simmer for 10 minutes, uncovered. Add the onion-corn mixture and cook for another 30 minutes.
Transfer corn and stock mixture to a blender and liquify, being careful to tightly seal the lid. No soup explosions here!
Pass through a mesh strainer.
Taste and season with salt and pepper. You can now add the (optional) heavy cream.
Transfer to fridge to chill completely.
Garnish with creme fraiche and basil. Enjoy!