Winter's coming! I just got a new immersion blender and i'm PUMPED to use it, so here's my first immersion recipe! Of course if you don't have an immersion blender you can use a blender or food processor as well.
I love butternut squash soup as is, but this time I added some carrots I had in the fridge. Carrots are extra sweet in the winter months, the cold weather draws out the sugars in the vegetable, how cool!? The flavors are so great together, and the bright orange color of carrots makes the soup just a little brighter in color. This soup can be a great standalone dish or a filling side. Plus, for Thanksgiving, you can make a big pot of this and share it with family + friends!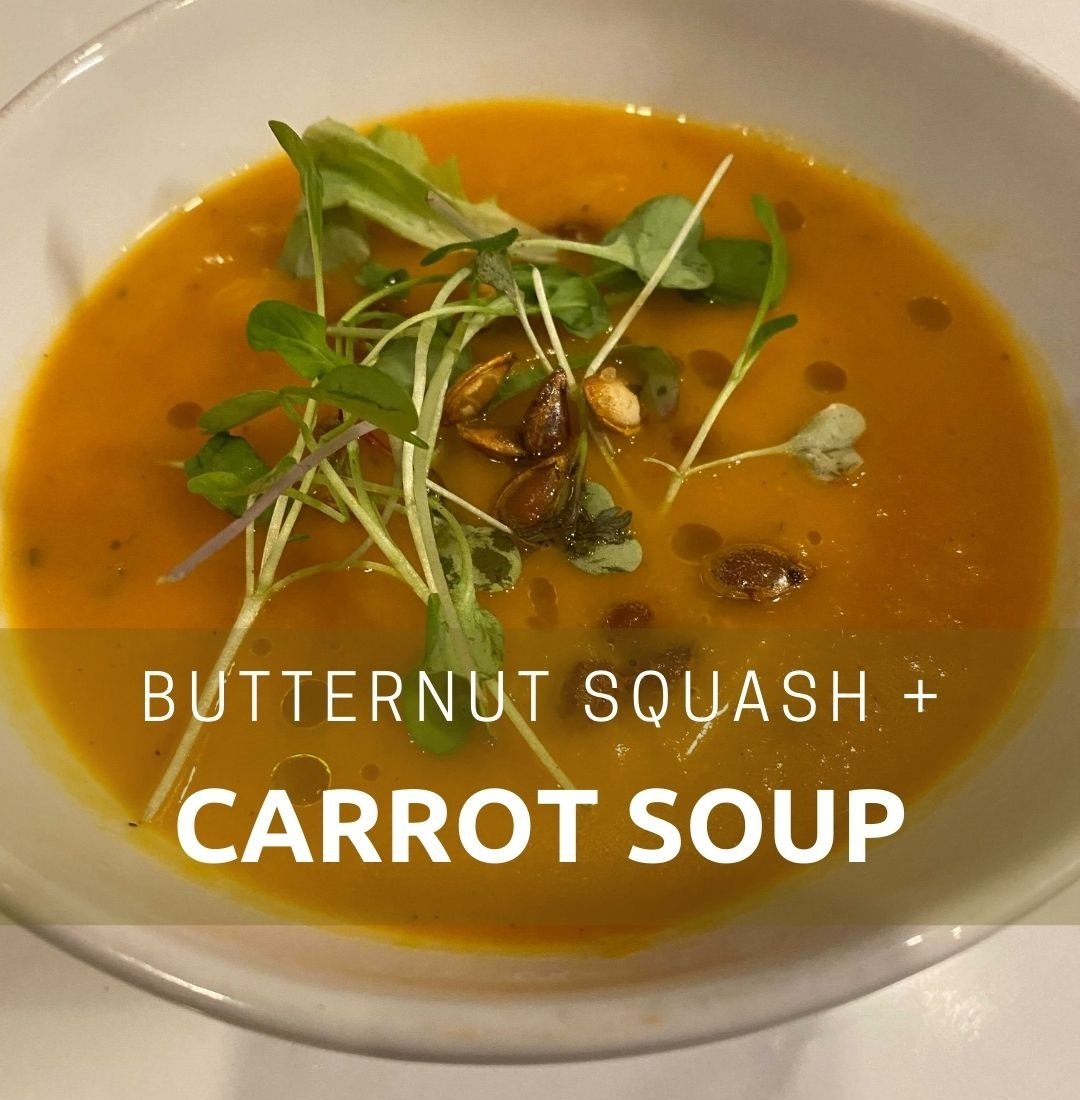 Ingredients
2 tablespoons olive oil
1 large yellow or white onion chopped
1 medium butternut squash, peeled, seeded, and cubed (save seeds for roasting!)
2 large carrots, chopped to the same size as squash
3 garlic cloves, chopped
1 Tablespoon (or 4-5 leaves) fresh sage chopped
½ Tablespoon minced fresh rosemary
1 teaspoon grated fresh ginger (or ginger powder)
3 to 4 cups vegetable broth
Freshly ground black pepper and salt to taste
Directions
In a large soup pot, heat olive oil on medium-low heat. Add chopped onion for 5-10 minutes until, light brown and cooked through.
Add butternut squash cubes and carrot to pot. Cook for about 8-10 minutes. And then add herbs, garlic, salt and pepper. Cook for 2-3 minutes.
Add vegetable broth bring to a boil, and then turn heat down and simmer until squash and carrots are cooked through about 20-30 minutes.
Turn heat off and begin to blend. With either an immersion blender or if using a regular blender, carefully 1-2 cups at a time until fully blended and smooth.
Serve in a bowl with roasted seeds on top, option to add chopped parsley, and olive oil drizzle as well.
To roast butternut squash seeds (for topping) heat the oven at 375 degrees F. Lay seeds on a baking sheet with your choice of oil and salt. Roast for 5 minutes, watching the whole time.