One of my favorite parts of spring, besides the weather being awesome, are smoothies! I recently bought a Nutri Ninja, which has made smoothie making so much easier, cleaner, and fun. Yes, I said fun. I feel like I could put anything in that thing, and it would taste delicious. But I've narrowed down my technique and this is what I've learned makes a good smoothie:
You need at least one thing that is sweet. I usually use a banana, or an apple.
Something creamy. For that I use either yogurt, or an avocado.
Something frozen. I will use frozen fruit, which is usually my second sweet ingredient (strawberries, blueberries, pineapple, etc.) Or just a few ice cubes.
Something hearty, fibrous, that thickens. For this I like to use some kind of vegetable: kale, spinach, carrots, but you can also use some oats or almonds.
You need a form of liquid: soy, almond or coconut milk, orange juice, or coconut water.
And then for some extra goodness here's a list of things that are great additives that make your smoothie extra special: almond/peanut butter, fresh ginger, fresh mint or basil, cinnamon, cocoa powder, nutmeg, goji berries.
Lastly, a good thing to remember is less is more. Pick a good 5 ingredients with confidence and stick to that. I've gotten weird and tried putting 10 different things in the blender… it didn't taste very good. And now have fun!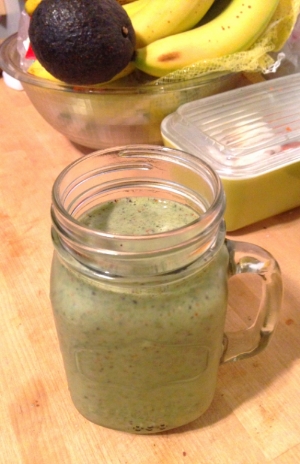 Overnight Berry Cold Oats
Next Post